May 2016 Articles
Cover Story
Paul Moffett
Columns
Mike Suttles
Eddy Metal
Eddy Metal
Blogs
Got Shows?
Send Them To Us
Bookmark Louisville Music News.net with these handy
social bookmarking tools:
Available RSS Feeds
- Top Picks
- Today's Music
- Editor's Blog
- Articles
Add Louisville Music News' RSS Feed to Your Yahoo!

Issue: May 2016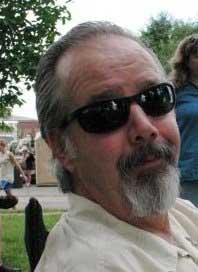 I've Got A Mind To Ramble
Travelin' Shoes – It's Blues Fest Time
As bluesman Elvin Bishop sang way back in the early 70's in his best known song, "it's time to put on my travelin' shoes". And while Bishop was referring to trouble with his wife, the sentiment fits the same as the summer blues festival season begins in earnest this month. It's hard to beat sitting outside at a festival listening to the blues. I've combed through as much material I could find to list the festivals that are local and regional in nature that are within a short drive or an even shorter flight. So, get out your calendars, check your sun screen supplies, find a good hat, grab your camp chairs and a few good friends, pull up MapQuest and plan a few road trips to hear some blues (note; It seems like more and more fests are blurring the lines of the blues as you might see some music you would not consider the blues. I prefer to think of it as different hues of the blues. Huh, you're asking? Who is this guy? Not Suttles).
First off is the Muddy Roots Spring Weekend in Nashville, Indiana the weekend of May 20-21. The lineup includes L C Ulmer and Reverend Peyton's Big Damn Band as the bands who are the most leaning towards the blues while others fit into close to the blues genres.
Elizabethtown, Kentucky is next up on the schedule. The BBQ Blues and Bikes Festival occurs Memorial Day weekend, May 26-28. The legendary John Hammond appears at the State Theater on the 26th while Brian Keith Wallen, the 2015 IBC runner-up, plays on Friday night. Saturday's lineup includes Laurie Jane the 45s, Tullie Brae, Austin Walkin' Cane, Ray Fuller and The Bluesrockers, JP Blues, Diunna Greenleaf, and Back Pack Jone. Saturday's lineup is worth seeing but driving down Thursday night to see John Hammond is a must.
The day after E-town (Sunday 5/29) is Blues Between the Bridges in Lexington, Kentucky featuring Jack Smith, Johnny Roy and The Rub Tones, Mojo Theory, Robbie Bartlett Blues Band, Da Mudcats, G. Busy Blues Revue, Ray Fuller and The Bluesrockers, and Tee Dee Young. That's quite a lineup and would be a good way to spend the day, especially since the next day is a holiday.
Next up is the Germantown Schnitzelburg Blues Festival the weekend of June 3-4. Taking place in the street next door to Check's Café, this small but well-attended fest in a tribute to Joey Lamont Gillispie, who, along with Gary Samson, started it. The 3rd brings 100 Proof Blues, Sheryl Rouse and the Bluez Brothers, and Wallace and The Groove Hounds. The next night showcases the 10th Street Blues Band, Stella Vees and Tee Dee Young. The event is free, the libations inexpensive and the setting up close and personal.
The best festival of the entire summer, bar none, is the annual Chicago Blues Festival June 10-12. They always have the best blues you can find, it's in Grant Park in downtown Chi, and it's free. That's right, free! If you've never been, you HAVE to go. Why not this year? You can google Chicago Blues Fest 2016 to find more info but here is the daily schedule.
Friday, June 10:
Petrillo Music Shell - Alligator Records 45th Anniversary
6-6:45pm - Tommy Castro & The Painkillers guest appearance by Toronzo Cannon
7-8pm - Lil' Ed and The Blues Imperials guest appearance by Corky Siegel
8:15-9:30pm - Shemekia Copeland and Special Guest Curtis Salgado
Bud Light Crossroads Stage - Alligator Records Day
11:15-12:15am - Peaches Staten
12:45-2pm - Maurice John Vaughn
2:30-3:45pm - Moreland & Arbuckle
4:15-5:30pm - Curtis SalgadoJackson Mississippi Rhythm & Blues Stage
11:30am-12:30pm - Panel Discussion on Alligator Records 45th Anniversary
1-2pm - Sherman Lee Dillon
2:30-3:30pm - Pat Brown
4-5pm - Eddie Shaw & The Wolfgang
5:30-7:45pm – Kenny "Beedy Eyes" Smith Jam Session
Pepsi Front Porch Stage
12 Noon–1pm - Blues In The Schools with Stone Academy, Eric Noden, Katherine Davis
1:30–2:30pm - Fruteland Jackson
3-4pm - The Omar Coleman Band
4:30–5:30pm - Legends of Blues with Sam Lay, Corky Siegel & Marcella Detroit
Saturday, June 11
Petrillo Music Shell - Soul/R&B Night
5:30-6:15pm - Wee Willie Walker & We "R"
6:30-7:45pm - Irma Thomas
8:05-9:30pm - Fred Wesley & The New JB's
Bud Light Crossroads Stage - Soul/R&B Day
11:15am-12:15pm - Cicero Blake
12:45-2pm - Theo Huff
2:30-3:45pm - Nora Jean
4:15-5:30pm - Otis Clay Tribute Band
Jackson Mississippi Rhythm & Blues Stage
11:30am-12:30pm - Panel Discussion – Artist Spotlight: Eddie Cotton-2015 International Blues Challenge Winner, facilitated by Alex Thomas
1-2pm - Southern Komfort Brass Band
2:30-3:30pm - Tenny Tucker
4-5pm - Eddie Cotton
5:30-7:45pm - Jam Session with Southern Komfort Brass Band
Pepsi Front Porch Stage
12 Noon-1pm - Fernando Jones International Band with A-Z Blues (Italy)
1:30-2:30pm - Barrelhouse Chuck Blues Trio featuring Billy Flynn & West Side Andy
3-4pm - Lazy Lester featuring Rockin' Johnny
4:30-5:30pm - Chicago Rhythm & Blues Kings
Sunday, June 12th
Petrillo Music Shell - Tribute to Otis Rush
5-6:15pm - Ronnie Earl & The Broadcasters
6:30-7:45pm - Eddy "The Chief" Clearwater
8-9:30pm - Otis Rush Tribute featuring Jimmy Johnson, Abb Locke, Brian Jones, Carl Weathersby, Bob Stroger, Sumito Ariyoshi, Big Ray, Eddy Clearwater, John Kattke, Mike Welch, Rawl Hardman, Harlan Terson, Bob Levis, Billy Flynn, Mike Wheeler, Lurrie Bell, Shun Kikuta, Mike Ledbetter, Eddie Shaw, Sam Burton, Willie Henderson, Diane Blue, Ronnie Earl, Anthony Palmer, Kenny Anderson, Leon Allen, Henry Ford & Willie Woods
Budweiser Crossroads Stage
11:15am-12:15 - Charlie Love
12:45-2pm - James "Super Chikan" Johnson
2:30-3:45pm - Kinsey Report
4:15-5:30pm - Diunna Greenleaf
Jackson Mississippi Rhythm & Blues Stage
11:30am-12:30 - Panel Discussion on the "Great Migration" with Nellie "Tiger" Travis, Eddie Shaw, John Primer, facilitated by Alex Thomas
1-2pm - Ben Payton
2:30-3:30pm - Adib Sabir
4-5pm - Nellie "Tiger" Travis
5:30-7:45pm – Jam Session with Adib Sabir
Pepsi Front Porch Stage
12 Noon-1pm - Melody Angel
1:30-2:30pm - The Jimmy Burns Band
3-4pm - John Primer & The Real Deal Blues Band
4:30-5:30pm - Lurrie Bell
I'm sure including the lineup seems a rather lengthy thing to do but you need to see just how big and how good this festival really is. If you can only make one fest this summer, go to Chicago!
Second on my "must go to" list for the season is the Handy Blues and Barbecue Festival, June 15-18, in Henderson, Kentucky. Just a quick hour-and-a half to two-hour drive from Louisville, this free fest takes place in a park on the banks of the Ohio River, Handy is known for bringing in some of the best talent you'll hear. The first evening would be the Saturday night of most fests, as it features Studebaker John and The Hawks, The Kinsey Report and Sugar Blues. Thursday is Zydeco Night with Dwayne Dopsie and the Zydeco Hell Raisers plus Chubby Carrier and The Bayou Swamp Band. Saturday showcases ZoGo, Beat Daddys, Toronzo Cannon, and the fabulous soul singer, Curtis Salgado. Saturday winds up the weekend with Little G and Daniel Hayes, AJ Ghent Band, Nikki Hill (a must see), John Primer and The Real Deal, Tommy Castro and The Pain Killers, and Wictor Wainwright and The Wild Roots. Better check on getting your room reservations now!
The Blues Harborfest is a one-day festival that happens June 18 at Lake Cumberland and this year features local bands The Blues and The Greys and The King Bees plus guitarist Les Dudek. Dudek is considered by many players to be one of the top guitar players around. This is a beautiful lakefront setting that is a perfect spot hearing some good blues.
The Broad Street Blues and BBQ Festival is a new one to me. It takes place July 2-3 in Griffith, Indiana, about 30 some odd miles south of Chicago. And Chicago blues is what is offered for those two days. Jimmy Nick and Don't Tell Mama, Liz Mandeville and The Blue Points, The Kinsey Report and Bobby Rush hold forth on Friday, July 2. Smiley Tillman with Kate Moss, Omar Coleman Band, Joanna Conner, Howard & The White Boys, and Toomy Z are scheduled on Saturday. This one has me very interested and sounds like a great way to hear some excellent music for the holiday.
The Louisville Blues, Brew, and BBQ Festival happens July 22-24 at the Water Tower. The lineup hasn't been released yet. The fest usually charges between $7-12 per day but in the past, you were allowed in free if you are a member of the Kentuckiana Blues Society. So double up, join the society to help keep the blues alive and get into the music for nothing more than a membership card.
Another great regional fest takes over Sawyer Park in Cincinnati. The Cincy Blues Fest is August 12-13 and features some of the most popular blues artists playing today. The 12th features Teeny Tucker, Albert Castiglia, Sugar Ray and The Bluetoned and a Soman's Showcase with E G Kight, Gaye Adegbalola, Andrea Faye and Saffire Revisited with Cincy's own Cheryl Renee. The next day has Tinsley Ellis, Rod Piazza, and Walter Trout lined up. The rest of the schedule will be released at a later date. It's an easy drive and a very nice park.
Madison, Indiana's Ribberfest will happen August 19-20. Another beautiful on the Ohio River brings in Johnny Lang, Ghost Town Blues Band and Junior Brown on the 19th. Saturday's lineup will have local blues diva Tanita Gaines, Beat Daddys, Lucky Losers, Sonny Moorman Band, Legendary Downchild Blues Band and the main reason to go to Ribberfest, Los Lobos. And it's an official BBQ Contest, so the Q is excellent.
The following weekend has the Bean Blossom Blues Festival in Nashville, Indiana. Over the weekend of the 26-27th the fest showcases Matt Tedder, Ghost Town Blues Band, Carolyn Wonderland, Tad Robinson Chicago Blues Tribute, Jack Broadbent, Moreland & Arbuckle, Elvin Bishop, and Victor Wainwright and the Wild Roots.
The same weekend as Bean Blossom is the Hot August Blues Festival, in Aurora, Kentucky, which takes place in beautiful Kenlake State Park. Performers include Deja Blues Band, locals The Blues and The Greys, Bottom Up Blues Band, Adam and The H-Bombs, Da Mudcats, Toad Strangler, 2 Miles Back Band, Long Tall Deb, and the Markey Blue Band.
Another festival of note this summer is the hometown's own Forecastle, July 15-17. Well, yes, it is not a blues festival but there a four bands that fall into the blues category. Ben Harper and The Innocent Criminals, Alabama Shakes, Pocky LaFarge and Gary Clark, Jr. all fit into the blues thang. Besides, it's a hometown thing, so you need to get out and support our own fest and check out some music from other genres.
This is by no means a comprehensive list of blues festivals in the area. Only the ones I would try to get to if I had the time. Lots of good blues, some well-known artists as well as newcomers. You'll meet some of the nicest people and eat lots of Q (as a lot of the fests feature it).
You can find a more comprehensive national and international listing of festivals at bluesfestivalguide.com which will be coming out very soon.