April 2018 Articles
Cover Story
Paul Moffett
Columns
Eddy Metal
Eddy Metal
Blogs
Got Shows?
Send Them To Us
Bookmark Louisville Music News.net with these handy
social bookmarking tools:
Available RSS Feeds
- Top Picks
- Today's Music
- Editor's Blog
- Articles
Add Louisville Music News' RSS Feed to Your Yahoo!

Issue:
Fiddler on The Roof
By Ninette Shorter
Listen up, papas. Especially if you have daughters.
Do you know that oogie feeling you get when you agonize over your daughter's future? That squeamish sensation that goes through you when she's chosen a boy to love who is, beyond any shadow of your doubt, never going to amount to anything you find respectable? That queasy suspicion that she's not likely to give him up, no matter what you say?
If any of this sounds familiar, then you have something in common with Tevye, the poor dairyman in "Fiddler on the Roof."
One of the longest-running musicals in the history of American theatre, this classic story of an impoverished Jewish family in 1905 Russia began its run at Derby Dinner Playhouse on Aug. 30.
The Playhouse's rendition is brimming with the charm and wry wit that have made the show so popular with audiences, critics and theatre companies the world over. Based on the stories of Jewish writer and humorist Sholom Aleichem, the original stage production made its debut in 1964 and saw 3,242 performances before closing at New York's Broadway Theatre in 1972.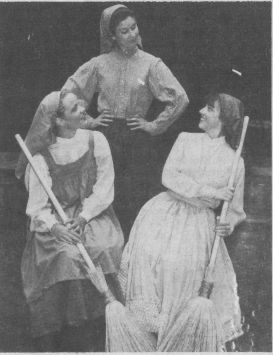 Tradition-defying daughters, from left, Chava (Sally Myers), Tzeitel (Colette Delaney), and Hodel (Tonilyn Hornunug)
J.F. Stuart shows the learning of over two thousand career performances in his heartwarming portrayal of Tevye, the father who clings so tightly to the lifeline of tradition.
Tevye's fervent hopes for his three "marriageable" daughters hang in the balance as, one by one, the girls challenge their father's devotion to the time-honored ways of doing things in the village of Anatevka.
Tzeitel, Hodel, and Chava, Tevye's three older daughters, are played splendidly by Colette Delaney, Tonilyn Hornung, and Sally Myers, respectively. Sally Myers is an exceptionally engaging Chava, the daughter who tears most deeply at her father's heartstrings.
The Derby Dinner producers reduce the number of daughters to four from the original production's five, losing Bielke, perhaps for a less crowded stage. This takes nothing from the story, and gives Claire Longest a bit more exposure in her precious supporting performance as fourth daughter Sprintze, many years too young for marriage.
The daughters' suitors are a source of great dismay for Tevye, but the overall performance of their parts is turned down a few notches from those of the girls. Jim Hesselman makes credible the timorous tailor, Motel, looking amusingly similar to the movie-version character of 1971. Perchik, the revolution-minded student, is allowed precisely the right degree of emotion by David McCammish, and Timm Charlton's rendition of Fyedka seems intentionally subdued.
Sandra Simpson vigorously portrays Tevye's wife, Golde, a spunky woman who rarely lets her husband settle too comfortably into his ruler-of-the-house role. Yente, the village matchmaker, a role central to rural Anatevkian life, is hilariously caricatured by Greylyn Gregory.
Tevye's quandaries are made impressively poignant by a dramatic device well executed by the Derby Dinner cast and production crew. Whenever the dairyman needs to have one of his affable talks with God, or wants to carry on an inner dialogue between his conflicting selves, a "freeze-frame" moment isolates him from the other characters on stage. Assisted by lighting, Tevye appears in relief against the others' still silence as he anxiously paces, "internally" debating his dilemma.
The effect is to let the audience into Tevye's mind as he struggles, bringing home the mixed joy and pain he feels as he is compelled to choose between the duty of his heritage and the happiness of his daughters. "Look at my daughter's eyes! So hopeful!" Tevye sings. These scenes are filled with Tevye's sometimes comic "on the other hand" views of the choices facing him, played masterfully by J.R. Stuart.
The "dream scene" is uproariously funny, and I'll say nothing more so as not to spoil the surprise. Go see for yourself.
Vocal talent abounds within the Derby Dinner company, but the dancing, oy vey! Timm Charlton, Eddie Hirschman, and Danyaun Vandgrift double as dancers in two scenes (Hirschman and Vandgrift play a Russian and the ostensible fiddler, respectively), bringing spontaneous applause from the audience for their Russian-style dancing, complete with wine bottles balanced atop their heads while their legs "propeller" just off the floor.
The irresistible melodies from "Fiddler on the Roof" are lustily rendered by pianist John Kitchen, drummer Darryel Cotten, reedist Melody Welsh, trumpeter James Monroe, and especially violinist Paulinka de Rochemont, whose behind-the-scenes "fiddling" is downright intoxicating.
The only detractions from an exhilarating evening of theatre are the dream scene ghosts' beady electric red eyes, somehow reminiscent of Star Wars, the obviousness of the fiddler character's not doing the fiddling, and, well, you know, the food. The Diet Coke is good, though.
The Derby Dinner crew does high-calibre justice to the spirit of this touching story, bringing out the richness of Jewish tradition, ritual, and humor with sparkling vitality. While the setting is a rural village in early 20th century Russia, and the story unfolds against the ominous backdrop of coming revolution and increasing persecution of the country's Jewish people, the place and time hardly matter. The feelings are ageless and universal. Fear of change, fear of loss. Joy. Anger. Despair. Hope.
How wonderfully human.
"Fiddler on the Roof" continues through Oct. 9 at Derby Dinner Playhouse, 525 Marriott Drive in Clarksville. Call 288-8281 for reservations and information.
Suggested caption for photo: Tradition-defying daughters, from left, Chava (Sally Myers), Tzeitel (Colette Delaney), and Hodel (Tonilyn Hornung).