March 2018 Articles
Columns
Paul Moffett
Eddy Metal
Eddy Metal
Blogs
Got Shows?
Send Them To Us
Bookmark Louisville Music News.net with these handy
social bookmarking tools:
Available RSS Feeds
- Top Picks
- Today's Music
- Editor's Blog
- Articles
Add Louisville Music News' RSS Feed to Your Yahoo!

Issue:

Contemporary Christian Music Watch
It's been called the largest gathering of Southern Gospel music groups and fans in the world, and they met at the Kentucky Fair & Exposition Center, Sept. 19-24. Each day started with a Bible study and chapel services and ended with a concert featuring 15-20 quartets and Southern Gospel groups each night. Thursday through Saturday afternoons there were motivational seminars, showcases for new talent and some instrumental jam sessions.
I was able to attend "Wing It and Sing It," one of the afternoon sessions, with Bill Gaither. As we entered the East Hall, we were each given a hymn book so we could sing along. Bill Gaither was the moderator and was backed up by a choir of Gospel music legends. The afternoon session was uplifting and pleasant and had several funny moments.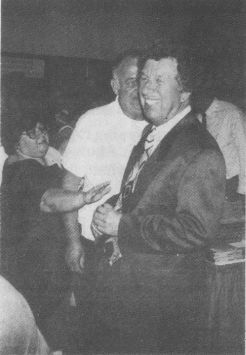 A fan reaches out to tourch veneralbe Southern Gospel artist Bill Gaither at the National Quartet Convention at the Ky. Fair and Expo Center on Sept. 22. Photo by Jean Metcalf
On Thursday night during the evening concert the Singing News Fan Awards were given for several different categories. You can compare it to the newly developed American Christian Music Awards.
In addition to the evening concerts, there were exhibits of the different Southern Gospel groups and quartets.
This is the first year for the National Quartet Convention to be held in Louisville. It has been held in Nashville since 1971, but more room was needed to accommodate the large crowds that come to the evening sessions. Welcome, NQC, and stick around for a few years!
(The 1995 NQC will be held Sept. 18-23 in Louisville, and ticket orders may be mailed to NQC, 1 Riverfront Plaza, Suite 1710, Louisville, KY 40202.)
Michael English was seen several times at the NQC. He and Bill Gaither are co-owners of Chapel Records, a Southern Gospel label. Meanwhile, Michael has inked a deal with Curb Records for a pop album. Curb is the home of Lyle Lovett, Sawyer Brown, Wynonna and Tim McGraw. The label has decided to add pop and Christian music divisions. White Heart and Jonathan Pierce (formerly Jonathan Hildreth with Imperials) have been signed to do Christian albums.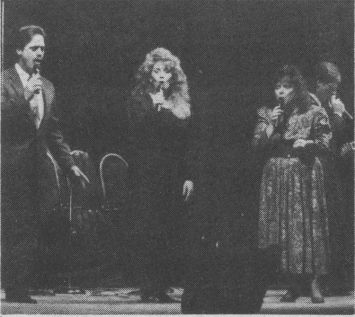 New Horizon at NQC Sept. 22: from left, Danny Rhoades, Sheri Forner, Becky Buttrey and Max Rhoades. Photo by Mike Boehnlein
Curb's Christian division vice-president Claire West says, "We decided to sign Michael English based on the fact that we thought he was incredibly talented." West said Curb is very excited about Michael and will try to provide him with an environment that will help him heal. No release date has been set for Michael's project.
The First Annual America's Christian Music Awards were held at Walt Disney World during the Night of Joy, Sept. 12. Michael W. Smith and DC Talk were the hosts. The evening included music from Steven Curtis Chapman and DC Talk, with surprise guest Larry Norman.
The big winners for the evening were DC Talk. The rappin' trio won for Favorite Pop CD, Favorite Live Concert, Favorite Pop/Group, and Favorite Short Form Video for "Jesus Is Just Alright." Steven Curtis Chapman and Amy Grant won Favorite Male Artist and Favorite Female Artist, respectively. Favorite New Artist went to Point of Grace, and Carman's "Addicted to Jesus" video won Favorite Long Form Video.
I about fainted the other day when on my desk was a pre-release cassette of Christmas music! It was Star Song Records' Celebrate the Gift, featuring songs from several of their current artists.
Speaking of Christmas music, this year's Young Messiah Tour kicks off Nov. 25. Performances closest to Louisville will be in Cincinnati (Dec. 3) and Nashville (Dec. 4). You can get ticket information by calling 1-800-432-4200.
Locally, Steven Curtis Chapman rolls into town Nov. 10 at the Louisville Gardens with special guest Newsboys. Tickets are $16.50 in advance. Also coming to town is the hot female group Point of Grace. They will be at Highview Baptist Church on Fegenbush Lane, Friday, Oct. 28. There is a $3 suggested donation at the door. You can get more concert information by calling the WJIE concert line, 966-0547.
WJIE Music Pics
King of the JungleSteven Curtis Chapman
Along the RoadAshton, Becker, Dente
I Believe in LoveDavid Robertson
Children of the WorldAmy Grant
If Anything Ever Happened to YouBeBe & CeCe Winans
I Turn to YouRandy Stonehill
One LoveBrent Bourgeois
Mission of LoveKathy Troccoli
For Future Generations4Him
All We NeedOut of the Grey