November 1994 Articles
Cover Story
Jeff Walter
Features
Darrell Elmore
Columns
Berk Bryant
Jim Galipeau
Mike Stout
Paul Moffett
Keith Clements
Todd Hildreth
Duncan Barlow
Henry C. Mayer
Henry C. Mayer
Alan Rhody
CD Reviews
Allen Howie
Robert Gruber
Ray Rizzo
Allen Howie
Kory Wilcoxson
Kory Wilcoxson
John Goodin
Mike Stout
Bob Bahr
Bob Bahr
Robert Gruber
Mike Stout
Performance Reviews
Ninette Shorter
Bob Bahr
Bryan E. Hurst
Mark Clark
Mike Stout
Ray Rizzo
Interviews
Mike Stout
Michael Campbell
Calendar
Bob Bahr
News Item
Henry C. Mayer
Photos
Robin Roth
LASC
Paul Moffett
Michael A. Howard
Jean Metcalfe
Blogs
Got Shows?
Send Them To Us
Bookmark Louisville Music News.net with these handy
social bookmarking tools:
Available RSS Feeds
- Top Picks
- Today's Music
- Editor's Blog
- Articles
Add Louisville Music News' RSS Feed to Your Yahoo!

Issue: November 1994
Onstage: The Napp Band
By Darrell Ray Elmore
I got in an argument with this girl once . . . we'll call her "Tammy." She was telling me about a band she had seen at the Golden Nugget and how they weren't very good, mainly because they wouldn't play her favorite song, a Doors cover as it turned out.
"What are you talking about?" I exclaimed, thinking I had perhaps heard her wrong. "Are you trying to tell me you didn't like this band just because they wouldn't play 'L.A. Woman?'"
"That's right," she said, "I asked the singer a couple of times, but he told me they didn't do covers. I mean, what kind of band doesn't do covers? Give me The Velcro Pygmies, they're great!"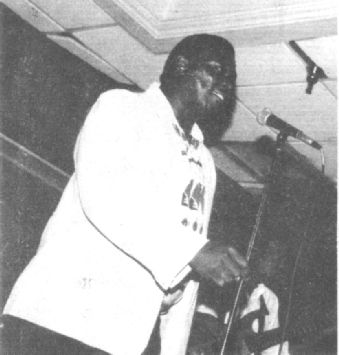 Napolean Edmundson. Photo by Darrell J. Elmore
I assumed from her last statement that the Velcro Pygmies were a cover band.
"Do you like any bands that don't do covers?" I asked.
"Not really," she replied, "I mean, how can you really enjoy music unless you know all the words?"
So I took her to see The Napp Band. Sure enough, they were just exactly what the girl wanted to hear – a great cover band. It was a Saturday night at the Buckhead Grill & Bar. Man oh man, what a yuppie hangoutÿᄂÿbut I tell you what, some of those people seem to have an appreciation of R&B that almost lets them off the hook.
And The Napp Band was certainly able to earn some appreciation with their hard-hitting R&B and a few tasty alt.rock tunes thrown in just to keep 'em buzzin.
Buzz they did. Evidently the entire bourgeoisie is starving for a little Motown, as well as some Stevie Ray Vaughan and U2.
'Cuz my girl was right. For a lot of people (and not just her) covers is what it's all about, especially in places like the Buckhead. That's not necessarily a bad thing, not when they are performed with the energy and soul-stirring generosity that the Napp band provides.
These five guys have been prowling the circuit for about three years now, playing gigs every weekend. They maintain a steady rotation: T.K.s Pub, Mr. G's, The Buckhead, Jim Porter's . . . the older, more executive set I guess you could call it. Their success is testimony to their first-rate musicianshipÿᄂÿat least that's what drummer Danny Fellmuth told me.
Danny has been playing with vocalist Napoleon Edmunson for over eight years. They used to knock 'em dead in a band called the Duos, along with ex-Allman Bros. bassist Dave Goldflies. Dave originally started the band with just one other musician, hence "The Duo," but was forced to add an "s" on the end of the name as he added more players.
I guess all those years of constant playing has paid off, especially for Napoleon, who works the audience like a total professional. Napoleon told me he had started young, 14 or 15, playing in garage bands, covering Motown, sometimes playing a little guitar to get things shaking.
But now, along with B.G. Johnson on bass, Todd Nickens (who used to play with Bobby Lanz) on guitar and Dave Jackson on sax, Napoleon and The Napp Band do what others find difficult, namely satiating the appetite of literally thousands of "Big Chill" aficionados and wannabes. And girls like Theo – wooopsz! I mean, "Tammy."