November 1994 Articles
Cover Story
Jeff Walter
Features
Darrell Elmore
Columns
Berk Bryant
Jim Galipeau
Mike Stout
Paul Moffett
Keith Clements
Todd Hildreth
Duncan Barlow
Henry C. Mayer
Henry C. Mayer
Alan Rhody
CD Reviews
Allen Howie
Robert Gruber
Ray Rizzo
Allen Howie
Kory Wilcoxson
Kory Wilcoxson
John Goodin
Mike Stout
Bob Bahr
Bob Bahr
Robert Gruber
Mike Stout
Performance Reviews
Ninette Shorter
Bob Bahr
Bryan E. Hurst
Mark Clark
Mike Stout
Ray Rizzo
Interviews
Mike Stout
Michael Campbell
Calendar
Bob Bahr
News Item
Henry C. Mayer
Photos
Robin Roth
LASC
Paul Moffett
Michael A. Howard
Jean Metcalfe
Blogs
Got Shows?
Send Them To Us
Bookmark Louisville Music News.net with these handy
social bookmarking tools:
Available RSS Feeds
- Top Picks
- Today's Music
- Editor's Blog
- Articles
Add Louisville Music News' RSS Feed to Your Yahoo!

Issue: November 1994
Mark Collie Unleashed: The Man Behind The Music
By Michael W. Stout
I had the great privege of sitting down to a candid conversation with Mark Collie during his recent stop in Louisville. Mark was more than willing to talk openly about both his music career and his personal life.
Mark Collie was born and raised in Waynesboro, Tennessee. Although his immediate family were not farmers, the majority of his family was. His parents also were not musical, but his grandparents were and Mark recalls that he has been musical from about the age of eight or nine. In addition to his grandparents' influence, Mark considers Leon Russell's country album, Hank Wilson Is Back, a major influence on his music career. He says that this album convinced him to be a part of country music.
When asked if he ever felt like throwing in the towel and giving up his musical dream on the rocky road to fame and acceptance, Mark said, "No, I am and do what I am. This is what I do as if I were a craftsman. If I were a carpenter, you don't stop building houses just because you build one that you're not too crazy about. If you build one that don't sell, you don't stop building houses." Mark says that he is a craftsman that makes music and "sometimes you reach higher levels of success than you do at other times and no matter how many records I sell this year, or next year, or the year after, this is what I'll always do. I don't know anything else."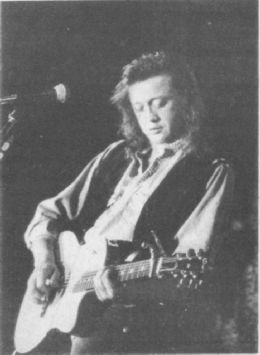 Mark Collie. Photo by Mike Stout
Mark is currently touring around the country promoting his fourth MCA record, Unleashed. This is the follow-up effort to his Mark Collie record which produced such hits as "Even The Man In The Moon Is Cryin'," "Shame Shame Shame Shame," and "Born To Love You." He co-wrote nine of the ten cuts off this album which showcases him as a well established and well received singer, songwriter, and recording star. Mark says he definitely takes more pride in his songwriting than he does his singing since he feels he's "not a very good singer." One listen to this album will disprove Mark's personal theory of his singing. He tries to make each of his albums unique by trying to write new songs, but says that it is real easy to repeat yourself, and admits that he is occasionally guilty of that, but tries hard not to be.
Mark's hard work and determination recently paid off when he received his very own star on the Walk of Fame at the Country Music Hall of Fame & Museum in Nashville. He described this recognition as a "great honor" and said, "I'm really proud to have my name inscribed at the Hall of Fame, even if it is in the floor," as he laughed. Upon receiving this coveted honor, Mark donated the jacket from his "Shame Shame Shame Shame" video to be placed into the Country Music Museum.
I would like to personally commend Mark on his generous act of humanitarianism by acting as host and honorary chair of the first annual "Mark Collie Celebrity Race for Diabetes Cure," which was held October 13 at the Nashville Motor Speedway. Celebrities such as Faith Hill, Tim McGraw, Kix Brooks, Ronnie Dunn, and Richard Petty joined Mark and helped gross more than $150, 000, which will be donated to organizations such as the Juvenile Diabetes Foundation and the American Diabetes Association to further research a cure and treatment for diabetes. Mark holds this benefit very near to his heart since he was diagnosed with diabetes seventeen years ago. He says that diabetes "really changes your life, it makes you adjust, and you have certain restrictions you have to live under." He further says, "I will not allow it to keep me from doing anything I want to do, and I won't allow it to stop me from achieving the goals that I have set for myself. It is a disease that will eventually kill you, and so I have to be aware of that. It's an every day battle to stay healthy and stay alive, and from that standpoint, I can't forget about it, and I can't ever take it for granted, and I appreciate every day that I have to live and I try to live it up to the fullest."
When asked what the future holds for Mark Collie, he said, "Everybody in Hollywood's looking for a hillbilly to be in a movie, so I'll probably show up there somewhere. Just getting the diabetes benefit behind me, I'll be able to focus on the music again for the next few months and hopefully I'll write some new songs that will be worth listening to." In the meantime, be sure to pick up Unleashed and find out for yourself just how very talented and genuine Mark Collie is.