December 1994 Articles
Cover Story
Darrell Elmore
Features
Allen Howie
Darrell Elmore
Columns
Berk Bryant
Mike Stout
Paul Moffett
Keith Clements
Todd Hildreth
Duncan Barlow
Henry C. Mayer
Alan Rhody
CD Reviews
Robert Gruber
Mike Stout
Kory Wilcoxson
Todd Hildreth
Bob Bahr
Robert Gruber
Kory Wilcoxson
Michael Campbell
Bob Bahr
Kory Wilcoxson
Kory Wilcoxson
Performance Reviews
Brian Arnold
Mike Stout
Jeff Walter
Mike Stout
Henry C. Mayer
William Brents
Mike Stout
Jean Metcalfe
Calendar
Bob Bahr
Preview
Henry C. Mayer
Photos
Robin Roth
LASC
Jean Metcalfe
Blogs
Got Shows?
Send Them To Us
Bookmark Louisville Music News.net with these handy
social bookmarking tools:
Available RSS Feeds
- Top Picks
- Today's Music
- Editor's Blog
- Articles
Add Louisville Music News' RSS Feed to Your Yahoo!

Issue: December 1994


I've Got A Mind To Ramble
Marshall Anderson has plenty of stories to tell about his musical experience. The following tales of life on the road came from a two-hour interview I recently did with him at his home. He presently is the bass player in B.B. Taylor's Blues Band and prior to that he played with the 26th Street Blues Band for 14 years.
Marshall grew up in the Newburg area on a farm and attended the Newburg School. It was the kind of school where a student had the same teacher for five years. He was encouraged by his music teacher, Jessee Hamilton, and learned to play the trumpet and drums. He even wrote and composed the Newburg School song.
He would look forward to the arrival of his two uncles who both played piano. They would take this young 8-year-old kid to the good-time houses and set him up at the piano to play the one boogie-woogie riff he knew from listening to WLAC in Nashville.
It was the music of Boody Green's band, Foree Wells and Big Daddy Graham, that inspired Marshall in his younger days and he would frequently catch the big name blues acts when they traveled through Louisville and the Club Cherry in Lebanon, Ky. Now for some of his stories.
Marshall met up with Elmore James in Muscle Shoals, Ala., around 1960. Elmore needed a bass player for a three-night stand just to play the background rhythm with a blues beat. At that time Elmore was out there scuffling like any other blues musician, but he had that signature riff. Marshall said, "Elmore was not a great musician, but it was his lyrics and voice that made him so outstanding." Elmore sometimes used a thimble on his finger to get that slide sound.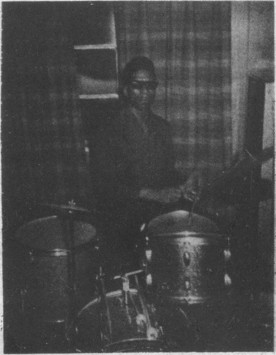 Marshall Anderson in mind-Sixites
Marshall then pulled out his big hollow body, 20-year-old Epiphone and recreated some of Elmore's licks.
Then there was the time when Marshall was up in Chicago looking for work and didn't know a soul. He was hanging around the musicians union hall when an urgent call came in needing a sax player. Marshall had never played a sax in his life, but he went to a pawn shop and spent his last thirty dollars on a horn and a tux and then showed up to play with the Warner Brothers Band for a six-day tour down to San Antonio, Texas. At the first gig Marshall pulled out his horn, carefully set the mouthpiece and moistened the reed like a pro, but when he blew this strange squeaking sound came out. The other sax player next to him said, "Cool it, I'll cover for you." At the subsequent gigs they told Marshall to just hold the horn up there but don't blow into it. By the end of the week when his contract ran out, they were glad to see him go, but Marshall was $350 richer.
In 1956 Marshall was playing guitar in a six-piece band in Kingston, N.C. In the back of the hall there was a big man in overalls, smoking a pipe and listening to the music.
People in the audience said to Marshall, "There's Albert King; let Albert play." At the time, Marshall didn't know King's reputation. Albert was coaxed by the crowd and reluctantly got up to the stage. He took Marshal1's guitar, turned it upside down and played the hell out of it. Marshall later played in Albert's band off and on for two years.
Marshall met Stevie Ray Vaughan while performing at the Kool Blues Festival in Mississippi in the 1970s. At that time a young Stevie was playing an old worn Fender guitar. Marshall asked him why he didn't use a shiny new axe like all the other young guitarists who frequently trade them in for new ones like a business expense. Stevie said, "It was the tone in this guitar that was most important."
During the off-season Marshall toured with the Ike and Tina Review. This was when they had their big hit "Everything's Gonna Work Out Fine." At that time Ike and Tina were traveling around the country in a mobile home while the band traveled separately by bus. Marshall said that Ike insisted that the band look sharp and enforced fines like $100 if you didn't wear a tie during a show. Marshall learned that rule the hard way.
Marshall summed it up when he said, "There is always another musician out there that wants your job, so you've got to be competitive and versatile." When Marshall injured his lip he stopped playing the horn and later when he injured his finger he couldn't play lead guitar anymore, so he made the best of what he had and concentrated on the bass. It was his grandmother, Lily Belle Lowe, who believed in him at an early age and at great sacrifice she provided Marshall with instruments and equipment.
If you catch B.B. Taylor's band, which features Fred Murphy and now recently Mary Ann Fisher on special gigs, ask Marshall to tel1 you a story. I'm sure he has more tales.
•
The KYANA Blues Society will be hosting its first Blue Yule Party at Stevie Ray's on December 13 at 7:30 p.m. All the KBS members are encouraged to bring a can of food for Kentucky Harvest. The Billy Bird Blues Band with Pen Bogart will provide the music that evening and other musicians are encouraged to come and jam later. Let's celebrate "Pickin's On Main Street."a