December 1994 Articles
Cover Story
Darrell Elmore
Features
Allen Howie
Darrell Elmore
Columns
Berk Bryant
Mike Stout
Paul Moffett
Keith Clements
Todd Hildreth
Duncan Barlow
Henry C. Mayer
Alan Rhody
CD Reviews
Robert Gruber
Mike Stout
Kory Wilcoxson
Todd Hildreth
Bob Bahr
Robert Gruber
Kory Wilcoxson
Michael Campbell
Bob Bahr
Kory Wilcoxson
Kory Wilcoxson
Performance Reviews
Brian Arnold
Mike Stout
Jeff Walter
Mike Stout
Henry C. Mayer
William Brents
Mike Stout
Jean Metcalfe
Calendar
Bob Bahr
Preview
Henry C. Mayer
Photos
Robin Roth
LASC
Jean Metcalfe
Blogs
Got Shows?
Send Them To Us
Bookmark Louisville Music News.net with these handy
social bookmarking tools:
Available RSS Feeds
- Top Picks
- Today's Music
- Editor's Blog
- Articles
Add Louisville Music News' RSS Feed to Your Yahoo!

Issue: December 1994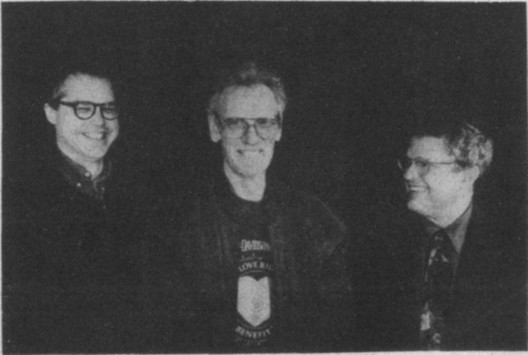 Ginger Baker Trio
what Cream could have become
Going Back Home (Atlantic)
Ginger Baker Trio
By Todd Hildreth
Imagine this: Shortly after Cream's breakup, Eric Clapton disappears from the music scene to study jazz, space music, country, punk rock, cartoon music and everything in between. Jack Bruce takes up the acoustic bass and learns to play jazz as well as he always said he could. Twenty years go by and Ginger Baker suddenly shows up and says, "Gentleman, let's jam."
That's what this CD is. Okay, maybe not, but when Ginger Baker teams with jazz legend Charlie Haden and legend-in-the-making Bill Frisell, it can sometimes sound like Cream got hold of the brown acid they warned about at Woodstock.
The true star of this recording is Bill Frisell, the unabashed eclecticist who's been stirring things up in the jazz guitar world for the past few years. His playing is what makes this recording. His sound is heavily chorused and occasionally ambient, spiced with real jazz chops and gut-bucket bite. Baker's mix doesn't help, however. At the bottom end, Haden confines his role to anchoring things while Frisell floats and Baker pounds.
Don't get me wrong; Baker's a decent drummer, but he made his name bringing jazz devices to rock. Now he's trying the real thing. The combination of the three musicians does work in a pleasantly strange way, but when Baker throws in the occasional caveman drum fill, one can't help but chuckle a bit.
It's still good listening. Ginger Baker fans will definitely dig it. So will open-minded jazz listeners. It's nice to see that one of the Sixties' most progressive drummers is still moving forward.