February 1995 Articles
Cover Story
Rick Mattingly
Features
Henry C. Mayer
Columns
Berk Bryant
Jim Galipeau
Mike Stout
Paul Moffett
Keith Clements
Todd Hildreth
Duncan Barlow
Henry C. Mayer
CD Reviews
Kory Wilcoxson
Bob Bahr
Dallas Embry
Kory Wilcoxson
Berk Bryant
Todd Hildreth
Kory Wilcoxson
Mark Clark
Ninette Shorter
Mark Clark
Bob Bahr
Mike Stout
Performance Reviews
Henry C. Mayer
Mike Stout
Calendar
Bob Bahr
News Item
Michael Campbell
Jean Metcalfe
Photos
LASC
Jean Metcalfe
Cindy Lamb
Paul Moffett
Blogs
Got Shows?
Send Them To Us
Bookmark Louisville Music News.net with these handy
social bookmarking tools:
Available RSS Feeds
- Top Picks
- Today's Music
- Editor's Blog
- Articles
Add Louisville Music News' RSS Feed to Your Yahoo!

Issue: February 1995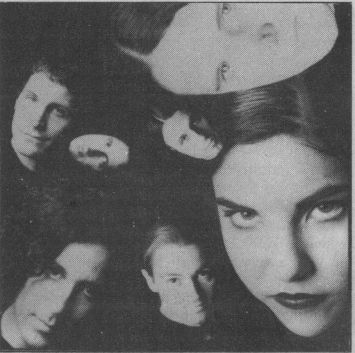 Sky Cries Mary
stark lyrics, lush music
This Timeless Turning (World Domination)
Sky Cries Mary
By Ninette Shorter
Full of moods ranging from gray to black, Timeless is a cosmic baker's dozen accented with myriad flavors, from gothic to Latin to Middle Eastern to funk to primal scream, with searing guitar work interspersed. It's space rock, not to be confused with New Age. If you're sensitive to minor keys and stark, symbolic lyrics, you might want to keep your book of daily affirmations handy. The positive ones.
The lyrics may be stark, but the music is not. Layer upon layer of effects combined with authentic musical skill make this collection interesting if for no other reason than the challenge of untangling it all. It's a little difficult to get to the base sound, but it's in there.
Without the benefit of a live concert's psychedelic visuals, the thirteen songs on Timeless tend to spiral further downward with each turn of the disk, evidently unable to avoid the natural forces of entropy. SCM's Thanksgiving Eve show at Cherokee (?) Club was fun, and left me wanting more (perhaps the band wisely kept its performance short), but the disk without the visual effects begins to wear thin with repeated listens. Still, there are tunes I'm not willing to throw away. I'd keep the first seven cuts and lose the rest, or maybe put them on the dirge remix. Like I said, lots of flavors here. But they're all dark.
For instance, there's "Scapegoat," a song about a certain strain of unconditional love: "I'll be there/I'll hold your hand when you scratch and shake/...I'll lay by your side/I'll pray at your feet/I'll be your scapegoat...I'll be there when you die." Now isn't that just the kind of devotion you've been looking for?
"Don't Forget the Sky" brings back vague memories of something darkly symbolic I should remember from literature class. "A crooked spine with a cane in his hand...still marches in time from his days with the band...There's a knife in his back/It keeps the blood from running out." Somebody in this band needs to get outside once in a while. It's amazing what a little sunshine will do for your attitude.
"These Old Bones" paints one of the most gloomy portraits of womanhood I've ever come across. "...a mother sings without moving her lips/Stories told with her hands and her hips/Songs of love/Of wars lost and won/...old stories at the end of the road/New skin stretched across these old bones."
I have to wonder what ventures the members of Sky Cries Mary will move onto next in their careers. There's a place for what they've done on Timeless, but the work feels like something that will go in a future bio reading "...coming from a variety of early ventures, including Sky Cries Mary, an artsy space-rock band from mid-90's Seattle..."