October 2015 Articles
Cover Story
Paul Moffett
Features
Eddy Metal
Columns
Mike Suttles
Eddy Metal
Blogs
Got Shows?
Send Them To Us
Bookmark Louisville Music News.net with these handy
social bookmarking tools:
Available RSS Feeds
- Top Picks
- Today's Music
- Editor's Blog
- Articles
Add Louisville Music News' RSS Feed to Your Yahoo!

Issue: October 2015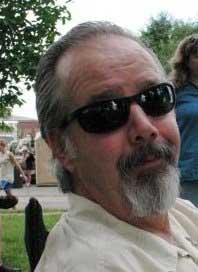 I've Got A Mind To Ramble
Garvin Gate Blues Festival Celebrates Muddy Waters and Chicago Blues.
(note: author is the co-producer and music buyer for the festival)
Whenever the music festival season begins in earnest in early Spring, blues lovers' thoughts turn to the Garvin Gate Blues Festival. The fans begin the questioning, "who you bringing in this year?" or "what surprises do you have in store for us at The Gate this year"? Here are the answers to those queries.
The 20th version of Garvin Gate, Friday, October 9 and Saturday, October 10, will feature a tribute to Muddy Waters and Chicago Blues. 2015 would have been Muddy's 100th birthday (some argue that he would have been 102 but I'm going with what Muddy said). There have been numerous celebrations around the blues world and at least two tribute albums, one of which was recorded in Louisville and features local musicians. Chicago blues music and artists have long played a large part of the previous fests and this year is no different.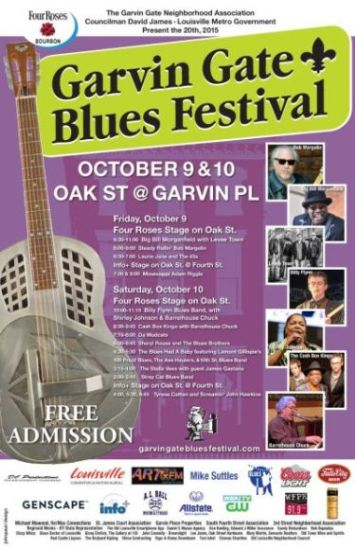 2015 Garvin Gate Blues Festival
Friday, October 9, will serve as the tribute to Muddy. Starting off the evening at 6:30 on the Four Roses Main Stage will be Laurie Jane and the 45s, one of the most exciting local bands in recent memory. The band is fronted by Laurie Jessup Duggins, whose vocal stylings harken back to a time of classic blues singers like Ella Fitzgerald and Big Mama Thorton. Her husband, Cort Duggins, sets the bar high with his superb, understated lead guitar. Fans will see exactly why this band has become a local favorite.
Up next on the main stage will be Steady Rollin' Bob Margolin. Margolin served as a guitar player for Muddy Waters from 1973-1980. Margolin has been quite successful in keeping the sound of Muddy and Chicago blues going into the 2000s and shows no signs of slowing down. Margolin won the Blues Music Award for guitar in 2005 and 2008. He also won the 2013 Keeping The Blues Alive Award for Journalism, an appreciation of his 20 years of writing a column for Blues Revue. He will front a three-piece band at the fest featuring longtime blues artist Tad Walters on guitar and bass and Gene Wickcliffe (from Louisville's Da Mudcats) on the drums. Here's a link to see Margolin and Walters together; https://www.youtube.com/watch?v=g9MYAgN8KpI.
Headlining Friday night at The Gate will be none other than Muddy's son, Big Bill Morganfield. Big Bill did not begin playing the blues until after Muddy passed away. But over the course of the last 15 years, he has become renowned in the blues world. He is certainly the proverbial "chip off the old block" as his sound echoes that of Muddy but with his own slant on things. In his own words, "I play real blues. Nothing but real blues and I play it with my heart, my soul and a little bit of Mud grease." Morganfield will be backed by Levee Town, a four-piece "Boogie Blues Rock Band" from Kansas City. Here's a link to see Big Bill doing the Willie Dixon song, "Evil"; https://www.youtube.com/watch?v=PlYcjGqYZJo
On the Info+ Stage Friday night, Mississippi Adam Riggle will play two sets of his gut bucket, down in the alley, Mississippi Hill Country Blues. Riggle plays some of the dirtiest slide suitar around and for a young guy, can certainly conger up some of the Hill Country's best like Junior Kimbrough, Big Jack Johnson and his mentor, the late Wesley "Junebug" Jefferson.
Saturday at the festival brings the Tribute to Chicago Blues and it will also serve as a tribute to three local musicians who died this year, Joey Lamont Gillispie, Byron Davies and Jimmy Gardner. Starting the day off at 2:00 on the Four Roses Main Stage will be the Stray Cat Blues Band. Stray Cat is a longtime Louisville legend that in recent years has begun playing around town again. Led by Bruce Lively, one of the best frontmen in town, the band can play the Chicago-style blues as if they were from there. Lively will be joined by an all-star cast of players including Bill Dean and Bob Ramsey on keyboards, Jimmy Brown on bass, Steve Holmes on drums and guests Joel Pinkerton on harp and probably who is the most under-rated guitar player in town, John Burgard.
Fresh off the release of their new CD Don't Tell Me Your Name, The Stella Vees are up next, taking the stage at 3:15. Fronted by Jason Lockwood on guitar and vocals, the band features Chicago and West Coast blues in their repertoire. As an added bonus, the band will be joined by James Gaetano on guitar. There is sure to be some guitar slinging going on.
Next up will be a segment listed as The Blues Had A Baby. This hour-long set will feature three bands that recorded songs on the Muddy Water tribute, The Blues Had A Baby, Louisville's Tribute To Muddy Waters. The 10th Street Blues Band, a throwback to the real old-time Chicago sound, features Billy Byrd on some of the best vocals you will hear in these parts. Also in the band is 79-year-old drummer Sonny Sitgraves. Sonny has a tie to Chicago, as he recorded at the famous Chess Records label that featured many of the early greats of Chicago blues, including Muddy, Howlin' Wolf and Etta James.
The Ass Haulers will bring their own brand of rock and roll and blues to the stage. The Haulers feature Steven Clark on vocals and guitar virtuoso, Screamin' John Hawkins. The Blues Had A Baby project is a cross-genre record and the Ass Haulers tore the studio up with their rousing rendition of "Trouble No More." You can expect some high energy from these guys.
Rounding out the trio in this set will be Lamont Gillispie's 100 Proof Blues. After Lamont passed away, the remaining band members decided to keep the band going and they still drive home the blues that Lamont loved. 100 Proof Blues includes Jimmy Brown, Steve Holmes, Bill Dean, Mark Bright on sax, another of Louisville's under-rated guitar players, David "Spoonie" Witherspoon, and a guest appearance by frontman Bruce Lively.
Appearing for the first time at the festival, Sheryl Rouse and the Bluez Brothers will bring their own brand of the blues to the stage. Rouse's vocals will definitely be a hit for the fans who love female blues shouters. Rouse also sings jazz, R & B and soul but for the Gate, she will be bringing the blues and nothing but the blues.
Rounding out the local lineup on the main stage will be Da Mudcats. Celebrating their thirtieth year playing the blues, the addition of former members Susan O'Neil and Doug Lamb guarantees that this long-time favorite will have the crowd up dancing. O'Neil, Louisville's blues matriarch will bring her fabulous vocals to match the ferocious playing of Rob Pickett on guitar, Mike Lynch on bass, Gene Wickcliffe on drums, and the multi-talented Doug Lamb on keys, vocals and guitar. What a way to bring the local part of the fest to a close.
Saturday night will bring a two-part headlining act to the crowd. Starting off will be The Cash Box Kings. The Kings are a relatively new band that honors the "Old School REAL DEAL" Chicago blues as well as any of the contemporary bands playing today. The band is fronted by Joe Nosek on harp and vocals and Oscar Wilson on vocals. For the fest, the Kings are bringing along honorary King Barrelhouse Chuck to play piano. Chuck is a fixture on the Chicago scene harkening back to the likes of Sunnyland Slim and Otis Spann. Here's a video of the Cash Box Kings with Barrelhouse Chuck; https://www.youtube.com/watch?v=XlAswOVKU7o.
Following the Cash Box Kings will be The Billy Flynn Blues Band with Shirley Johnson. Flynn, a veteran of three previous Garvin Gates will bring his blistering, yet subtle guitar playing to back up Johnson. Flynn is the most sought-ofter blues session guitar player in Chicago and has appeared on numerous award winning records. There are rumors floating around that Flynn will also join the Cash Box Kings for a song or two. A Delmark recording artist, Johnson is another in the long line of female Chicago blues singers in the vein of Koko Taylor and Etta James. Adding to the richness and excellence of this ensemble, Barrelhouse Chuck will also play with Billy and Shirley. Here is a video of Billy Flynn; https://www.youtube.com/watch?v=c4VKlaeEHXs and of Shirley Johnson; https://www.youtube.com/watch?v=JZOXjcgT53o
Tyrone Cotton and Screamin' John Hawkins will hold forth on the Info+ Stage for three sets in between acts on the main stage. Cotton's music is "blues steeped with some folk, a little jazz and stoked by rock". Screamin' John's ability on the guitar is no secret, as he has been one of the premier players in Louisville for a number of years. The 20th Garvn Gate Blues Festival will be held in Old Louisville, on Oak Street between 4th and 6th Streets. It's free and you won't find any better blues between Chicago and Memphis than at The Gate.