June 1996 Articles
Cover Story
Bob Bahr
Features
Paul Moffett
Columns
Berk Bryant
Decimus Rock
Mike Stout
Paul Carney
Keith Clements
Todd Hildreth
Henry C. Mayer
Duncan Barlow
Alan Rhody
CD Reviews
Paul Moffett
Bob Bahr
Bob Bahr
Bob Bahr
Vicky Moon
Paul Moffett
Bob Bahr
Performance Reviews
Wally Stewart
Michael Campbell
Laura Chadwick
Bob Bahr
Michael Campbell
Jean Metcalfe
Pete Strojny
Michael Campbell
Paul Moffett
Pete Strojny
Interviews
Bob Bahr
Calendar
Paul Moffett
Opinion
Errata
Paul Moffett
Blogs
Got Shows?
Send Them To Us
Bookmark Louisville Music News.net with these handy
social bookmarking tools:
Available RSS Feeds
- Top Picks
- Today's Music
- Editor's Blog
- Articles
Add Louisville Music News' RSS Feed to Your Yahoo!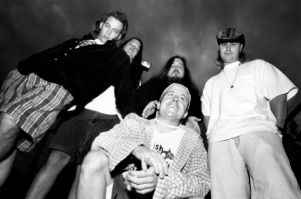 Whatever Will
Artist Profile:
Whatever Will
The name came from a Shakespeare line, maybe something like "Whatever will be, will be."
"We sometimes say it came from the title of a pornographic movie," said Shaun Kennedy, 24, lead guitarist for the band. "But the original singer said it was from Shakespeare."
Whatever the source, the attitude of acceptance must be some part of the group, as it has undergone more extensive personnel changes than most groups.
"There aren't any original members left," Kennedy explained. The group, which began with the name Whatever Will, has been together since 1992. Kennedy and rhythm guitarist Scott Clark, 24, joined the group in 1994. The two men also work together on their day job with Cellular One.
Whatever the route to the present, Whatever Will now consists of Kennedy, Clark, singer Chris Donahue, 25, drummer Billy Masterson, 25, formerly with Karma Dogs, and bassist Frank Green, 26, who was previously with Dodge City.
As is often happens with bands going through personnel changes, the choice of musical formats also shifted. Until 1996, Whatever Will was a dance and college band. In 1996, they decided to move to a harder alternative mode, working up material by Pearl Jam, Rage Against the Machine, Red Hot Chili Peppers and similar current acts.
They have also begun to add to their stage show with a new set of lights similar to what Big Head has been using. They are adding to it slowly, but with former Predators' light man Todd Blankenship on board to run the light show, the group feels that it will only get better.
Their sound man, Ted Subotky, previously worked for danny flanigan's Hopscotch Army. Subotky also does sound for Cooler and Starbilly and is in demand for touring groups.
Asked how he felt about being in a 'cover' band, Kennedy was pragmatic.
"It's a choice you make. It's what I decided to do."
"We've been working steadily in local clubs, plus we've reached into Indy, Fort Wayne, Chicago," he said. "But we've done the best going south, to Chattanooga, Knoxville, Nashville and Birmingham."
"Cam Flener [of the Velcro Pygmies] helped us out in some Southern clubs, mentioning us to the club owners, Of course, we don't do as well as the Pygs, but we're the second-best draw."
"We've been writing some," Kennedy went on, "but we don't play them. We're interested in building a Louisville following. Then we'll worry about originals." Their target audience is people of their age, who want to hear familiar songs.
"Frank and Billy have always done originals [in their previous bands], but the rest of us played covers." Kennedy played with the Unknown when they were the Basement Zombies.
"It got us through college," he chuckled.
He writes with Chris Donahue, who's talent for lyrics is obvious, Kennedy noted. Donahue has a Masters in Business from Ball State, which is of get help with running the band.
Asked about the best thing about the band, Kennedy said that the personnel get along with each more than is common with other bands.
"We hang out together and run around together. Sometimes we'll all just call each other and say 'let's go do such-and-such," he said, "and we go together."
Kennedy says that he "likes the blues more than rock" but that the bottom line is for the band "to put on a show."
That's what the crowd wants and Whatever Will delivers that.