July 2018 Articles
Cover Story
Paul Moffett
Columns
Eddy Metal
Eddy Metal
Opinion
Jean Metcalfe
Blogs
Got Shows?
Send Them To Us
Bookmark Louisville Music News.net with these handy
social bookmarking tools:
Available RSS Feeds
- Top Picks
- Today's Music
- Editor's Blog
- Articles
Add Louisville Music News' RSS Feed to Your Yahoo!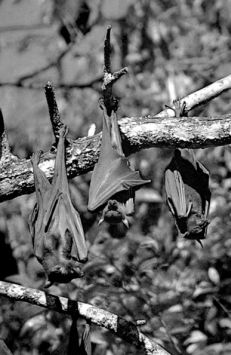 Hangin' Out With Rachel's
By Bob Bahr
Jason Noble used to play somewhat heavy, somewhat artsy indie rock in Rodan. Christian Frederickson is a classically trained viola player. Rachel Grimes wrote all the piano-driven compositions for the elegant Music for Egon Schiele, one of the best selling records for the Chicago-based indie rock label Touch & Go; before the Rachel's band she was the bass player for the lo-fi pop-rock band Hula Hoop. Now, the three of them, augmented by a cast of up to 20 other musicians and artists, make music as Rachel's, a classical-musicish band that slinks, ponders, laughs and mourns its way into the hearts of punk kids and classical music fans alike. The national press is falling over itself with praise, to the point where journalists rise up in defense of Rachel's against any and all criticism. Why does this beautiful music need defending? And who is attacking it anyway?
"People have the idea that we translate French plays into English and then back into French again, under a velvet tent," said Noble.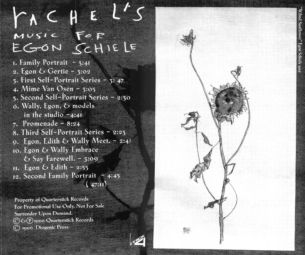 Well, something like that. It's hard to find anyone with something nasty to say about this instrumental group, but you can find them if you search hard enough. Especially in Louisville, the city of envy.
"Pretentious." "Boring." "A novelty."
Oh yeah, the criticism is out there. It just isn't said out loud very often.
And perhaps it isn't said out loud because such criticism is unjustifiable. One wag I talked with tossed off a few criticisms, then admitted that he'd never heard any of Rachel's music.
Take the time to listen to Handwriting, Rachel's' first album, or Music for Egon Schiele, the group's briskly selling winter release. In them you will hear traces of Rodan -- especially the dirge-y, slow core movement of guitars, now transplanted to viola and cello parts. Melancholia is present, but balanced somewhat by the odd ebullient tune. You'll catch the trace of roots in Romantic and Impressionist composers of the last century and a half, and it works in the same way. It's more effective than the blues in turning sad feelings into good ones. Louisvillians Grimes and Noble and Washington state resident Frederickson laugh too much to be subjectively labeled as moody artistes.
So let's set the record straight. The people in Rachel's aren't moody artistes. They are goofball artistes.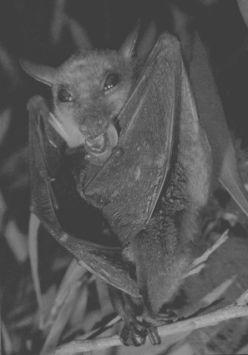 A typical Q&A interview with these people would not work. So LMN tossed them a few pages of short lists, analogies and non sequiturs to provoke some soul-revealing responses. Well, we don't know how much their souls were revealed, but a macabre, bright sense of humor was abundant in the answers from Frederickson, Grimes and Noble.
We asked them to choose between several ancient board games -- chess, othello, Parcheesi, chinese checkers -- and they responded, You sank my battleship! Not a particularly surprising answer, given their more than passing familiarity with pop culture, including the TV show "Diff'rent Strokes." These are the same people who see a clear correlation between Ernest Borgnine's face and that of a star-nosed bat. Does this mean Jason Noble watches "The Single Guy"? Maybe, but when asked to compare the character of Rachel on "Friends" with the band, Grimes and Noble say they are as water is to gasoline. Frederickson was a bit more circumspect. Rachel's is to Rachel on "Friends" like a hand-glazed mug is to a Sony Mini-Disc, he says.
We asked them what kind of vehicle they would most want the band to drive up to the front door of a gig in, and Frederickson had a very specific answer: the circus train from "Something Wicked This Way Comes." Grimes and Noble, however, opted for the shiny and dark: a Deluxe 10 Airstream RV or two black 1970 Cadillac hearses. The vehicles, I suppose, would be returning them from either vacationland or Hades.
That fits with their idea of the best way to enjoy a pretty day: either 1) paint windows in the basement black and sit in a pool of fetid water, or 2) Cave Hill [Cemetery], strawberries, iced tea, rich soil. For his part, Frederickson answered the same to that inquiry as he did to the question, What is the viewing public supposed to do in the event of a TV thunderstorm warning? -- Turn out the lights and open the windows, he said.
For the record, the name of the band predates Rachel Grimes' participation in it, and the name makes her mighty uncomfortable now. She tends to call it the Rachel's band to make it sound less egotistical. She seems to embarrass easily.
Grimes and Noble say the most embarrassing things have nothing to do with bands or childhood, they are 1) [getting] caught sleeping with sheep, 2) that brown "bit" that Rachel pulled from Jason's teeth, and 3) having crabs. Frederickson was simply embarrassed by the question itself.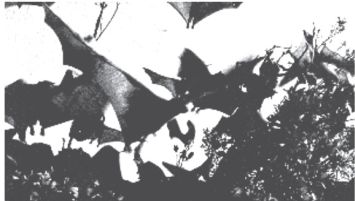 The three of them hate the notion of Rachel's' music being categorized or becoming a cause célèbre. Grimes takes issue with the description of the music as being "classical." It's just "new" music to her. They are all grateful that the band's indie rock roots translated into a young, unconventional band getting a chance on an open-minded record label. They feel fortunate to work with Touch & Go.
They say the ideal reaction for a Rachel's listener -- in their eyes -- would be to go out and start their own band because they get pumped up, or simply that the audience . . . feel a little easier about their feelings. We asked them to put themselves in the audience and consider their own reaction/behavior to a Rachel's show. Grimes and Noble said they would engage in loud yelling between songs, repeated monkey calls, and "Where's the vocals" (joke taken to sick extreme.)
We didn't think Rachel's would respond to one rather personal question -- If Rachel's were to write a song about Jesus Christ, what would it say about him? and would your parents like the song? Surprisingly, they answered. The title would be "Our Boss Is a Jewish Carpenter," Grimes and Noble said, and they had no idea what their parents would say. Frederickson replied that the song would say, "Sorry, man," and sure, my folks would understand. But would anyone understand this recipe, submitted by Noble?
Savory Springtime Star Nose Bat
1. Carefully wash bat and remove mites
2. Clip nose and ears and set aside (chill)
3. Boil wings for 10 minutes, until tender
4. Add sour cream and a dash of nutmeg
5. Dice nose and ears
6. Sprinkle and serve
The band, which says they rely on caffeine, human blood, and an hourglass with insufficient sand to get them through recording sessions, have never played an open-air concert at the foot of Central Avenue on Derby Day. But they all can imagine the scene. It would be populated solely by all the people who can't understand why "Centerfold" was such a hit, said Frederickson. Messy and raucous, [with] fiddle tunes a-flyin' and bourbon flowing, replied Grimes and Noble.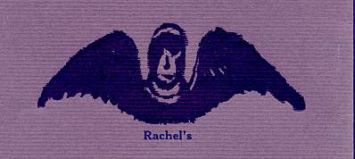 Quite a contrast to the typical Rachel's show. Audiences at their concerts are known to sit silently in rapt attention while the musicians are playing. Noble described a Rachel's show as more intense than a rock show. The musicians have to pay closer attention to what the others are doing and what the piece demands, whereas rock is more of a release. They stress that their move into a more controlled field of music is not a dismissal of rock. Noble has plans to play some rock this summer before Rachel's hits the road for a tour. This group, Rachel's, is simply one way for the band members to express their creativity.
Their CD packaging is another. It is striking, award-winning, in fact -- if that means anything. And it eats deep into the band's profits. They don't care; in fact, a double CD set scheduled for early fall release is going to be so elaborately packaged, the profit margin will be almost negligible. The band sighs in the face of this, but refuses to change a thing. The textured, hand-printed feel of the packaging is an integral part of the Rachel's band, and it was instrumental in boosting Rachel's sales. People picked it up because it was so striking.
Striking like a Judith Krantz novel? No, says Rachel's. That strikes them as smacking of Jacobson's, The Mall food court, Jackie Collins and shiny pink jogging suits. And "Bridges of Madison County" elicits this bit of unsolicited dialogue: "You look beautiful . . . I mean runnin' around the block, screamin', howlin' at the moon beautiful. You want a beer?"
Rachel's, for their part, will opt for a Coca-Cola. Everything about them screams "bright," though not in the dour, intellectual way. The world is something to laugh with and at, Rachel's seem to suggest. Both the sad and the amusing are documented in their music, no matter whether you categorize it as indie rock, classical, or avant garde. And that's not so pretentious. It is, in fact, more honest than a thousand songs about Camaros and mass murderers.