August 2015 Articles
Cover Story
Paul Moffett
Columns
Mike Suttles
Eddy Metal
Eddy Metal
Blogs
Got Shows?
Send Them To Us
Bookmark Louisville Music News.net with these handy
social bookmarking tools:
Available RSS Feeds
- Top Picks
- Today's Music
- Editor's Blog
- Articles
Add Louisville Music News' RSS Feed to Your Yahoo!

Issue: August 2015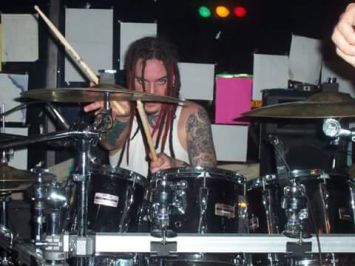 Name: Nik Houpt
Age: How long have I been growing my dreads? Man, at least 10 years.
Instrument: Percussion
Bands/Former Bands: Undecidead, Transcend, Incursion, Flaw, (Intheclear), Nine.
How long on instrument: When I was 8 years old, my parents bought me a 'Muppets' drum set from Toys-R-Us. I think they thought they'd get me some crappy kit thinking I'd tear it up, and that would be that. Their plan failed miserably, I got a 'Smurfs' kit next.
Equipment: Yamaha Recording Custom kit, Pearl rack, Pearl eliminator pedals (southpaw), Vic Firth drum sticks, Mapex Black Panther snare, Zildjian, Paiste, Mienl, and Sabian cymbals, DW throne, REMO heads, Line 6 Toneport, Roland electronic kit.
Influences: Tommy Lee, Lars Ulrich, Dave Lambardo, Igor Cavalera, Donald Tardy, Abe Cunningham, Paul Bostaph, Gene Hoglan, Bill Ward, Neil Peart, Local Influences like Dave Wathen (Mayhem / Mindstorm), Ivan Arnold (My Own Victim, Flaw, Five Bolt Main) Dylan Marshall (Farewell Soyuz), Brian Harris (Decay (OH), My Own Victim).
Hobbies: I work as an electrician and a second job at UPS. I also just recently have become a father for the first time, which is indescribably awesome… so with music included, I don't get a lot of time for too many hobbies. I have always been a pretty decent artist and still enjoy drawing and painting. If I had a little more time I'd love to pick up a tattoo apprenticeship or something. I am also an insane sports fan, to the point that I'm a bit of a statistical asshole. I love the Louisville Cardinals. I am a longtime season ticket holder and I might have to say that I honestly put my intense love for that program right up there with the music thing.
Favorite movies: I honestly love terrible horror movies. The worse the acting, the better! It truly entertains me. Forrest Gump is a movie that, whenever it comes on regular TV, I watch it. Maybe it's because of all the time frame stuff, and / or the soundtrack. But then… it bothers me because that chick totally knew she had some shit and still banged Tom Hanks. I love documentaries more than movies. I'm super into WWII related shows. Doomsday shows, Alien stuff, conspiracy theories, Mickey Mouse Club House, Sponge Bob, etc.
Favorite food: Red Meat. I'm a straight carnivore. I love grilling. A good friend of mine, Josh 'Mudbilly' Boone, who also hails from Louisville, is the drum tech for Machine Head and makes some mean ass wings. "Mudwings."
Favorite place: Home. I'm never there enough. I love being at home with my dogs (in the literal sense), my girl (Ole Shiggity), and my son. I also enjoy frequenting the KFC Yum Center, the beach, Ellis Park.(Thoroughbred race track in Evansville, Indiana).
Favorite sports or team: THE University of Louisville Cardinals, the Kansas City Chiefs.
What I'm listening to nowadays: It seems that I am not alone in my opinion that there has not been a lot of overwhelmingly good music put out in a long time. It seemed like we had some renaissance-type era stuff that happened in the 90's and early 2000's, that had bunch of epic albums released by a bunch of bands. Now it's extremely lacking. Although, I'm really enjoying the re-emergence of old thrash bands making returns and releasing great albums, such as Exodus, Testament, Carcass etc. I have the New Machine Head in my CD player right now.
Coolest thing I've done: Being a dad is pretty rad!
Most Embarrassing Moment: I was playing drums for a very popular, relevant Louisville band and was wearing ear monitors which only the pre-recorded guitar tracks and back-up vocals were all that was ran through to my ear monitors. It was the first (and only) show that my Mom has ever came to. About four songs into the set, all was well. So it seemed.
I was jamming, totally feeling it! So I'm only hearing the pre-recorded music and click track. Unknowingly, about a song earlier a fight between band members violently erupted on stage. This was a pretty rough bar in the South End of Louisville. I look up to make visual contact with the other members of the band, you know, to make sure we are all in sync, and it is a complete bar fight, like you would see in a movie. No one is on stage but me. Clueless, I had been playing drums the entire time this mayhem was going on.
So there I am still playing drums and I look up, looking through a violent shower of flying beer bottles and fists. I see my mother and brother hiding underneath a table, in total fear.
My mom has not been to any of my shows ever since. Sorry Mom!
Bad Habits: I have to quit smoking.
When/where did you first get some: Dude, this question? Seriously? Let's just say I got some. A couple of times.
If you could meet a rock star (past or present), who would it be, and why? Dimebag Darrel. Generally I hate bothering musicians that I look up to. It seems like a lot of them don't care for it either really. Dime seemed like he would have probably enjoyed the company no matter who you are, and would drop any ego to hang with any fan.
Who do you love? Just ask George Thorogood. My family, friends, my son Noah, Shannon Pryor, mom, my dad, the Incursion guys, and all of the great fans who have continually supported us all through the years.