May 2015 Articles
Cover Story
Paul Moffett
Features
Eddy Metal
Columns
Sue O'Neil
Eddy Metal
Blogs
Got Shows?
Send Them To Us
Bookmark Louisville Music News.net with these handy
social bookmarking tools:
Available RSS Feeds
- Top Picks
- Today's Music
- Editor's Blog
- Articles
Add Louisville Music News' RSS Feed to Your Yahoo!

Issue: May 2015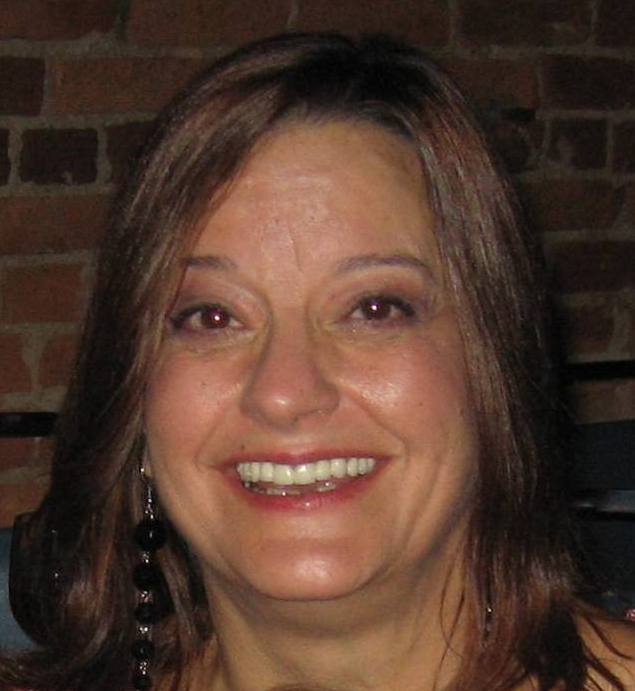 I've Got A Mind To Ramble
Yes, here I am again closing in fast on a deadline as I stare at the screen with my fingers poised lightly on the keypad ready to start writing. I typically procrastinate when it is my turn to write this article but I don't usually wait this long. It became painfully apparent to me two weeks ago that the subject matter in this issue was not going to go down easily. I have sat down at the computer several times to begin writing and came up blank with grief and disbelief.
It is with a very heavy heart that I write about the losses our beloved Louisville music community has suffered within the last six weeks. As I look back through the first quarter of 2015 it is stunning how many wonderfully talented local musicians have passed onto the next life. All of us who are left behind remain numb to the reality of these losses. I cannot tell you how many times I have heard "this just doesn't seem real." and "I can't believe this is happening." The reality is that we all know in the weeks, months and years to come, we will look to those we have lost and realize that they aren't there to answer the bell. We will understand that the last time we saw that person and shook their hand, hugged their neck, kissed their cheek and shared the stage with them is not going to happen again in this lifetime and we will miss them forever.
Some of these musicians I knew only by name and acquaintance, never had the pleasure of working with them and some I knew well. Nevertheless, each and every one has left a gaping hole in the heart of the Louisville music community. Either way, I grieve with their families, friends and colleagues and pray that they find comfort and understanding in the days that lie ahead.
The Blues community has taken a particularly hard hit in the past six weeks with the passing of Jimmy Gardner, Lamont Gillispie and Byron Davies. It seems as if we barely had time to take a breath between losses as they came within two weeks of each other.
The questions I pose to myself. What can I say about these guys that has not already been written? How can I appropriately pay tribute? Well, I have decided that this article should come from the heart, so I will share my impressions of them over the years as an observer and fellow musician.
I will begin with Jimmy Gardner whose departure from our planet was very unexpected. I remember seeing a post to pray for him as he entered the hospital with a serious health issue. Then a few days later the news came that he did not make it. The impact on our community was obvious as the news spread and as family and friends came together to memorialize his life.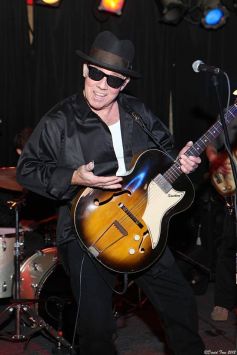 Jimmy Gardner
My introduction to Jimmy was when he played for "Midnight Special." The first time I saw him was when the band warmed up for Jim Dandy at the Brown Theatre around 1980. It was the first time that I saw the band and I was floored by the musicianship and the show. Honestly, I liked them better than Jim Dandy. Although Midnight Special was chocked full of talent, Jimmy stood out. He was not the front man, but he stood out. Over the years we ran into each other around town and even shared the stage a couple of times. Those stage sharing times were always so humbling for me because he was such a strong presence and I did my best to keep up. Never really felt like I measured up but had lots of fun just the same.
Jimmy would light up a room as soon as he stepped into it and grinned. He was magnetic, infectious, and a consummate performer.
Because of their longstanding relationship and friendship, I asked Jimmy Brown for some thoughts about Jimmy Gardner and I am going to quote him directly as he has said it best.
This from Jimmy Brown:
Well, once again, how does one put into words the impact of such a large and fabulous persona as Jimmy 'thank you very nice' Gardner?"
Many of the musicians that I became familiar with came as the result of my owning this little falling-down guitar shop on Baxter Avenue back in the mid to late 1970s. Jimmy, along with Joey and so many others, were part of this bunch that would hang out."
Jimmy's personality was powerful. He had that 'it' factor. The element that made you take notice when he was around."
Intelligent, multi-talented, and with an extreme quick wit. You knew he had something going on.
I believe some people are here to help the rest of us laugh. Jimmy was one of those people. Not everyone is blessed with such a gift. I just know that I am grateful to have known Jimmy. He always made me laugh, and feel special. He had that kind of effect on those around him.
His impact, particularly in the music community, cut a large swath. From the Toy Tiger Midnight Special days of the 70's and 80's to the Mighty Water Kings days of the late 80's early 90's at Phoenix Hill and Butchertown Pub to the more present with Hellfish and Stevie Ray's. In other words, whatever group Jimmy had going on, he was sure to be in demand at the 'in demand" clubs.



I first got the opportunity to play with Jimmy when I started to sub for Jay Comstock in the Mighty Water Kings. It was a great band, with Jimmy and Michael Murphy both leading the way.
Jimmy had, as we all know, such immense talent: guitar, bass, singing, songwriting, and entertainer maximus.
Even band practices with Jimmy were guaranteed to be fun, because he was a naturally funny person.
A little known fact is that Jimmy was also great at doing crossword puzzles. New York Times great. He was very sharp, and many people would never get to see that aspect of him. I remember when I first started playing with the Mighty Water Kings, Jimmy would go out to his car and work crossword puzzles on our breaks!
It is so hard to believe that he is gone! He was such a force, that you just don't think that those people could ever be gone.
With Hellfish, here was a guy that could go from channeling the raw grit of Howling Wolf to following it up with a tongue-in-cheek version of Nancy Sinatra and "These Boots are Made For Walking."! Tom Waits, Bob Dylan, Louis Armstrong, Jimmy could really get into the soul of some powerful performers, yet keep you on your toes, because his humor was never far away. Never contrived, just a natural thing.
He was quick to come up with silly stuff. He had this thing where he would talk about his 1958 Supro Ranchero guitar. He could get the audience to repeat in Spanish: "Supro Ranchero" repeat: " Supro Ranchero" . He would segue that into talking about "getting it at Guitar Emporium, across from Nick Boone's Leatherhead. Guitar Emporium, if they don't have it, you probably don't need it". At this point I would slip him a $1 bill, making sure people could see this. Like I was paying for some cheap advertising. Always good for a few laughs. That is just one of countless off-the-cuff things Jimmy would come up with."
How many guys can get a girl from the audience to come up and sit on their lap, while he serenades you with a Tom Waits ballad? All I know is Jimmy sure could. It was poignant and ridiculous all at the same time.
There are so many stories people have about Jimmy. I hope that at some point someone can get it together to put on a memorial for him. He sure deserves it. He gave so much to this town.
On a personal note: Jimmy became a licensed electrician. I believe that was from Jay Comstock, whose family has been in the electrical trade for generations. My dad, who was also an electrician, knew all the Comstocks. So, Jimmy, as an apprentice electrician, got to know my dad (Brownie) a little bit. I always got a good feeling knowing Jimmy and my dad knew one another."
Two short weeks after Jimmy Gardner left us, Joseph Lamont Gillispie lost his hard fought battle with cancer. He fought so hard and we were all so hopeful that he would beat that monster and return to the stage with his beloved 100% Proof Blues Band.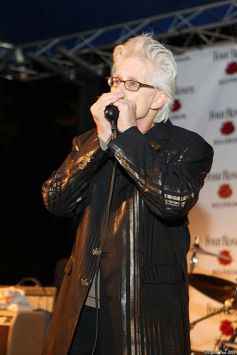 Joey Gillispie
I first laid eyes on Lamont at Fat Cat's in the mid-to-late 1980s. I was playing with Da Mudcats, and his band The Homewreckers played before us at a MERF benefit. I had never seen The Homewreckers play and I was immediately in love with their brand of the Blues. Joey's playing was a real departure from the harp style I was used to with Jim Rosen but nonetheless every bit as good. I just remember thinking that he had a very traditional sound. Over the years we crossed paths many times and I had the pleasure of sitting in with Lamont Gillispie and 100% Proof Blues Band at the jams that he hosted across the city.
I always had such respect for Joey and the fact that he never wavered from the Blues. More than once I heard him say, "OK guys, this is a Blues jam and we need to keep it Blues when you are up here playing." He would have to do this when musicians with more Rock leanings showed up to play and the tunes suddenly became Rock. He was a most outspoken steward for the Blues and I loved him for that.
Joey was always such a giving person and a real gentleman. He would do everything in his power to keep a promise. I remember a time that I asked him to play for me with "The Blueshounds." on an occasion that my keyboard player, Professor Bill Dean was ill and could not make it to a gig. Joey showed up and played his heart out. After that gig he went straight to the hospital emergency room because he was so sick he could barely walk. I had no idea that he was sick until after the gig because he wanted to keep his promise and he would never complain.
Again, I asked Jimmy Brown to give me some thoughts about Joey and I am quoting him directly since he said it so well.
This from Jimmy Brown:
When I reflect on my relationship with Joey, several things come to mind: his dedication to the Blues; how much he reminded me of Magic Dick from the J Geils Band way back when; and mostly, our continued friendship through all the years. For five straight decades, we were in a band together at some point in each decade.
I believe Joey was truly blessed to have found his calling at an early age: a blues harp player. Because of this, he was so able to stay the course. Where many of us may wander through our path of life, albeit aimlessly at times, Joey was able to keep moving straight ahead. I have learned, that over time, as someone plies their craft, they may get to an age where they are looked upon and respected as an elder statesmen. This could be said of Joey, although he always remained young at heart. We fellow musicians already had respect for him. But as time marched on, the public in general began to show a kind of respect that comes with the passage of time.
I was so proud of him. And happy for him. His 100 Proof Blues band was really cookin. It's a shame. I still can't believe it."
Some anecdotes:
If not for Joey, I would never have gotten to play the famed Checkerboard Lounge in Chicago. Not once, but twice. And to have Junior Wells and his band in the audience, well, you just felt validated.
Etta James and Albert King are two other folks that I got to meet and have my picture taken with because of Joey and our band working as the opening act on various different occasions.
Woody's Tavern: some of the best times of my life were spent down there playing with Joey, Ricky Mason, Bruce Lively, and Dicky Durlauf. They taught me so much. And when I brought my fellow South End pal Greg Martin up to the East End to play with these guys, I tell ya, something happened. I can truly say it forever changed Greg's life. For these fellows gave Greg the soul.
Also, something most people don't know:
In 2009, when we lost Ricky Mason, Tim Krekel, and Steve Ferguson, all in that same year, Joey came to me, wanting to pull off some kind of memorial. It started out as something for Ricky, but evolved into something for all of them. Joey was the total catalyst for that. We did it for several years in a row, until Joey's own health became an issue. But for those few years, it was great. Joey wanted all the money raised to go to the Cabbage Patch Settlement House. We were able to provide them with quite a bit of music gear for those kids. We, along with Mark Stein went and worked with the kids several times. It was a blast. Joey was so into being loving and giving, I can't tell you how many times we would go down there and talk with the director. Joey would get so wound up. He was so into giving back. And add in that outward look he had, throw in this child-like enthusiasm, and well, you start to get the picture!"
Just two weeks after we said goodbye to Joey, his good friend and bandmate Byron Davies lost his battle with liver cancer. Again, we were all so hopeful and honestly encouraged that Byron would fight his way back to health after his liver transplant but sadly it did not happen.
Byron Davies
I have known Byron for only a few years meeting him when he joined Lamont Gillispie and the 100%Proof Blues Band. He was a fine bass player, always very kind, humble and generous. I don't have a lot of information about his musical background but I do know he has had a long impressive musical career.
I only heard him play with his Blues band and had the honor of sharing the stage at jams and 100% Proof gigs where they let me sit in for a few tunes. This was always such a pleasure for me to be able to make music with him.
I never heard Byron say anything unkind about anyone and he was always the consummate gentleman. It was obvious that he loved his wife, Debbie, his family and his friends unconditionally. He never seemed concerned when asked how he was feeling, usually brushing it off with concern for Joey. It was amazing to watch him selflessly care and worry about his friend and bandmate Joey, when clearly he had grave issues of his own. When asked how he was doing he was always positive and would deflect any attention from him onto his buddy's battle.
A recent post on facebook from Larry Ferguson sums Byron and the current state of affairs with our musical family. And I quote:
Another funeral way too many this year. We said our final goodbyes to a good man Byron Davies! I said this for Lamont and the same applies here. Byron will be happy to know that his last "gig" was standing room only. The Rock community could learn a lot from the blues guys and gals in this town. They really come out for a fallen bluesman. I was surprised to learn that Byron was such a Beatles fan. I knew the guy for 30 years and he never mentioned it to me."
The Louisville Blues community has taken a huge hit in losing three of the most dedicated Blues musicians around. Each of these guys still had something to say and they left us way too soon. As the old guard leaves this world and makes way for the next generation I pose the questions. How do we keep the Blues alive as we pass on to that great juke joint in the sky? Where is the youth who are going to take over and foster Blues music and learn about these important roots to American music?
All three of these guys were sons, brothers, uncles, fathers, and husbands, as well as great friends to so many people. They were hard working family men and musicians who touched multitudes of people with their music. Blessings to their families, friends and bandmates to carry on their memory and revel in the great musical legacy that they have left with us.
RIP Jimmy Gardner, Joseph Lamont Gillispie and Byron Davies, we are hard pressed to fill your shoes but we won't give up because we know you want us to carry on in your name. Peace, Love and the Blues.