May 1999 Articles
Cover Story
Kevin Gibson
Features
Vicky Moon
Paul Moffett
Jean Metcalfe
Paul Moffett
Paul Moffett
Columns
Berk Bryant
Decimus Rock
Mike Stout
Paul Moffett
Vicky Moon
Keith Clements
Tim Roberts
Muffy Junes
Laura Spalding
Alan Rhody
Henry C. Mayer
Jimmy Brown
CD Reviews
Jim Conway
Robert Gruber
Jason Koerner
Robert Gruber
Tim Roberts
Performance Reviews
Jason Koerner
Jason Koerner
Laura Spalding
Paul Moffett
News Item
Paul Moffett
Blogs
Got Shows?
Send Them To Us
Bookmark Louisville Music News.net with these handy
social bookmarking tools:
Available RSS Feeds
- Top Picks
- Today's Music
- Editor's Blog
- Articles
Add Louisville Music News' RSS Feed to Your Yahoo!

Issue`: May 1999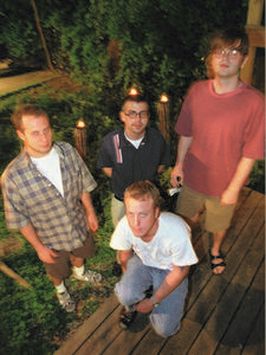 The Pennies
The Pennies
By Kevin Gibson
Photos By R. Hunt Sdiway
Louisville's The Pennies don't have any secrets. Well, not many. Sitting on the back porch of a Highlands home where two of the band members live, a lonely basketball hoop and the soulless remains of a keg nearby, it's clear these four young men put on no airs and pull no punches.
They are forthright and professional, and if any of them were hung over, you'd never know it. Maybe the keg had been there a few days.
Whatever the case, the only time they squirmed on this warm afternoon was when asked about the origin of the band's name. A couple of sideways glances blew their cool exterior, if only for a moment. Apparently that is the one secret they do keep. "We were always thinking small change," said Jeremy Podgursky, the band's lead vocalist. After that, the bandmates agreed that pennies are by far the best form of currency, and that they all love those little copper discs more than life itself. Something like that.
It is no secret, however, that The Pennies is a band that has been so close to "making it" that it's a wonder the four lads in the band have any hair left. It is a story that begs the question, "Is it better to have been signed then victimized by a corporate buyout than to have never been signed at all?" It isn't exactly a Shakespearean sonnet, but it is at least a little tragic.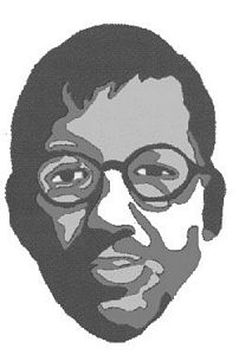 OK, the long version goes something like this:
The band recorded some demos in Nashville in 1996 with the help of a musical acquaintance - namely Hank Tilbury of the band Lambchop - and those wound up in the hands of Damn Entertainment. The powers-that-be at Damn, a local label, liked what they heard and decided to release a Pennies CD. Back to the studio the band and Tilbury went to crank out the final tracks for the debut EP, Decorate the Atomic Art. A seven-inch single was released first, in May 1997, followed by the four-song compact disc in September.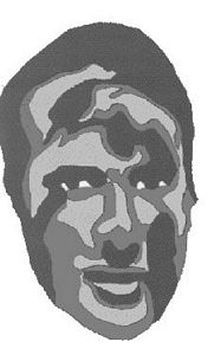 Why the four-month delay? Well, bear in mind these are college guys we're talking about. "It was a matter of finding the time to get it done," said bassist Dave Kuhbander. Apparently the band couldn't decide on, and then finally stick with, the artwork that would grace the CD. But you gotta love the dog on the back cover.
Anyway, the disc was a critical hit, and the band continued to play live, frequently at the Sugar Doe Café where, the band members agree, nearly 100 people would fit if they were skinny. "And it would be balmy," added Gary Claude, the Pennies' drummer. (The point of this tangent is that it was the band's friendship with Mia Frederick, who owns the Sugar Doe, that has the Pennies appearing frequently at Mercury Paw, which is also owned by Frederick.)
Well, before the first CD was even released to the public, the Pennies went into Poppi Studios, with studio owner Neal Cappallino, to record basic tracks for the latest album, Come We Go. The band went back into the studio in October 1997 to record some overdubs, after which it played a live gig. A representative from Scrimshaw Records in North Carolina - a division of Mammoth - came to the show and immediately offered to release the album. Just like that. Ba-da-bing, ba-da-boom.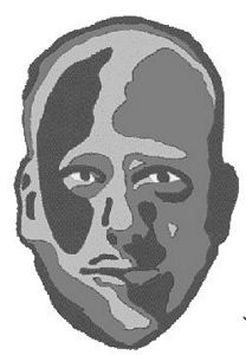 He offered the Pennies a three-record deal, so the band knew it suddenly had the luxury of plenty of time in which to finish the album. They decided to wait until December to finish the overdubs (remember, these are college guys, and first-semester final exams come along in early December).
But things were changing with Mammoth Records. After having a funding deal with Capitol and then Atlantic, Podgursky said, someone new came along to buy up the whole works. That would be Disney, otherwise known as "The Big Mouse" by the Pennies, or "The Fourth Reich."
Bottom line, according to Disney's new requirements, all labels in the Disney network had to sell a certain amount in order to be funded. Scrimshaw was a small part of Mammoth, and it became expendable. Ba-da-bing, ba-da-boom.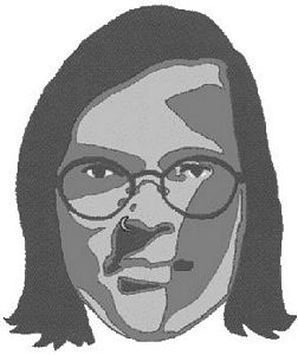 Disappointment? You better believe it. Podgursky said that until the sale of Mammoth, Scrimshaw had been a launching pad for several bands to major labels, and the Pennies were going to be managed by Shawn Rogers, the owner of Scrimshaw. So, yeah, there was a letdown in the band.
"We had even celebrated already," Kuhbander said.
Word had even gotten out in the music community that the Pennies were going to the majors. Then it got shot down, heaping more disappointment on an already rotten turn of events.
If all this wasn't enough, Cappallino, after hearing the reception the album got by Mammoth, had drafted up what the band referred to as a "producer's agreement" that basically would provide him royalties from album sales because of the additional time he put in "off the clock." The Pennies have negotiated with him, but Podgursky said the dispute remains unresolved, and none of the band members would elaborate on the situation further.
But it seemed the Pennies had run out of luck. What once looked sunny was now dark and overcast. The band broke up.
No, it didn't really. Actually, Kelley Cox, a friend, after listening to the finished recordings, said the album deserved more than just a modest independent release. All the Pennies agreed. So the band set to doing what every band does at some point in its career: sending out demos to labels, making calls and mailing out information in hopes of a nibble.
"Basically, we learned from that experience what it takes to get (a demo) past a secretary," Podgursky said. "Sometimes you have to lie and say you're someone else."
And their efforts produced results. Sort of.
"People would say, 'We like this, but we don't know what to do with it right now,'" Podgursky said. "We got interest, but we didn't get enough interest."
"No one wanted to commit to anything," Kuhbander said.
But all wasn't lost. In July of last year a California magazine called Virtually Alternative - which, as part of something called the Album Network, includes sampler CDs in each issue - used some of the Pennies' music on a sampler. The Pennies appeared alongside Brian Setzer, Third Eye Blind and others, and it prompted calls from some major labels. Still, nothing panned out.
In the meantime, the band began to realize it wasn't completely happy with how the recordings turned out. John Timmons, who owns ear X-tacy, approached the band with the offer to help them release the album on the ear X-tacy label and fund some studio time so the band could release a recording with which it would be happy. The Pennies also wanted to make it not just a local release.
So Kevin Coultas, drummer for Rodan, was enlisted to help rework some of the recordings. Three tracks (1, 3, 8) were reworked on an 8-track system (the originals were 24-track recordings), and the Pennies, at last, were ready to sign off on Come We Go.
"Kevin understood our aesthetic better because he has a similar aesthetic," Podgursky said. "We had a blast finishing the album with him."
Things picked up again for the Pennies. In October, they went on a mini-tour with Archers of Loaf, playing St. Louis, Chicago and Iowa City in three straight days. Shortly afterward, the band got a call from Derek Woodgate, the sponsor of a music festival in Holland where the band had made an appearance in 1997. Woodgate told the band he wanted to release the album in Europe and send the Pennies on tour.
As it turns out, Woodgate had expanded his horizons since the Pennies had last spoken with him. Woodgate is the publisher of Fringecore magazine, and he had expanded the business to include a recording label. The band said the tour likely will be this summer.
Meanwhile, back in the States, the CDs were pressed, and the Pennies released it March 5 at a show with Superchunk at the Mercury Paw. Meanwhile, Timmons and Woodgate were shopping the album at South By Southwest, the legendary annual Austin, Texas, music festival.
So far, sales are relatively brisk (in one month, Come We Go sold more than Decorate the Atomic Art sold in a year). But the ending may or may not include the words "happily ever after." That chapter hasn't been written. But a listen to the CD provides a clue to what might, or at least what could, be in store.
The band's sound has been described as a mesh of Nirvana, Beatles and Sonic Youth. The melodic qualities of John Lennon combined with the dark perspectives of Kurt Cobain, with some of that Sonic irreverance piled on top just to keep the listener on his toes? Yeah, that's about right.
It's easy to read those influences into the lyrics, too. Dig this, from "Queen Domino": "We were tasting wine and bread as we fled from the everlasting city/Snapshots capture elastic scenes of voodoo dolls and melatonin dreams."
Uh, I am the walrus.
To listen to this album is to throw away any rules you ever learned about what music is supposed to be, whatever brand it may be. In other words, that I before E except after C stuff doesn't cut it with the Pennies.
Imagine if the worst nightmare of your life had a soundtrack; that's Come We Go. Imagine if Satan sat down to have dinner with Harlan Ellison; Come We Go is what they would listen to on the CD player inside Satan's cupboard. This is Joe Walsh on a bender - with a Rottweiler.
But I'm not talking Rob Zombie here. This is no pretentious ode to Lon Chaney or The Blob. Podgursky writes both music and lyrics, but he is not the second coming of Marilyn Manson. Not by a longshot. Actually there are irrepressible pop elements within the album, which is a must, given the Beatles influence.
"I'm a huge fan of what John Lennon did with lyrics," Podgursky said. "I'm also a huge fan of William Burroughs. He had a big effect on my writing."
No, this isn't science fiction. Podgursky said he begins with just a sliver of music and builds upon it, whereas some songwriters start with a definite melody or a set of lyrics that they must put to music.
"Usually it is a feeling, like deep within the back of my head, that starts to solidify when it reaches my ears," Podgursky said. "It's the feeling or atmosphere or mood that ends up becoming structured as melody and harmony. Usually the melody is what solidifies itself first and the harmony will follow.
"When I get the melody in my head and I decide the shape that I want and the length and the structure, I put words to it. That's a difficult task, because I don't have topics for my songs when I start writing them."
Podgursky said he hears a word in the music, then builds the song's lyric around that word. His goal, he said, is to maintain an objective point of view.
"I'm not trying to manipulate how I see and hear things," he said. "I just try and reflect them. I have nothing to say about what's around me, I'm just reporting it."
Which is why the Pennies will never record a love song, right?
"There are love songs on the album, you just don't realize it," Podgursky said. "There's love in everything I write and there's hate in everything; it's all about the balance between the two. Hopefully love prevails; it usually does for me. At least that's the progression I've decided to follow with my life."
And the finished product represents the coming together of a bunch of minds with varied musical backgrounds. Kuhbander and Podgursky met in high school - Ballard to be exact - where they were in choir together. A couple of years later, while Podgursky was in a band called Lather, he reunited with Kuhbander, who was brought on board to play bass. ("Plus I had a big old basement at my parents' house," Kuhbander said. So he was bass/provider of impromptu practice space.)
The collection of musicians was actually a trio for a while. Before long, however, Claude and guitarist Dave Walker, friends of the band via the University of Louisville School of Music, found their way into the mix. Walker was studying classical guitar, while Claude was studying percussion and was already gigging around town with various bands.
When it all came together, it was obvious the band was not going to be another college rock cover band for the yuppies to ignore while they drank macrobrewed beer and danced badly. No, this new band wanted nothing to do with that scene.
"We had some pretty interesting practices in the beginning," Kuhbander said.
One practice in particular stood out for the band. They were using a space in a broken-down warehouse, puddles of water on the floor, when suddenly the power went out. But, apparently, the outage affected only their area. All sorts of bizarre music was coming at them from all angles, and they stood there in pitch black wondering what the hell to do.
"We were freaking out," Podgursky said. "It was one of the scariest moments of our lives. That has a lot to do with where we're going."
This was sometime in 1995 to the best of the group's collective recollection. They found a new practice space and didn't pursue any live gigs. They decided from the beginning they wouldn't go on stage until they could put on a good show. Nearly a year later, on Aug. 28, 1996, the Pennies made their debut, opening for a band called the Quiz. They had about 10 finished songs, all in all. Luckily, they were long songs, so they needed only six or seven for the gig.
According to the band's bio, during and after that first show, "audiences hallucinated, critics raved."
"We still hadn't gotten all the kinks worked out," Walker said.
And the lengths of the songs came down after that. "It became apparent that we weren't always listening to each other," said Podgursky.
Things are a little different now, it seems. It's as if the Pennies are going in all different directions - together. Podgursky admitted that musical "deconstruction" is his fascination, and Kuhbander responded, "We like to see how we can do things differently."
Well, that's certainly no secret. Then again, the Pennies aren't really a secretive bunch. At least, not so you could tell.
Tags: