April 1989 Articles
Cover Story
Staff
Columns
Paul Moffett
Staff
Performance Reviews
Keith Clements
Dallas Embry
Jean Metcalfe
Paul Moffett
Jean Metcalfe
Calendar
Staff
Errata
Staff
LASC
Jean Metcalfe
Jean Metcalfe
Staff
Staff
Karen Le Van
Dallas Embry
Jean Metcalfe
Jean Metcalfe
Dallas Embry
Staff
Diana Black
Industry Review
Paul Moffett
Music Business News
Staff
Staff
Paul Moffett
Staff
Staff
KYANA Blues Society
Rocky Adcock
Cartoon
Dan Colon
Louisville Homefront
Dallas Embry
Staff
Sara Pratt
Staff
Staff
Staff
Staff
Blogs
Got Shows?
Send Them To Us
Bookmark Louisville Music News.net with these handy
social bookmarking tools:
Available RSS Feeds
- Top Picks
- Today's Music
- Editor's Blog
- Articles
Add Louisville Music News' RSS Feed to Your Yahoo!

Issue:

Cowboy Corner
The Judds Are Coming, The Judds Are Coming!
That's right, The Judds are finally coming home! During a recent press conference at Lexington's Rupp Arena, Ashland, Ky. natives Naomi and Wynonna Judd announced that they will be coming home when they bring their "Power To Change" tour to Rupp Arena on Friday night, April 7. Naomi and Wynonna last performed together as The Judds on December 4, 1991, following Naomi's diagnosis of the life-threatening disease hepatitis C. Nearly a decade since their last show, Naomi is now in full remission and the two reunited on December 31, 1999 for a Millennium Concert (which was taped and will be released as a live album in May) in Phoenix, Ariz., which has led to the three-month "Power To Change" tour.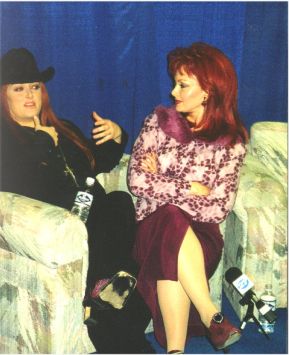 The Judds
This Lexington show is not going to be your ordinary show though. It is going to be a homecoming in a very big way. Wynonna told Louisville Music News, "I think we need more celebrations. We've been offered a CBS television special." Naomi continued, saying, "The minute we heard that, we said, 'There's no discussion about it.' We told CBS, our record label Mercury and our agency, 'We are doing it in Kentucky because, A) it's our home, and B) they're the best audience in the world.'" Naomi went on to explain that this special will air on CBS during sweeps week in May and " Ashley Judd , yes, will be a part of this, of course." Wynonna also stated that "a portion of the proceeds of the concert will go to the Tubby Smith Foundation."
Tickets are already on sale for this must-see show. As Wynonna said, "Who would have thought that Naomi Judd would be standing beside me singing 'Grandpa' again? I just never thought it would happen." She went on to say that Naomi is "living proof that miracles happen." Let me say that it was great to see Naomi and Wynonna together again, more witty and charming than ever, obviously enjoying a closer relationship with each other than they have ever had before.
Country Losses
Louisville Country Music Hall of Famer Frank " Pee Wee" King passed away right here in Lou. on March 7 at the age of 86 following a heart attack he suffered on February 28. Frank "Pee Wee" King, best known for co-writing the "Tennessee Waltz" along with Redd Stewart , was born Julius Frank Anthony Kuczynski in Wisconsin. Pee Wee formed the Golden West Cowboys during the 1930s and they were regulars on the Grand Ole Opry from 1937 to 1947. He moved to Louisville in 1947, where he began performing on local television, eventually leading to his own show on ABC television for six years. Pee Wee is survived by his wife Lydia and four children.
Famed country songwriter Tommy Collins died March 14 at the age of 69 at his home in Ashland City, Tenn. following a long bout with emphysema. Tommy was inducted into the Nashville Songwriters Hall of Fame just last year and his life was celebrated in the legendary Merle Haggard 's 1981 hit "Leonard."
Country comedian Speck Rhodes , best known for his antics on The Porter Waggoner Show wearing his trademark plaid suit, bow-tie and bowler hat, passed away March 19 at the age of 84 following a battle with cancer. Speck was born Gilbert Ray Rhodes in West Plains, Missouri in 1915 and began a career in vaudeville in his late teenage years. Speck auditioned for Waggoner's new syndicated television show in 1960 and worked with Waggoner for more than 20 years.
Our condolences go out to the families of Pee Wee King, Tommy Collins and Speck Rhodes.
ACM Nominees
When nominees for the 35th Annual Academy of Country Music Awards were announced recently, the Dixie Chicks and the reigning "First Couple of Country Music," Tim McGraw and Faith Hill topped the list of nominees with five nods each. All three will be competing against one another in the Entertainer of the Year and Album of the Year categories. In addition, the Dixie Chicks will vie for Top Vocal Duo or Group of the Year, Single Record of the Year and Country Video of the Year. Faith is also in the running for Top Female Vocalist of the Year, while Tim will compete for Top Male Vocalist. The happy couple will be competing against one another for Album of the Year and Song of the Year. Faith is also up for Country Video of the Year, while Tim is up for Single Record of the Year. Hot newcomer Brad Paisley followed these three with four nominations each, including Top New Male Vocalist, Single Record of the Year, Song of the Year and Country Video of the Year.
The following is a list of all the nominees: Entertainer of the Year: Dixie Chicks, Faith Hill, Tim McGraw, Sawyer Brown and Shania Twain ; Top Female Vocalist: Faith Hill, Martina McBride , Jo Dee Messina , Shania Twain and Chely Wright ; Top Male Vocalist: Alan Jackson, Toby Keith , Tim McGraw, Collin Raye and George Strait ; Top New Female Vocalist: Jessica Andrews, Julie Reeves and Chalee Tennison ; and Top New Male Vocalist: Gary Allan, Chad Brock and Brad Paisley .
Top Vocal Duo or Group: Asleep At The Wheel, Brooks and Dunn , Dixie Chicks, Lonestar and Sawyer Brown; Top New Vocal Duo or Group: Montgomery Gentry, SHeDAISY and Yankee Grey ; Top Vocal Event: Chad Brock's "A Country Boy Can Survive (Y2K Version)," Dolly Parton , Emmylou Harris and Linda Ronstadt 's "After The Goldrush"; Alabama and 'N Sync 's "God Must Have Spent A Little More Time On You"; Vince Gill and Patty Loveless ' "My Kind Of Woman/My Kind Of Man," and Clint and Lisa Hartman Black 's "When I Said I Do"; and Country Video of the Year: Faith Hill's "Breathe," Brad Paisley's "He Didn't Have To Be," Toby Keith 's "How Do You Like Me Now," Dixie Chicks' "Ready To Run," and Chely Wright's "Single White Female."
Album of the Year: Tim McGraw's A Place In The Sun, Faith Hill's Breathe, George Jones ' Cold Hard Truth, Dixie Chicks' Fly and Asleep At The Wheel's Ride With Bob; Single Record of the Year: Lonestar's "Amazed," Brad Paisley's "He Didn't Have To Be"; Tim McGraw's "Please Remember Me"; Dixie Chicks' "Ready To Run" and George Strait's "Write This Down". Song of the Year: Lonestar's "Amazed"; Faith Hill's "Breathe"; George Jones' "Choices"; Brad Paisley's "He Didn't Have To Be" and Tim McGraw's "Please Remember Me."
The following are instrumental nominations: Drums: Eddie Bayers, Randy Hardison and Paul Leim ; Keyboard: John Hobbs, Steve Nathan, Hargus Robbins and Dan Truman ; Fiddle: Stuart Duncan, Johnny Gimble and Martie Seidel ; Steel Guitar: Sonny Garrish, Paul Franklin and Jay Dee Maness ; Bass: Larry Paxton, Michael Rhodes, Dana Williams and Glenn Worf ; Guitar: Al Bruno, Pat Buchanan, Vince Gill, B. James Lowry, Brent Mason, James Olander and Brent Rowan ; and Specialty Instrument: Jerry Douglas , dobro; Gene Johnson , mandolin; Robert Langford , mandolin; Charlie McCoy , harmonica and Emily Robison, banjo.
Be sure to tune in to CBS on May 3 as the ACM awards will be handed out "live" from the Universal Amphitheatre in Los Angeles. Congratulations and good luck to all the nominees!
Shania Breaks Records
Canadian country songstress Shania Twain is no stranger to breaking records, but her latest feat has topped them all. Her latest album, titled Come On Over, has sold over 17 million copies in America alone and over 26 million worldwide, making it the best-selling country album and the best-selling album by a female solo artist throughout history. Garth Brooks' No Fences album, which has sold 16 million copies, was the reigning top-selling country album of all time, while pop star Alanis Morrissette's Jagged Little Pill held the most recent title as best-selling album by a female artist. Come On Over is now tied with The Bodyguard soundtrack and The Beatles' White Album as the seventh best-selling album of all time, following 1) The Eagles' Greatest Hits, 2) Michael Jackson's Thriller, 3) Led Zeppelin's Led Zeppelin IV, 4) Fleetwood Mac's Rumours, 5) Pink Floyd's The Wall and 6) Billy Joel's Greatest Hits Vol. 1 and 2.
Congratulations, Shania!
Recent Country Awards
It will be of no huge surprise to learn that Shania Twain topped the country categories at the recent Juno Awards, the Canadian equivalent of America's Grammy Awards. Shania was named Best Country Female Artist and overall Best Songwriter. Paul Brandt was named Best Country Male Artist, while The Rankins were named Best Country Group or Duo. Congratulations to our country stars north of the border!
Awards seem to be rolling in by the truckload for Shania these days. When Radio and Records trade magazine recently announced the winners in their annual readers poll, Shania was named Performer of the Year. Tim McGraw was named Male Vocalist of the Year and his A Place In The Sun was named Best Album. Martina McBride was named Female Vocalist of the Year, the Dixie Chicks were named Group of the Year, Nicholasville, Ky.'s own Montgomery Gentry was named Vocal Duo of the Year, and Brad Paisley was named New Artist of the Year. Lonestar 's "Amazed" was awarded Best Single of the Year. Congratulations to all!
During last month's Country Radio Seminar in Nashville, Jo Dee Messina received special recognition herself from Billboard magazine. Jo Dee was presented a plaque crowning her country radio's most-played female solo artist for 1999. Way to go, Jo Dee! By the way, fans can expect Jo Dee's third album to hit stores sometime this summer.
Country Family Album 3>
Well, it is finally official. After Amy Grant admitted last year that she and Vince Gill were officially dating, the two took the plunge and were married outside of Nashville on March 10. The happy couple snuck off to an open field in Williamson County, Tenn. for the ceremony, while the reception was held at Amy's home in Nashville. Of the nearly 400 guests present, very few were actually from the entertainment field, and the press was not invited. Congratulations to Vince and Amy!
Vince wasn't the only country artist to tie the knot last month. The day after Vince and Amy were married, Joe Diffie and Theresa Crump said "I do" before 100 family members and friends at Nashville's Opryland Hotel. Congratulations and best wishes, Joe and Theresa!
Raul Malo , lead singer of The Mavericks and his wife Betty welcomed their third son into the world on March 6. Raul can now star in his very own episode of My Three Sons with newborn Max, 4-year-old Dino and 3-year-old Victor . Congratulations to the Malos!
Country On The Tube
Trisha Yearwood fans should be tuned on April 1 as the cable channel A&E presents A&E Live By Request: Trisha Yearwood. Beginning at 9 p.m. EST, for two hours Trisha will take requests from fans via phone and E-mail and perform them during this special live concert. For more information, you can log on to www.livebyrequest.com.
Faith Hill fans won't want to miss VH1 Divas 2000: A Tribute To Diana Ross which will premiere on VH1 at 9 pm EST Apr. 11. Faith, Donna Summer and Mariah Carey will each perform some of Diana Ross ' biggest hits, as well as some of their own hits, at Madison Square Gardens in New York City.
Dixie Chicks fans will want to tune in to Nickelodeon's 13th Annual Kids' Choice Awards on April 15. The Dixie Chicks will compete for the Favorite Band Award along with Smash Mouth, Sugar Ray and Sixpence None The Richer. These awards will be handed out at the Hollywood Bowl. Good luck to the Dixie Chicks!
Well, that's all for this month. Always remember: "Keep your boots shined up and your hat on straight, 'cause country music is comin' your way."