April 1989 Articles
Cover Story
Staff
Columns
Paul Moffett
Staff
Performance Reviews
Keith Clements
Dallas Embry
Jean Metcalfe
Paul Moffett
Jean Metcalfe
Calendar
Staff
Errata
Staff
LASC
Jean Metcalfe
Jean Metcalfe
Staff
Staff
Karen Le Van
Dallas Embry
Jean Metcalfe
Jean Metcalfe
Dallas Embry
Staff
Diana Black
Industry Review
Paul Moffett
Music Business News
Staff
Staff
Paul Moffett
Staff
Staff
KYANA Blues Society
Rocky Adcock
Cartoon
Dan Colon
Louisville Homefront
Dallas Embry
Staff
Sara Pratt
Staff
Staff
Staff
Staff
Blogs
Got Shows?
Send Them To Us
Bookmark Louisville Music News.net with these handy
social bookmarking tools:
Available RSS Feeds
- Top Picks
- Today's Music
- Editor's Blog
- Articles
Add Louisville Music News' RSS Feed to Your Yahoo!

Issue:
Crazy Town / Dope Interviews
Concert Review: Staind / P.O.D. / Dope / Crazy Town
Bogart's in Cincinnati- June 21st
By Jason Koerner
It was Wednesday June 21; the time: 5 p.m. The members of Crazy Town (Bret "Epic" Mazer, Kraig "Squirrel" Tyler, Trouble Valli, Fae Doe Delay, Shifty Shellshot, The JVJ, and DJ AM) are getting ready to take the stage at 7:30. They are the kick-off act for the Cincinnati show of MTV's "Return of the Rock" tour. They agree to share a little time with a rock writer from Louisville.
The band's members find it difficult to work in such a large group at times, but says the payoff is well worth it. Band member Trouble puts it simply: "Nothing's easy." With seven members, everyone must put forth a maximum effort and be open to each other's ideas. They have been together for three years and understand that the group is on the road to a long-term success; they frown on the "revolving door" of short-lived fame.
When asked about the classification of bands into particular genres, and the negative (or positive ideas) that are preconceived, Crazy Town Had this to say:
"It is impossible to put my favorite bands into categories. Rap-rock sometimes has a bad ring to it." They also said that everyone has a different take on the situation, but that there is no limit to "real" sounds anymore that are easily classifiable.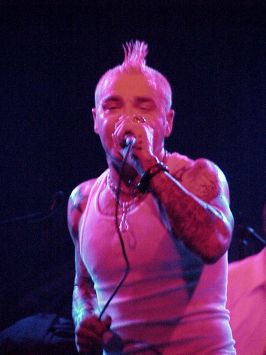 Shifty Shellsot of Crazy Town
Crazy Town got its start in California, meeting in Hollywood and achieving local success in LA. There was a flurry of showcases and bidding for the group by record labels before the band decided to go with Columbia. Other interested labels included Korn's new label, Elementree. Epic (the band member) produced hip-hop and worked with Bell Biv Devoe and Shaq before joining Crazy Town, so the contacts were there when it came time to be signed. The group brags about the quality of their management and is thankful for their enthusiasm.
Their influences range from the Deftones and One Minute Silence to emotions such as rage and lust. Emotions are often times more influential than anything else is.
Now on to the question that I was dying to ask the whole way there: "Who is the girl on the cover of The Gift of Game?" The answer? Nobody. "The girl on the cover is just a combination of traits and personality we would like. She is the kind of girl you would love but you know she's bad for you!" said Epic.
The band is always out to give a great show to the fans, and that is their number one goal. The CD has sold over 100,000 worldwide. Look for "Toxic" and their upcoming video "Darkside" on M2 or MTV, and call your local stations to request the band. They are a "must-hear." After the completion of this tour, they are off to Florida for rehearsals for Ozzfest, so check them out.
I also had the pleasure of interviewing Dope. As I walked on the bus, I quickly realized I had interrupted the worship of a new family member. There I saw Edsell Dope staring in awe at his recent purchase of a snake head bowl, for the purposes of… well, you know. Here is what he had to say…
The group has been on the road for eleven months and at the end of this tour, the band is going to be taking a month or so off to work on pre-production for the new album. The new release is expected to be just as heavy as the last, Felons and Revolutionaries, but possibly more melodic. They are looking forward to coming back to Louisville in the future, and Edsell brags that we are one of the best cities to play, mostly due to our enthusiasm. (He says as he desperately tries every method possible to get the clothes off of the woman on his lighter without success)
When I asked, "What do feel is most responsible for your success?" the reply I received was perfect. "We're smart," said Edsell confidently, then laughing. "We gave out a lot of tapes in NY." The band has been motivated by none other than the emotions inside them that are waiting to be expressed. Everyone in the band wants to do this, and that is what makes it so real onstage.
Despite the fact that he has heard the comparison to Marilyn Manson before, Edsell is confident that in a year from now, it will never be said again. He is an angry, tall, light-skinned rock star with long black hair. Edsell claims he is a regular guy who is all about rock and roll, not being androgynous or claiming to be from another world.
What is the magic recipe to Dope? If you were to combine the elements of five particular albums by KISS, NWA, Nine Inch Nails, Motley Crue and Guns And Roses, you would have Dope, says Edsell. On tour, Sevendust is a favorite act to play with.
I would like to thank both of the bands and their management for the interviews and their time, good luck to you all.
Now for a brief show review…
Crazy Town, Dope, P.O.D. and Staind were on the bill. I missed seeing much of Crazy Town do to difficulites with Bogart's security. (For more specifics about the difficulties I had at the show, read my column, Louisville Rock Lowdown, in this issue.) Jim Robinson, permanent bus driver for the band, was the only reason I was able to take any pictures or see any of their performance at all. He let me use his pass to get in. I saw a few minutes of the show, and it was full of energy. Hopefully, I will get to catch these guys at Ozzfest.
Dope was so much different onstage than in person, it was unreal. The band is fierce. Barbed wire on top of the amps is always a good thing, and their music was tight. It is unbelievable the way these guys pull off their live shows so close to the sound you hear at home. But trust me, it is much better in concert.
P.O.D. did a good set as well, though I must admit that I was not as impressed with them as I thought I would be. It seemed like there was a lot of repetition on their sound, and the heat of the building by this time did not make things any better.
Staind was phenomenal. I saw them with Limp Bizkit here in Louisville, and they even better this time around. I met the band before their set as they did a "meet and greet" for winners of a WEBN contest. I am anxiously awaiting their new album, and hope they make another Louisville appearance soon after its release.