April 1989 Articles
Cover Story
Staff
Columns
Paul Moffett
Staff
Performance Reviews
Keith Clements
Dallas Embry
Jean Metcalfe
Paul Moffett
Jean Metcalfe
Calendar
Staff
Errata
Staff
LASC
Jean Metcalfe
Jean Metcalfe
Staff
Staff
Karen Le Van
Dallas Embry
Jean Metcalfe
Jean Metcalfe
Dallas Embry
Staff
Diana Black
Industry Review
Paul Moffett
Music Business News
Staff
Staff
Paul Moffett
Staff
Staff
KYANA Blues Society
Rocky Adcock
Cartoon
Dan Colon
Louisville Homefront
Dallas Embry
Staff
Sara Pratt
Staff
Staff
Staff
Staff
Blogs
Got Shows?
Send Them To Us
Bookmark Louisville Music News.net with these handy
social bookmarking tools:
Available RSS Feeds
- Top Picks
- Today's Music
- Editor's Blog
- Articles
Add Louisville Music News' RSS Feed to Your Yahoo!

Issue:

Down On The Corner
• The premiere episodes of the two new Louisville music shows, "Live At Mom's" and "Mid City Mix," have aired (Thursdays, 8-9 p.m. Ch. 24), so the thirteen-week "season" is underway. At both shows, continuing efforts are underway to fine tune and improve the program in order to present Louisville music in the best possible light (no pun intended) to the largest number of viewers. The reasoning behind these programs is simple: if the best original Louisville acts are made available and easily accessible to large numbers of viewers via broadcast television, will those selfsame acts draw an audience, i.e., is it marketable, here and perhaps elsewhere? The test, in this case, will be on record in the form of ratings and it's ratings that draw advertisers, which is the real test, of course, of marketability – does revenue flow from the music? Stay tuned. Please.
• Our favorite Russian folksinger and  experimental music fan, Misha Feigin, is back in town for a while before embarking on yet another trip to Germany in November. He said that a project he had gotten on an European jazz label had done well enough  that he  was invited to do another. The new CD has the working title of They Are, We Are and will feature guitar, viola and cello predominately. Feigin is excited that Craig Hultgren and violinist La Donna Smith have agreed to play on the recording. No date has been finalized for the release.
Feigin can be hard to catch up with, but he does have one gig in town in October, on the second, when he will perform at Artswatch together with Todd Hildreth, who will play accordion. Hildreth, who is noted for his organ work with the Java Men, is a "fine accordion player," according to Feigin.
• Clubs they come and clubs they go - more the latter these days, it seems. Joe's (Older Than Dirt) on Preston seems to have been swept away recently, though a sign on the door says "Closed for Remodeling." Don't they always.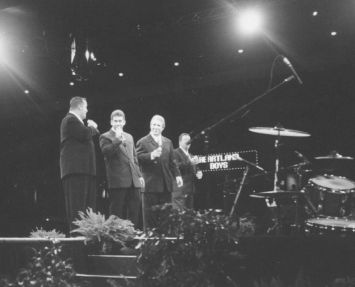 Nicolasville's The Heartland Boys got their turn on the stage at the National Quartet Convention
The last remains of the  the building that  housed  the Brown Dinner Theatre, then the Toy Tiger and lastly as the ill-fated Pharaoh's, will have been trucked away by the time you read this. The site is scheduled to be a Thornton's gas station soon. A great improvement from the point of view of the neighbors.
• According to our ever-diligent correspond Tim Roberts, Flaw has a new manager, Louisville-based Scott Frazier, following the loss of an impending record deal. They have also been approached by New Line Cinema to write the theme song for the new futuristic Nightmare On Elm Street movie, set aboard a space station.
• Kentucky Opera fans will be thrilled to know that they can now buy tickets online, both for season subscriptions and single ticket sales. The website address is www/kyopera.org.
• The weather has been a bit hard on several live music events during September. Rain dampened the Acoustic Guitar Festival in Willow Park as well as the Louisville Music Art Fair at Iroquois Park.
• More Opera News. The Kentucky Opera has new board members. Dr. S. Pearson Auerbach, Mr. David Dick and Mr. Dave McCalpin were all unanimously elected . In addition, the new President of the Opera Guild, Mr. John Martin-Rutherford, was voted an ex-officio member.
• It's not too late to dash to the CMJ Music Marathon in New York, scheduled to run October 19 –22 at the New York Hilton &  Towers. Plus every bar and nightclub in the nearby area. For last-minute info, call 1-866-FESTIVAL or log onto www.cmh.com/Marathon.
• Songwriting Contests. Here are a couple of songwriting contests for your consideration. LMN does not endorse or certify any of them.
The Austin Songwriters Group is holding Song Competition 2000. Cash and prizes. Deadline: November 1, 2000. Call 512-442-TUNE (8863) or email Polkmusic@aol.com.
• Jagermeister is sponsoring the Jager MP3 Song Contest, which has a grand prize of $10,000. Details can be found at www.jagermusic.com.
Codas
• Billy Chappell, 40, died September 11 in Louisville. He formerly played with the old Cowboy George and the Beer Drinkin' Rodeo Band.
• Eugene Davis, 77, passed away on Sunday, September 10 in Jeffersonville, Indiana. Davis was a retired Jeffersonville band director; a former band director of Jefferson County (KY) Public Schools; founder and director of River Cities Band of Jeffersonville and a former conductor of the Louisville Youth Orchestra.
• Martha "Jackie" Twiford, 89, died in Scottsburg, IN. on August 31. She was a self-employed musician.