April 1989 Articles
Cover Story
Staff
Columns
Paul Moffett
Staff
Performance Reviews
Keith Clements
Dallas Embry
Jean Metcalfe
Paul Moffett
Jean Metcalfe
Calendar
Staff
Errata
Staff
LASC
Jean Metcalfe
Jean Metcalfe
Staff
Staff
Karen Le Van
Dallas Embry
Jean Metcalfe
Jean Metcalfe
Dallas Embry
Staff
Diana Black
Industry Review
Paul Moffett
Music Business News
Staff
Staff
Paul Moffett
Staff
Staff
KYANA Blues Society
Rocky Adcock
Cartoon
Dan Colon
Louisville Homefront
Dallas Embry
Staff
Sara Pratt
Staff
Staff
Staff
Staff
Blogs
Got Shows?
Send Them To Us
Bookmark Louisville Music News.net with these handy
social bookmarking tools:
Available RSS Feeds
- Top Picks
- Today's Music
- Editor's Blog
- Articles
Add Louisville Music News' RSS Feed to Your Yahoo!

Issue:

Second Thoughts
Tschaikowsky's Swan Lake: A Slow Start
Some of the great works for musical theater had less than successful beginnings. Verdi's opera, La Traviata was one; the Louisville Ballet's next presentation, Swan Lake, was another.
Peter Tschaikowsky had already achieved a reputation as a composer of operas, notably for Eugene Onegin and The Queen Of Spades, when the Russian Imperial Opera commissioned him to compose a ballet. He accepted with alacrity, commenting, "I have long wished to try my hand at this kind of music." Students of his life and work point out that he also desired the commission stipend which amounted to $10,000.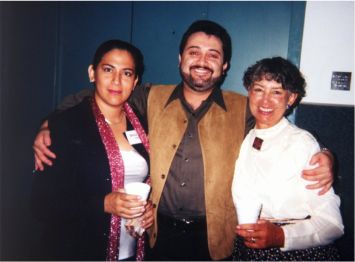 Opera supporter Berta Schupback, right, welcomed performers Olivia Gorra, left, and Raul Hermandez
The origin of his topic and choice of it is shrouded in mystery. The story has both German and Russian sources, with the latter being dominant, a characteristic which many members of the Moscow elite resented. Other factors affecting its success (and lack thereof) in the early years at the Bolshoi Theater included the inadequacies of the choreographer, the conductor, the dancers and the orchestra. Complaints by the critics included "a poverty of creative fantasy as well as thematic and melodic monotony. Ballet politics also figured. The house prima ballerina on opening night was not cast in the female lead, which instead went to a considerably less talented rival, largely because of the financial muscle of the latter's millionaire husband.
At that time, Tschaikowsky was limited in his knowledge of ballet, saying "all I need is to take ballet scores out of the library and make a detailed study of this kind of composition." If he needed technical advice on tempi for the dancers, or the sequence in which scenes for various forces should come, there was no one in Moscow he could consult. That limitation made his presence during rehearsals less than useful. As a result, performances for the next eleven years in Moscow left much to be desired. Only when he witnessed Act II in Prague did he have "a moment of supreme happiness."
He was never to know the heights of acclaim Swan Lake would attain. It was only later that he would attain the recognition of being "a symphonies with a unique talent for ballet." It was only the painstaking work and talent of later choreographers which would lead to such accolades as "SWAN LAKE is the greatest and perhaps most impressive of classical ballets," said Louisville Ballet Artistic Director Alun Jones, who recently emphasized that this work is technically demanding for the principals and the very large supporting cast. Ballet Master Vincent Falardo underscored that fact by pointing that the cast includes twenty-two swans, who must perform their roles perfectly.
Performances will be at 8 p.m. Thursday, Friday and Saturday, November 9-11 at Whitney Hall with a matinee at 2 p.m. on November 11.
Would You Go To A 150 Year Old Play?
Some of you already have – and having heard the plaudits it received at the Kentucky Center For The Arts recently – you might consider it to have achieved status as a classic.
The reference is to the opera Rigeletto by the Italian music master Joseph Green, whom we know better as Giuseppe Verdi. This is its seventh presentation by Kentucky Opera; it probably has been performed more than a thousand times in more than a score of countries on all continents.
What accounts for such sustained popularity?
There is probably no one reason other than that its melodies have a universal appeal. Still, there are appealing elements in the story, such as Gilda's self-sacrificing act of love for the Duke who betrays her; pity for her hunchback father from whom the opera takes its name; the tenor solo by the villain, in which the Duke projects his perfidy by alleging that women are the prime cause of men's infidelity. All the elements are the creations of Verdi and Piave, his librettist. They cannot be found in the text of the play by Victor Hugo. The Duke's aria was kept a secret even from the tenor until just before the first curtain to avoid "premature popularity." Verdi knew he had a winner, and he was right: the next morning, almost every man in Venice was singing or whistling "La donna e mobile!"
The Mexican tenor Raul Hernandez amply showed why the New York City Opera has cast him as the Duke later this season. And while his local debut in this role deserves vigorous applause, Gaetan Laperriere's portrayal of the title role deserves even more. Laperriere will also join Hernandez in New York. It will be interesting to read what New York critics write about them and the gifted soprano Olivia Gorra, who also hails from south of the border.
Raves are also in order for Director Joseph LoSchiavo, Conductor Cal Stewart Kellogg, Olivia Gorra (Gilda), Angola Horn (Maddalena). All too often, directors are overlooked.