April 1989 Articles
Cover Story
Staff
Columns
Paul Moffett
Staff
Performance Reviews
Keith Clements
Dallas Embry
Jean Metcalfe
Paul Moffett
Jean Metcalfe
Calendar
Staff
Errata
Staff
LASC
Jean Metcalfe
Jean Metcalfe
Staff
Staff
Karen Le Van
Dallas Embry
Jean Metcalfe
Jean Metcalfe
Dallas Embry
Staff
Diana Black
Industry Review
Paul Moffett
Music Business News
Staff
Staff
Paul Moffett
Staff
Staff
KYANA Blues Society
Rocky Adcock
Cartoon
Dan Colon
Louisville Homefront
Dallas Embry
Staff
Sara Pratt
Staff
Staff
Staff
Staff
Blogs
Got Shows?
Send Them To Us
Bookmark Louisville Music News.net with these handy
social bookmarking tools:
Available RSS Feeds
- Top Picks
- Today's Music
- Editor's Blog
- Articles
Add Louisville Music News' RSS Feed to Your Yahoo!

Issue:
Alice Cooper at the Palace Theater... Hmmmmm?
By Jason Koerner
Well, if you think about it long enough, it almost makes sense. Alice Cooper, one of rock and roll's original shock-rockers, has always been as theatrical as musical. His music has been around since the 70's, and his influence can be seen in many stars today. Other groups such as Rob Zombie, Marilyn Manson, KISS, and even G.W.A.R. share one thing in common with the father of musical mayhem: they all love to put on a good show.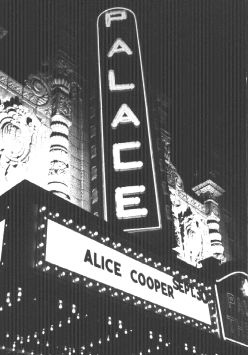 Alice Cooper
The night opened with an android speaking to the crowd. The stage looked like something out of a sci-fi movie, and the atmosphere was just as surreal. Cooper came onstage and the started the long set of madness with an energy that never dissipated. The Brutal Planet Tour was underway, and the crowd was captivated by his presence.
Cooper performed many of his hits from the past couple of decades, including "No More Mr. Nice Guy,"It's Hot Tonight,"Poison,"School's Out,"I'm Eighteen" and more. Alice has the capability to make one feel like the entire show is just for them. It as if he is talking right to you and no one else. I have the feeling that many audience members took that opinion home with them because of his talent for making the connection with his listeners. The lyrics are catchy, and easy to relate to. I can't tell you how many people I saw in the crowd lose themselves to the music. For many, I think that songs like "School's Out" and "I'm Eighteen" transported them back in time to their teenage years, when they first heard those songs. It was kinda' touching, actually!
Alice Cooper meets the boundaries of yesterday's sound with today's standards of violence. The result is a little different than when he started scaring unknowing audiences back in the 70's. He once stated that it became too hard to shock people after about 1978, so he quit the shock business and became an entertainer. I can best define the combination of his efforts today as "Glam-Gore." The residue of the 70's and 80's sound is still present but an understanding of what society currently expects, both musically and visually combats it. This is where the guillotine and the dead babies come into play.
The long running success of Cooper is a result of his appeal to the impulses we all have but do not always show in our daily lives. Also, he has one thing going for him that no other entertainer can claim: fun. He has fun. He makes us have fun. You can't leave an Alice Cooper show in a bad mood! This is something that I have also found to be true with a variety of swing bands. You simply have a good time at these types of events. I left the show thinking, "Man, I had a blast at this show!" The enjoyment of one's own art form should be noticeable in any live performance. This is something I know I have commented on in the past and will continue to look for in the future.
During the encore performance, Cooper's sense of humor was illustrated with his taste in clothing. He went from a bright white tuxedo, top hat and cane to a black T-shirt that said "BRITNEY WANTS ME" on the front, while the back of the shirt elaborated - "DEAD." He sang a cover of "My Generation" and later brought a bogey Bill Clinton on-stage with various props - including a cigar.
The show was great, and I feel more American now that I too, have seen Alice Cooper live. There is something nostalgic about his work, and it is an experience for anyone fortunate enough to see him up close and personal.