April 1989 Articles
Cover Story
Staff
Columns
Paul Moffett
Staff
Performance Reviews
Keith Clements
Dallas Embry
Jean Metcalfe
Paul Moffett
Jean Metcalfe
Calendar
Staff
Errata
Staff
LASC
Jean Metcalfe
Jean Metcalfe
Staff
Staff
Karen Le Van
Dallas Embry
Jean Metcalfe
Jean Metcalfe
Dallas Embry
Staff
Diana Black
Industry Review
Paul Moffett
Music Business News
Staff
Staff
Paul Moffett
Staff
Staff
KYANA Blues Society
Rocky Adcock
Cartoon
Dan Colon
Louisville Homefront
Dallas Embry
Staff
Sara Pratt
Staff
Staff
Staff
Staff
Blogs
Got Shows?
Send Them To Us
Bookmark Louisville Music News.net with these handy
social bookmarking tools:
Available RSS Feeds
- Top Picks
- Today's Music
- Editor's Blog
- Articles
Add Louisville Music News' RSS Feed to Your Yahoo!

Issue:

Jazzin'
PRELUDE:
RIP, Pete Seeger
Pete Seeger left us at the age of 94, after a lifetime of commitment and enthusiasm. Obviously not a jazz artist, Seeger's music nonetheless has been part of my life since first hearing his music as presented by the Byrds and Peter, Paul and Mary, after which I soon discovered his own work. His was a life that mattered.
RECENT CONCERTS
Kiran Ahluwalia at the Clifton Center
Kiran Ahluwalia sings what are known as ghazals, Indian poems and songs. She adds her own touch, however, and composes some of her own pieces as well. She performed on Friday, January 24, at the Clifton Center, with a band that included her husband, jazz guitarist Rez Abassi, accordion player Will Holshouser, and a tabla player, Nitin Mitta. Ahluwalia's voice swooped and soared, and she used her hands and arms expressively, adding emphasis to the emotional delivery. Abassi's playing in the context of his wife's singing was less jazz oriented, as befitted the music. Her final piece was introduced with a long tabla solo. More next month on Abassi's new album.
Tiempo Libre at the Kentucky Center
Tiempo Libre, a Miami-based band of Cuban-born musicians who received Grammy nominations for their 2005 and 2006 albums, Arroz con Mango and Lo Que Esperabas, turned the area between the stage and the seats in the Kentucky Center's Bomhard Theater into a crowded dance floor on Thursday, January 30. They are known for their Timba style, which represents a synthesis of traditional; and contemporary styles of music, including jazz. Their two most recent albums are Bach in Havana and My Secret Radio. While both albums are enjoyable, neither is as caliente as the band in performance. Throughout two sets, the ensemble rarely slowed to less than 90 MPH, with stabbing horns, dynamic drumset and conga interaction, bass, keyboards and vocals. One brave couple was on the dance floor within moments of the beginning of the first song. They were not alone for long, however, as many more soon joined them. As much as I usually focus on watching bands performing, my eyes were riveted by the dancers executing steps, whirls and more. The third song was announced as a cha cha cha, but my old cotillion classes never taught me to keep up with the tempo played by Tiempo Libre. Even a"Guantanamera" was amped up, but it was cool. No, it was hot. Whatever. They followed with their take on Bach's "Minuet in G major," reflecting the band members' classical background, but giving it a definite Afro-Cuban flavor. After a break, the band returned without the sportcoats they wore during the first set; I was amazed they hadn't doffed them after the first song or two. I had missed this band when they had previously played Louisville, but if they return, I may have to invest in some dance lessons.
ON THE HORIZON
Rufus Reid at University of Louisville
Master bassist Rufus Reid is the featured guest for the University of Louisville's 18th Annual African American Music Heritage Institute. He performs with both U of L Jazz Ensemble I and the U of L Symphony Orchestra., at 8:00 p.m., Monday February 3, at Comstock Hall, in celebration of this year's AAMHI theme of fusing jazz and classical music. Reid has a new album, Quiet Pride, a suite inspired by the work of sculptress Elizabeth Catlett.
Ruthie Foster & Eric Bibb at the Clifton Center
Blues singers Ruthie Foster and Eric Bibb present a Valentine's Day concert at the Clifton Center, Friday, February 14, at 8:00 p.m.. Foster has won numerous awards, including the 2013 Koko Taylor Award (Traditional Blues Female) in the 34th annual Blues Music Awards. Bibb has been releasing records since 1972, with numerous nominations for the W.C. Handy Awards, as well as a Grammy nomination. For more information on these artists, and ticket information, go to: http://www.cliftoncenter.org/?post_type=events&p=2886.
University of Louisville Jazz Fest 2014
The end of the month brings a great lineup of artists to U of L. The concerts take place Thursday-Saturday at Comstock Hall at the School of Music, beginning 8:00 p.m. each night. Brazilian guitarist Bruno Mangueira opens on Thursday, the great bassist Christian McBride brings his trio Friday, and trumpeter Sean Jones, an alumnus of the Jazz at Lincoln Center Orchestra closes it out Saturday. More details at: http://louisville.edu/music/academics/areas-of-study/jazz/2014-jazz-fest.
New Orleans Jazz and Heritage Festival 2014
The 2014 edition of Jazzfest includes pop headliners Bruce Springsteen and Phish, and many more, but the jazz side is amply represented by many New Orleans artists such as Ellis Marsalis, Branford Marsalis, Astral Project, and many more, plus guests Pharoah Sanders, Gregory Porter, Chick Corea, and the list goes on. The official site, with daily schedules, ticket information, etc., is http://www.nojazzfest.com.
SELECTED CLUB AND OTHER LISTINGS
The Laughing Derby at The Comedy Caravan , 1250 Bardstown Road, Louisville, KY 40204, 502-459-0022, www.comedycaravan.com; new site: http://laughingderby.com . In the past few weeks, local media have covered the change in ownership and management at the Comedy Caravan. It's now The Laughing Derby at The Comedy Caravan. After many years of the Comedy Caravan supporting jazz, The Laughing Derby confirmed to me that: "We're happy to continue to support jazz in Louisville. Don Krekel will have a home at The Laughing Derby as long as he wants one. And if it makes sense (and doesn't adversely affect Don's show) we'd be open to expanding the series as well." So, it looks like The Don Krekel Orchestra will continue its gigs there on third Monday of each month, which this month will be February 17. Also, the club will now offer a menu of sandwiches, salads and more. Please contact the club for any post-deadline information.
The Nachbar (969 Charles Street, 502-637-4377, www.myspace.com/thenachbar)
features "Nachbar Jazz" on Wednesdays, with Jacob Duncan . Check the club for updates or changes. The club also has a Facebook page with occasional updates.
The Jazz Kitchen (5377 N College Ave., Indianapolis, IN 46220; phone: 317-253-4900; www.thejazzkitchen.com), presents nightly offerings of local and regional jazz; check the website for the full schedule and updates. A road trip might be advised for February 7: Dave Stryker ; March 2: Terence Blanchard : March 7: Cécile Mclorin Salvant ; March 21: Regina Carter . Other shows may be added, so check the site.
The Blue Wisp Jazz Club in Cincinnati, is now at 700 Race St. (513-241-WISP). Wednesdays remain the province of The Blue Wisp Big Band. As of deadline time, January is packed with mostly local and regional talent. For details and the full schedule, the website is: www.thebluewisp.com.
Please sign up for updated local jazz listings: The Louisville Jazz Society provides weekly e-mail updates for local jazz happenings. Be sure to sign up for the e-mail "Louisville Jazz Society's Jazz Insider" at www.louisvillejazz.org. It is both impossible for me to try to provide complete listings here, and it would be duplicative of the weekly listings in the Courier-Journal and LEO and the Louisville Music News' monthly music listings, www.louisvillemusicnews.net.
EIGHTH NOTES
Small Time Napoleon:
Self-Titled (www.smalltimenapoleon.com)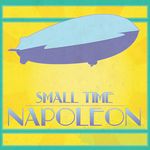 Small Time Napoleon
This Louisville quartet describes itself on its homepage as "Jazz(ish) swing with modern(ish) roots." That sounds right to me. The band consists of Dan Hardin: Vocals, rhythm guitar; Jeff Thomas: Vocals, lead guitar; Dave Neill: Bass; and Ryan Fowler: Drums. Their debut recording, available through their website, is a six song, 23-minute EP of original compositions which include influences from Gypsy Jazz, Western Swing, and related styles. While, say, Dan Hicks might mine this style as a counterpoint to his often cynical world view, Small Time Napoleon is charming without being cloying. The band has done a Live Lunch for WFPK (archived at https://soundcloud.com/wfpk/small-time-napoleon-live-on," and recently opened a WFPK Winter Wednesday at The Clifton Center for The Wood Brothers, which I unfortunately could not attend. Check these guys out, they're a great addition to the scene.
Anton Schwartz
Flash Mob (Antonjazz , http://antonjazz.com)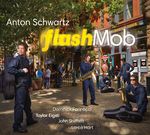 Anton Schwartz = FlashMob
According to dictionary.com, the first definition of "flash mob" is "a group of people mobilized by social media to meet in a public place for the purpose of doing an unusual or entertaining activity of short duration." On his new release of that name, saxophonist/composer Anton Schwartz has assembled a topnotch crew of musicians, namely pianist Taylor Eigsti, trumpet and flugelhorn player Dominick Farinacci, bassist John Shifflett, and drummer Lorca Hart, for "entertaining activity of 67-minute duration." If I had to use just one word to characterize this album, it would be "urgent;"whether the musicians are playing full speed ahead, or at a more leisurely pace, there is a sense of in-the-moment interaction which sometimes does not get captured on studio recordings such as this. Opening with the title track, one of nine Schwartz originals," the album embraces the classic sounds of the golden era of hard bop jazz, updating it with more contemporary approaches. Two covers, Kenny Dorham's "La Mesha" and Thelonious Monk's "Epistrophy," demonstrate how the musicians can adapt the canon for modern purposes, with Dorham's ballad interpreted with warmth and sincerity (featuring Farinacci), while Monk's classic is given a second-line New Orleans spin. Schwartz co-produced this album with the recently departed drummer, producer and jazz advocate Bud Spangler, who is aptly quoted in the press release: "[Schwartz's] catchy compositions . . . grab you and stay with you. He works really hard, and he's swinging his butt off." To that, I will simply say "Amen."
Scenes (Stowell/Johnson/Bishop)
. . . But Not Heard (Origin, www.origin-records.com)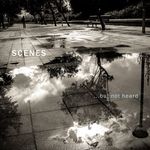 Scenes ...But Not Heard
Guitarist John Stowell, whose collaboration with Dave Liebman, Blue Rose, was reviewed here in December, has long worked collectively with bassist Jeff Johnson and drummer John Bishop (part of Hal Galper's trio, reviewed here last month) under the name Scenes. Guest saxophonist and flutist Hans Teuber adds an extra dimension to this new album, with both his playing and compositions (he wrote or co-wrote four of the seven songs here). Stowell is characteristically articulate throughout, whether soloing or complementing the other musicians. Johnson and Bishop have played together so long, and in different contexts, that they transcend "rhythm section" status, moving the music forward with expressiveness and taste. Teuber and Stowell's lines intertwine on the understated opening track, "C Minor Waltz." "Nanti Glow," by Stowell, captures an easygoing bluesy feel. Throughout, the saxophone is warm, with more of a Getz than Coltrane feel. Bishop's brushwork stands out on the deliberately paced "Spectrum" (by Stowell). Teuber's flute is featured on his "Old Fellow," a standout track with an eloquent bass solo. Highly recommended.
Edward Simon
Venezuelan Suite (Sunnyside SSC 1382, www.sunnysiderecords.com)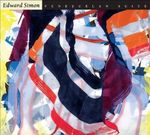 Edward Simon - Venezuelan Suite
Edward Simon is a Venezuelan born jazz pianist, perhaps best known for his many trio recordings. This new release, as stated in the title, is a suite of music composed to evoke his homeland. The musicians are a mix of American jazz players, including saxophonist Mark Turner and Venezuelan musicians, including bassist Roberto Koch. The four-part suite sways and cavorts, with an airy blend of jazz and Venezuelan folk motifs. A fifth song, "El Diablo Suelto," originally composed in 1888 by Heraclio Fernández, is a waltz much loved in Venezuela, and rightly so based on my hearing of Simon's fast-paced arrangement. This is music that is engaging, sprightly, and thoroughly delightful.
LOCAL JAZZ CONTACTS
With two now-fifteen-year-old daughters, it's hard to get out as much as I would like to hear music. As a result, picking and choosing which performances to catch sometimes require that I postpone seeing some of the local musicians and singers in order to not miss the one-night-stands from out-of-town artists. Invariably, I feel guilty, so in an effort to assuage my guilt and, more positively, to provide more exposure to our community of great local jazz performers, I am initiating this feature containing website and e-mail contact information. I am only including those artists who have given their permission to me; some have indicated a preference for website listing only; others have only e-mail addresses. If you wish to be included, drop a line to me with your permission and preferences, at mzkjr@yahoo.com. I reserve the right to edit and to exclude those whose connection to jazz is, in my opinion, tenuous; and this feature may end up online if it begins to take up too much space in print.
MIKE TRACY: www.michaeltracy.com, michael.tracy@insightbb.com, saxophonist and teacher Mike Tracy
UNIVERSITY OF LOUISVILLE JAZZ PROGRAM: www.jazz.louisville.edu
BOBBY FALK: www.myspace.com/bobbyfalk, drummer and composer Bobby Falk;
WALKER & KAYS: www.walkerandkays.com, singer Jeanette Kays and guitarist Greg Walker;
JENNIFER LAULETTA: www.jenniferlauletta.com, singer Jennifer Lauletta;
JEFF SHERMAN: jeff.sherman@insightbb.com, guitarist Jeff Sherman;
RON JONES: www.ronjonesquartet.com, rjmusic@ronjonesquartet.com, saxophonist Ron Jones;
STEVE CREWS: www.jazzcrews.com, jazzcat@iglou.com, pianist Steve Crews.
CODA
1) I am always interested in your comments. Contact me at mzkjr@yahoo.com.