April 1989 Articles
Cover Story
Staff
Columns
Paul Moffett
Staff
Performance Reviews
Keith Clements
Dallas Embry
Jean Metcalfe
Paul Moffett
Jean Metcalfe
Calendar
Staff
Errata
Staff
LASC
Jean Metcalfe
Jean Metcalfe
Staff
Staff
Karen Le Van
Dallas Embry
Jean Metcalfe
Jean Metcalfe
Dallas Embry
Staff
Diana Black
Industry Review
Paul Moffett
Music Business News
Staff
Staff
Paul Moffett
Staff
Staff
KYANA Blues Society
Rocky Adcock
Cartoon
Dan Colon
Louisville Homefront
Dallas Embry
Staff
Sara Pratt
Staff
Staff
Staff
Staff
Blogs
Got Shows?
Send Them To Us
Bookmark Louisville Music News.net with these handy
social bookmarking tools:
Available RSS Feeds
- Top Picks
- Today's Music
- Editor's Blog
- Articles
Add Louisville Music News' RSS Feed to Your Yahoo!

Issue: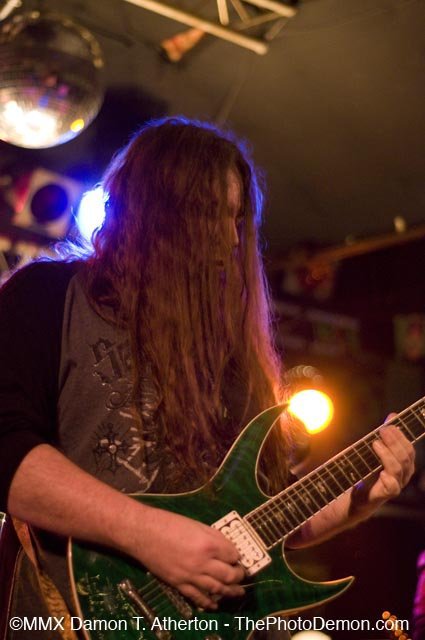 News From the Pit
STONE TEMPLE PILOTS Review
I wasn't about to miss this show. I've never really been much of a STP fan till I saw them last year at Horseshoe Casino and was thoroughly impressed with the whole STP experience. I'll be honest. I'm a metalhead and am not used to such trippy groovin tunes. I used to make fun of them when they came out in the early 90's. I should have seen that there was something there for a band to sell 40 million records! I used to think they were just another Northwest Grunge band riding the coattails of others. Now I know better. Getting older has made me open my eyes a lot more about music and life. I like a lot of lighter music much more now. So when I saw STP was coming to my favorite venue in town, Louisville Palace, I knew I had to make this show.
Seeing STP live is like a trip into Alice In Wonderland's hole. It's a colorful journey through several shades of the musical spectrum, including jazz, rock, grunge and good, old fashioned soul mixed with very memorable vocal melodies. The musicianship of this entity known as STP is simply amazing, and the trippy background effects and tie-dyed madness on the three movie screens make it all the more enjoyable for the casual concertgoer. Fortunately, the good people at LiveNation hooked me up so I could give you a thorough account of this awesome event, complete with pictures. I had 7th row tickets and it was wicked seeing them so close up. Last year, I wasn't so close to the stage, but I was still digging the combo of light and sound. It was the same light show as last year at Horseshoe but that's okay. It's cool to look at. Being so close this time around, I got to see the band in action, for real. Being a guitarist myself, I like to see the guitars used, the chords they play, and maybe even try to learn a thing or two from the famous artists I review. Vocalist Scott Weiland looked more healthier than I've ever seen him. He gained a little weight and looks quite healthy! And if you ask me, I would say he looked very sober and determined to put on a good show as he weaved and danced his way throughout the set.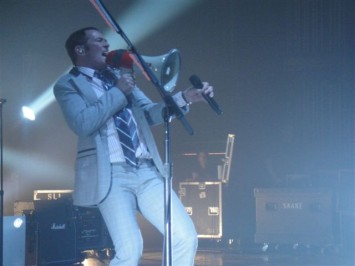 Scott Weiland. Photo By Eddy Burke
The band launched into "Vaseline" for their opener and Weiland came out in full pimp/zoot suit attire, complete with super-cool 1930's style pimp hat. He did not look like the drug-addled heroin addict that I've read about. In fact, he put on a darn good performance! From my vantage point, it was easy to see that Weiland was putting forth real effort and wasn't slacking. The band always plays a long time I've noticed, which is cool. That they like to give the fans they're money's worth. And they like to please, too, as they waded through a plethora of all their hits, including "Wicked Garden," "Creep," "Interstate Love Song," "Plush" and the first song I ever heard from STP, "Sex Type Thing," which was one of the heaviest songs of the night. The band sounded unreal. Scott Weiland is a walking legend and comes across as the epitome of a rock star.
Drums STP. Photo By Eddy Burke
Guitarist Dean Deleo is the man. Dean Deleo is underrated in the guitar world. He comes up with some great stuff and I love his choice of guitars: Paul Reed Smith. I recently got my very own PRS and I now see why that is his main arsenal. Dean's style is so laid back and soulful it's ridiculous. His guitar tone creamy and rich and a jazz lovers dream. The guitar mix seemed a tad low at this show for some reason and I was straining to hear Deleo's solos and fills at a few points. However, the bass of Robert Deleo was thumping. The guy looked like a lawyer in sunglasses onstage rather than a rock star, but he seemed like a cool guy as he slapped hands with the fans and stuff. They played the very laid-back and melodic tune "Sour Girl," which I liked a lot. Weiland's melodies are top-notch and are hard to get out of your head. "Sour Girl" has been in my head since the show! Scott is a one of a kind singer, I'll give him that. The way he moves is too cool. (I bet chicks throw themselves at this guy. Ha.) As I said, Weiland sounded pretty darn good to me and tried really hard to recreate his notes on record, but a few serious fans said he sounded better at Horseshoe. I think it was about the same. Either way, he sounded better than the average singer in a rock band. Many are the times I've been let down by singers' live performances, but not Scott. He was also all over the place and difficult as heck to photograph! At one point, he was climbing on the Palace's statues like a mini-King Kong. Ha. The band broke out a long and super jazzy tune that I wish I knew the name of. The moviescreen of effects along with the jazzy hipster riffage was a visual overload. I almost felt as if I ate magic mushrooms or something! The tribal sound of the drums and jazzy feel of this song made me truly realize how good these guys are at what they do.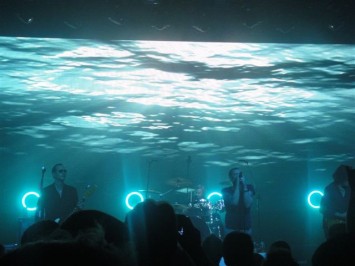 Watery Background. Photo By Eddy Burke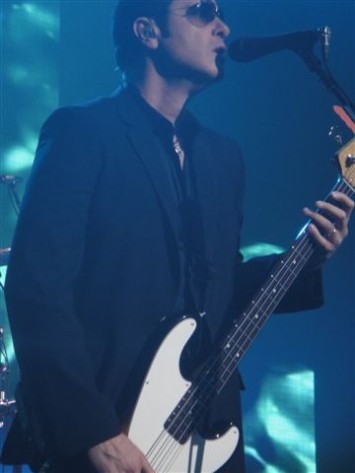 Rob Deleo. Photo By Eddy Burke
Louisville radio station 93.1 The Fox was on hand for the festivities and one lucky DJ (The Dude) got to sing the opening words on Scott's infamous megaphone to "Dead and Bloated" which sounded great. I bet that was a rush. The song wailed! The band also played a few new songs off of their self-titled CD, released in February. I liked "Between the Lines" the best. It had excellent groove and some pumping bass riffage! Usually you see bands coming back with stuff that isn't very good, but this new stuff rocks. The band ended the night with another heavier tune, "Piece Of Pie," and and encore of "Trippin on a Hole in a Paper Heart." Such a good band and such a great venue. It don't get much better than this! Louisville Palace has had some great shows recently and I hope they keep it up, and maybe bring in a few more heavier bands. Special thanks to Rosemarie, Jennifer, Louisville Palace, LiveNation, Charlie and Chris at 93.1 The Fox, and the Stone Temple Pilots for making this an evening to remember!
New Bands Beware –
I like to think of myself as a big supporter of Louisville original music, and when the time arises, a protector of the scene as well. A few times I have stuck my neck out to expose or confront those who needed to be confronted about doing shady business. It caused some drama and unpleasantness mind you, but that's okay. I can deal with a little drama as long as the weasels are exposed and the truth comes out. Fortunately I have been lucky enough to have been proven right most of the time.
This month's exposé is of an organization called Gorilla Productions, a nationwide organization that exploits original bands on a large scale; they've been doing it for a long time. They seem to promise the world but don't produce chit. They do no promotion at all, for the shows they put on, but still walk away with ALL the money made. These guys provide nothing but a venue, take everything and don't look back. I had heard several times that they rip bands off, so I thought,"Why not book my new band on one of their shows and see what's up with it firsthand? If worst comes to worse I'll have a good story to write about." So I booked the show and started to sell the tickets. We ended selling $360 worth of tickets, which is not bad for a new band. When we showed up to turn in ticket money we were horrified to learn that the person in charge did not even have a time sheet for the bands playing, so my drummer gave the chick his copy. What kind of moronic promoter don't have a scheduled time sheet for a 10-band event? They told us we did well with ticket sales, and we play at 8:30. So we call our friends/family who bought tickets and tell them what time we play. We were excited and stoked to play. Then I get a call from Gorilla Productions saying that the show has to be over by 7 p.m. and that 10 bands have to play in 3 hours! WTF? Apparently Someone messed up booking-wise. And why didn't GP tell us this before?
I knew the show wasn't going to happen: ten bands in three hours is impossible, even if bands only play one song! We ended up getting our money back and repaying those who bought tickets. The thing is that Gorilla Productions used a good venue (Headliners) to lure new bands into selling tickets to line their own pockets. I admit I mostly played because I wanted to play Headliners again after six long years, but this unprofessional shady bullchit? I think not.
Headliners wised up and will no longer have GP shows there, which is good because people were starting to blame them for allowing GP to operate there. I know a lot of you bands are dying for shows because we have a venue shortage going on, but steer clear of Gorilla Productions and it's bloodsucking ways. I have learned firsthand that they are only in it for your money.
FULL ONLINE EDITION:
Folks! Be sure to visit us online for the full version of News From The Pit. With the crappy economy, we have had to downsize a bit for the paper, but you can find the full metal-filled version in it's entirety online at louisvillemusicnews.net. Don't miss out on LouEvil's "real" music news!
The Metal Grapevine
Win Tickets to the Puddle Of Mudd Derby Eve Bash at PHT: (FREE-RIDE)
Everybody knows that the mother of all Derby Eve rock concerts goes on at Phoenix Hill Tavern. This year will feature Puddle Of Mudd and should be kickin' bigtime! There will be tons of chicks at this show! For a chance to win tickets, message me at myspace.com/eddymetalrocks on Monday April 26 at 9 p.m. sharp. I'll have a few pairs to giveaway,so you have a better chance. In subject line, put "Muddle Of Pudd." Closest one to 9 p.m. wins!
Win Tickets To Overkill: (FREE-RIDE)
Eighties thrashers Overkill will be at Headliners on April 29 and I have a pair of tickets to give away to you freaks, so message me at myspace.com/eddymetalrocks on Sunday April 25 at 9 p.m. sharp! In subject line put "Evil Never Dies!" Closest one to 9 p.m. wins! To all you young metalheads who don't know Overkill, you need to look them up on YouTube. Check out "Skullcrusher," "Elimination" and "Evil Never Dies" and you'll see why these New Jersey thrashers are still going strong!
Seether, Five Finger Death Punch, Lacuna Coil and HellYeah Coming to Rupp on May 9:
Wow, what a lineup. Even though it's on a Sunday night, I doubt many metalheads will miss this show, even if they have to drive a bit like I plan on doing. Everybody knows Louevil rockers don't mind a short drive to see a kickass show. Lexington's Rupp Arena is a great place to see some bands and I've not been let down yet for a concert there.
I've seen all these bands, and really like them. Very very impressive. And I look forward to seeing some of my favorite bands - Italy's Lacuna Coil and melodic rockers Five Finger Death Punch in action once again, too.
Heck, I would pay just to see those two, let alone Seether, which is unreal live! And Texas rockers HellYeah.
If you have been living under a rock and haven't been out in a while or never even heard of these bands - be sure to get your tickets to see these bands. You will thank me later.
This promises to be "The" show in May. I'll see all of you freaks at the show. Say hello.
Soulfly Destroys!
Wow. What a show. And I almost did not attend this monster metal show at Headliners because I was tired from a long weekend. That have been a titanic mistake, for this show was the shee-it!
Louisville's Kentucky Deathwish opened with a quick set of pounding hardcore grind metal music, even though the drummer Jason Proctor was barely out of his arm cast. I talked to him before the show and he basically said "to open for Soulfly, I'd play drums with my cast!"
Next up was Rotting Corpse from Austin Texas, who jammed out pretty good. These guys were old-school thrash bigtime and I liked their music. Reminded me of old Slayer a lot. And the singer sounded just like Tom Araya. Their guitars were kinda gay-looking but the music was fierce and cool.
The next band I wasn't into that much, so I ignored them. New York punk/Thrashers Prong came on and played a no-nonsense set of metal that thrilled the crowd. It was great seeing these guys play again after not seeing them for nearly twelve years. They sounded great for such a basic no-frills setup and sound. They rocked out "Beg To Differ," "Straightforward" and "Closer To The Edge." Of course the most popular song was "Snap Your Fingers, Snap Your Neck," which had the place going nuts and singing along.
But the main course was to be the doozy here. Soulfly absolutely killed. The lineup and talent in this band is straight up sick! You have ex-Sepultura Brazilian madman Max Cavalera on guitar and vocals, the metal/flamenco phenom Marc Rizzo on guitar, former Louisvillian Bobby Burns (Primer 55) on bass (yes peeps, a fellow Louevil rocker who made good in the metal world!) and the tribal skinmaster Joe Nunez on drums. Together, they have more firepower than a Molotov cocktail at a meth lab! The sound was crushing, the fans excited, and I stayed 'til the end, because this chit was too damned good. They raged through songs like "Primitive," "Prophecy" (my favorite of the night), and, of course, "Eye For An Eye." But that's not all, my metal-loving friends; they played Sepultura stuff as well, like "Roots" and "Refuse Resist," both of which killed; "Policia"; "Troops Of Doom" and even a Nailbomb song, "Wasted Away." Marc Rizzo's solo was badass and he broke out a double-necked guitar for the fun. I was lucky enough to see Marc Rizzo solo at Phoenix Hill a few years ago so I know how wicked dude is on the axe. I dig the way he adds the Flamenco guitar style to metal riffing to impact as one. It works. At one point, Prong singer Tommy Victor jumped onstage with Soulfly to sing Soulfly's new song "Lethal Injection." I do admit to being bummed that they didn't play Sepultura's "Territory," a song my old band Injuman played every chance we got.
Good job bringing in the real metal, Terry! This was a barnburner!
KORN Coming to Conquer on May 4:
Tuesday May 4th at Expo 5, L.A Nu-Metal legends Korn will be tearing chit up, thanks to promoter Terry Harper. A lot of people are excited about Korn coming back to town
It's Korn's Ballroom Blitz 2010 Tour! I've haven't seen these guys in a while and it promises to be an interesting and rockin show with lots of freaky chicks in attendance. I've never been a big fan of the trendy Nu-Metal, but I do like some of the older stuff, but the newer stuff wasn't nearly as good or as edgy.
Tickets will be limited to this show so if I were you I would snag up the tickets you need while you can. This will sell out, so don't be left out and bummed at showtime! Check out Terryharper.com for ticket prices and info.
SXSE Festival at Expo 5:
On April 23 and 24, the South By SouthEnd Festival (SXSE) will be kickin some butt at Expo 5. There will be 30+ regional bands (see lineup in Upcoming Shows below!), cool artists, booths, and, of course, the flea market that is there every weekend. And it's all ages, so you can bring the family out to enjoy the Flea Market (that has great Mexican food) and the festivities that SXSE brings to the table. The shows start at 5 p.m. and go until midnight. Music, arts, artists, booths, all kinds of stuff will be there. It should be lots of fun! Especially since the weather will be nicer. I'll be playing Saturday on the Mainstage at 6 p.m. sharp, so I would (Year Of The Gun) love to see you all out there to check out my cheesy new riffage! I'm stoked to be a part of this cool new annual music festival that helps so many bands/artists in our city get some proper exposure, which in this day and economy, is a hard thing to do! I was impressed with last year's exposure for the event and I expect this year to be much better, given the circumstances of location and lineup. This year is clearly more for the true rocker. Some brutal bands are playing too. Deliver Us From Evil is coming up from Evansville to tear the roof off the joint, and The Revenants will add some Black Metal madness to the mix. Pass the word on and let's make the SXSE Festival a winner. Props to Frank Lewis for putting this event together!! Sounds like a candidate for Props Of The Month in May! Let's see how smoothly things go first.
Cheech And Chong at The Palace:
The legendary stoner comedians return to Louisville on April 9 at Louisville Palace, a much better venue than last February at a local casino. I'm looking forward to seeing the guys in concert once more! Get your tickets; you don't wanna miss hippie-fest! The people watching at this event is excellent!
Benefit 4 An Angel:
My friend Angel Hall has a heart of gold. She's putting on a benefit concert at The Billiards Club of Louisville, 5404 Bardstown Rd in Fern Creek, on March 28 at 4 p.m., featuring with cover bands Jefferson TARC Bus, Scary Uncle, Big Rock Show, Facedown, 4 Banger and Underground Angels) for a sweet little girl with Leukemia, and I hope all of you will attend this rockin' show for a great cause.
Cambrey Mudd, 7, of Louisville, was diagnosed with leukemia (Acute Lymphoblastic Leukemia). She is a very sick little girl. Cambrey's father David lost his job, leaving the family with only her mother's income. Last week, Cambrey's preliminary blood work showed that she was in remission. So this week, Cambrey is going through chemotherapy to prepare for her a bone marrow transplant provided by her five-year-old brother. While Cambrey's in the hospital receiving chemotherapy, her mother is at work. We are hoping to raise plenty money to help Cambrey and her family so her mother can take off work to be with her daughter in the hospital and to help with the many medical bills. Angel is working on raffling giveaways. The minimum donation at the door is $5. The show is promoted by Miller Light (River City Distributors). [Eddy: And if you don't - I'll tear your head off!!!]
Fire Dept. Reunion: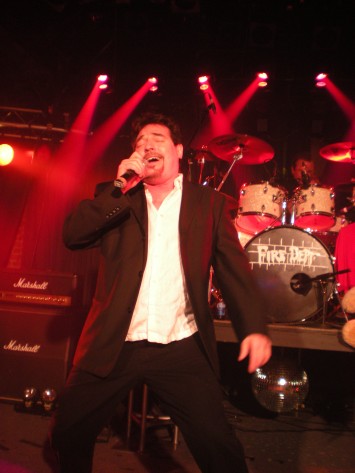 Fire Dept. vocalist Steve Johnson. Photo By Eddy Burke
I said I would attend the March 20 reunion, and I kept my word. I'm glad too, because I had a fun time hanging out with old friends and acquaintances. It wasn't not an official Toy Tiger reunion, but that's what was in fact!
You can't fool me. Ha. Fire Department and the Tiger went hand in hand. Toy Tiger/Fire Department = one entity.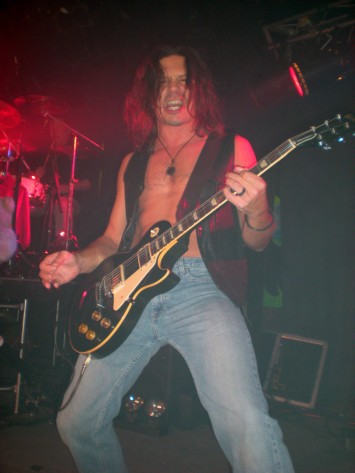 Fire Dept. guitarist Jon Huffman. Photo By Eddy Burke
I had a very special relationship with The Toy Tiger, so I have a serious insider view of the place and its history and people. I used to sneak in when I was 16 years old. I had long hair, so I fit right in. My friends my age were all jealous because I had the balls enough to do so, and actually pull it off and party/drink with the big boys. And, of course, I booked many events there from '95 to late '99.
Fire Department sounded great as usual. To be honest, I have gotten so sick of cover bands I could puke. Thank God I was at a Fire Department show so I would not have to hear songs that twenty other modern-day bands play three times a week. Instead, I got a trip back in time in Perry Scroggin's rock 'n' roll time machine, and what a ride that was. The band belted out a ton of AC/DC tunes like "Thunderstruck," "Highway to Hell," "Shoot To Thrill," and "Livewire" as well as other oldies like Beastie Boys "Fight For Your Right," and Accept's "Balls To The Wall," a song that no cover band does! Guitarist Allan Needham played "Over The Rainbow," which sounded incredible. (I think I might have to steal/figure that riff out now as well.) The guys had a good time chatting with fans and using their wild stage props and costumes, which included a funny redneck farmer, a nun with a strap on-giant FD penis (their trademark) and last but not least, drummer Perry Scroggin singing ever so energetically, doing his best impression of the late, great James Brown. It was hilarious seeing Perry sing "jump back, I wanna kiss myself! Heeeeyyyy!!!"The James Brown thing lasted for two songs "I Feel Good" and "Living in America," and the band even had a horn section this time around! The funkiness and groove of it was outstanding.
Fire Dept. bassist Tony Z with Jon Huffman. Photo By Eddy Burke
Very tight work. Tony Z is one of the best bassists around. The talent in this band is incredible, and if I had any complaints at all, it would have to be vocalist Steve Johnson's voice.It wasn't bad,mind you, but he had a little bit of trouble hitting the higher notes in the songs, so he played it a bit safe.
I love Steve, though. He is one cool guy and I've known him since I first played out in 1995 at The Tiger. He was funny as he was constantly cracking jokes on himself and the band, saying they're old and he's pushing 60. However, he did not look or move like a sixty-year-old guy. All in all, he kicked ass, is a helluva frontman and a walking Louevil legend who can work a crowd like a total pro.
What can you say about guitarists Allan Needham and Jon Huffman? Both are accomplished guitarists who are active in the cover band scene here in town. Nice guys too. Both guys are about as good as a guitar player can get.
It was a fun night even though I was distracted a bit by sexual offers from womenfolk; still, I managed to pay homage to Louisville's rock and roll legends Fire Department. When is the next one?
First Annual Toy Tiger HARDCORE Reunion Coming This Summer:
Things have been worked out and the Toy Tiger people are going to let me have the first Toy Tiger Hardcore Reunion. I plan on getting some older, defunct metal bands of the mid- to late-Nineties back in action for one night of Louevil history. I'm open to suggestions, so give me a shout! Myspace.com/eddymetalrocks. I'll let you know time and place when I know. I just got the okay, so there is a lot of work to be done! Wish me luck, I'll need it for this project!
Tantric in April:
Hugo and the fellas will be here on April 10 to play Phoenix Hill Tavern. It promises to be one rockin' show, so don't miss the newer version of Tantric. They sound great. I hope they bring back that opening band Foster Child again. They were awesome too. And the way Hugo and Fosterchild's singer switched vocal parts on Temple Of The Dog's "Hunger strike" was excellent! See you on the 10th.
Kreator and The Windy City:
Eddy's goes to Chi-Town! (Sounds like a bad porno.) I decided to take one of my little vacations, so some friends and I hightailed it up to Chicago to go see some serious old-school metal in the form of German thrash metal pioneers Kreator, and the weird metal style of Canada's VoiVod. Chicago is fun. We went to the Field and Science Museum. It was awesome.
But the metal part of the trip was the best, me being an old-school metal foolio and all. The show was at a place called The Bottom Lounge. It was about the size of two Headliners Music Halls put together. The place was packed with 1600 freaks and old-school rockers, and the bands came to please. VoiVod is a weird thrash/experimental band from way back in the early Eighties that I have never seen but liked. This band is insane and plays like no other metal band in history. Erratic time changes, bizarre guitar, and Denis Berlanger's odd vocals make VoiVod what they are: experimental geniuses. They cranked out tuneage like the super-weird "Astronomy Domine," "Tornado" and "Nothingface." It sucks that I never got to see Piggy (the original guitarist) play his music before he died in 2005. R.I.P Piggy.
VoiVod was good but Eighties thrash metal monsters of Kreator are what brought me. Sure, they didn't make up "Enter Sandman"-type tunes and make a fortune in their time, but they havehelped death/thrash metal to become what it is today, as any true metal fan knows. There is no denying guitarist/vocalist madman Mille Petrozza! Only a complete dolt couldn't appreciate dude's work. Singing and shredding on ultra-fast picking at the same time? He makes it look easy, but it's not! It was hard to understand what titles Mille was shouting, and they didn't mess around between songs; they were ready to go. They played: "Impossible Brutality"from Enemy Of God;"Pleasure To Kill," "Demon Prince," "Coma Of Souls" and "Flag Of Hate" from the Flag of HateCD. I was disappointed that they didn't play "Betrayer," one of my favorites. The band is super-tight and sounds great live. I was drinking whiskey and the music made me want to punch someone in the beak, but I was a good little tourist! The PA system's volume wasn't nearly as good or loud as Headliners back home, however The Chicago people were very friendly and we partied to some great metal. Chi-town and Kreator rocks!
As I Lay Dying is coming May 5:
San Diego Christian metal band As I Lay Dying will be in town At Headliners on May 5. It's one wicked show that I have to see. I saw these guys open for Lamb Of God, and they were amazing! I thought it would be doody New Age metal, but it turned out to be some really good metal! I know my metal and I tell you these guys rocked just as good as Lamb Of God at that show.
TIP: This will SURELY sell out, so you better get your ticket nowif you want to go!
The "Real" E-Flat is back:
After seeing two very tight performances recently by this longtime Louevil band, I have to say that the real E-Flat is back, finally. These guys packed them in back in 2000, but lineup changes, and band issues set them back a few notches over the years until it seemed that the real E-Flat was nowhere to be found. Now it seems that they have worked out the problems and are back with a vengeance to show all these young whippersnappers how it's done, hooligan style. Their draw is slowly creeping back to the way it once was. Good job!
New Band Alert, Fivesecondzero:
Here is a newer band with promise. I've seen the name a few times, so I thought I would check it out. It's rock/light metal with some pretty good soul, melody and groove going on. Something for everybody whether it's metal or commercial. There are a few screams but it's mostly singing, thank god. Vocalist Matt Neihoff can sing pretty well. Rich Brown is on guitar plus the excellent Joey Goldsmith is on bass. On drums is Rick Green. You can tell that these aren't no young wanna-bes, but a band of older and more experienced players who have made the Louevil music scene their home. They have only a few short clips on their site, but it's enough to tell me that this is a good band with promising ideas. You can see them at PHT on April 8 opening for Fair To Midland. Myspace.com/fivesecondzero
Upcoming Shows
The Billiards Club of Louisville (5404 Bardstown Rd, in Fern Creek.)
Sunday, March 28 – Benefit 4 An Angel, the Cambrey Mudd Benefit, featuring Big Rock Show, Scary Uncle, Jefferson TARC Bus, 4 Banger, Underground Angels and Facedown. 4 p.m.
Expo 5
Thursday, April 22 – Nashville Pussy w/ Green Jelly, Psychostick and Louevil's Incursion.$15ADV/$18DOS.
Friday, April 23 – The South By South End Music Festival w/ Ohlm; Voices Of Adria; Tri-Tones; Burning Babylon; Jon Ashley and the Little Triggers; The Honey Highway Country and Blues Show Parlor Tricks; Straight A's; Thomas Medicine; Down-n-Out; Stallpoint; Born Empty and Snake Eyed Savior. Doors at 5 p.m. Single-day, $10 / Weekend Pass $15.
Saturday, April 24 – The South By South End Music Festival w/ Seclusion, Deliver Us From Evil; Burning Babylon; E-flat; Graveflower; Stonecutters;Year of the Gun; Vibrolas; Lords; Look What I Did; Mini Marilyn Manson; Broke and Bleeding; Akkadia; Talk of Spring; The Revenants and Somatica. Doors at 5 p.m. Single-day, $10 / Weekend Pass $15.
Greenwave Music Hall in Brandenburg , KY.
Monday, April 5 – In Fear and No Sign Of Murder. 7:30 p.m.
Headliners Music Hall
Monday, April 5 – Every Time I Die w/ Four Year Strong, Polar Bear Club and Trapped Under Ice.
Wednesday, April 7 – Twiztid w/ Potluck, Kung Fu Vampire and Dead Dirty Carnies. 8 p.m.
Wednesday, April 21 – Against Me w/ Moneybrother and Sugar Spell It Out. 7:30 p.m.
Friday, April 23 – Original Music Showcase w/ 16 Bones; E-Flat; Year Of The Gun; Sacred Sorrow; Prices On Our Heads; Stereotyped; Houses In Motion; Blessed Are The Dead. 6 p.m.
Thursday, April 29 – Overkill w/ Vader; God Dethroned; Warbringer; Evile and Woe Of Tyrants. 7 p.m.
Wednesday, May 5 – As I Lay Dying w/ Demon Hunter, Bless The Fall and War Of Ages. 7 p.m.
InnPlace Hotel and Conference Center
Thursday, May 13 – Insane Clown posse w/ Kottonmouth Kings, Coolio, Kittie and Necro. 6 p.m.
Phoenix Hill Tavern
Friday, April 2 – The Original Rock Showcase Series w/ Some Kind Of Saint; Autumn Canvas; Burning Babylon; Black Sunday and The Delicate. 9 p.m. Free before 9.
Thursday, April 8 – Fair To Midland w/ Karnivool, Something To Burn, Inner Blue, 7 day, Sun, Fivesecondzero and Institution. 8 p.m.
Friday, April 9 – Stall Point, Hicks Road, Stalling Hari Kari, Post Mortem, Reign Of Revelation, Darkening Days, Solid Six, Project Sovereign. $10. 9 p.m.
Saturday, April 10 – Tantric.
Saturday, April 17 – Burn To Shine, 16 Bones, BoneJinn and Year Of The Gun. 7 p.m.
Friday, May 7 – The Original Rock Showcase Series "Demon Night" w/ Deliver Us From Evil, Societys Plague, KY Deathwish, Seclusion, Through The Storm and 1 T. B.A. 8 p.m. Free before 9.
Wednesday, May 12 – 93.1 the Fox's Louisville Rocks w/ Year Of The Gun. 9:30 p.m.
Skull Alley
Wednesday, April 14 – Death Threat w/ Death Before Dishonor, The Mongoloids and xThisWarx. 7:30 p.m.
Uncle Pleasant's
Thursday, April 8 – Jedi Mind Tricks w/ Skyscraper Stereo, Scanners and Hippiedigger. 7:30 p.m.
Thursday, April 15 – Anybody Killa w/ Killaz Inc and Tha KY Killaz. 7 p.m.
Monday, April 19 – The Bled w/ Buried On The Battlefield, She Asked For It, Tides Of Chaos.
Sunday, April 25 – Mayday, Parade w/ Midwest. 7 p.m.
Friday, April 30 – Smile Empty Soul w/ Soil, Black Sunshine, Signal 48, Shyaway and Down-N- Out. 7 p.m.
Friday, May 7 – Set Your Goals w/ Comeback Kid, Title Fight, Smartbomb, Rattletooth. 7:30 p.m.
Douche of the Month
Gorilla Productions, for feeding off of the naïve original musicians in Louevil for years with their total scam, and getting away with it.
Until they farged with me.