April 1989 Articles
Cover Story
Staff
Columns
Paul Moffett
Staff
Performance Reviews
Keith Clements
Dallas Embry
Jean Metcalfe
Paul Moffett
Jean Metcalfe
Calendar
Staff
Errata
Staff
LASC
Jean Metcalfe
Jean Metcalfe
Staff
Staff
Karen Le Van
Dallas Embry
Jean Metcalfe
Jean Metcalfe
Dallas Embry
Staff
Diana Black
Industry Review
Paul Moffett
Music Business News
Staff
Staff
Paul Moffett
Staff
Staff
KYANA Blues Society
Rocky Adcock
Cartoon
Dan Colon
Louisville Homefront
Dallas Embry
Staff
Sara Pratt
Staff
Staff
Staff
Staff
Blogs
Got Shows?
Send Them To Us
Bookmark Louisville Music News.net with these handy
social bookmarking tools:
Available RSS Feeds
- Top Picks
- Today's Music
- Editor's Blog
- Articles
Add Louisville Music News' RSS Feed to Your Yahoo!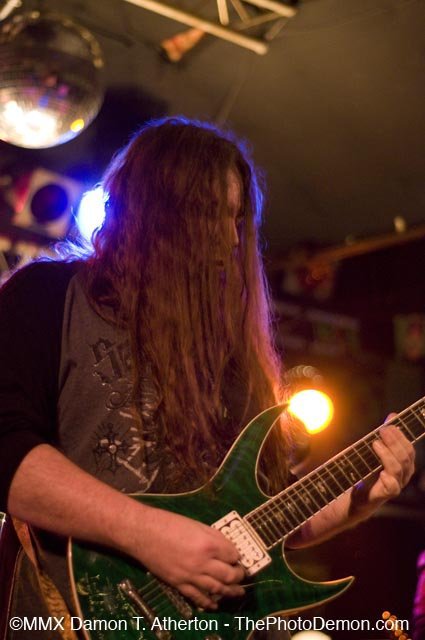 News From the Pit
Eddy Metal's Louevil Music Top Ten List of 2009
S'up bee-yotches! I've been slaving over a hot computer for days to give you my Louisville Top 10 band list to wrap up 2009. No food. No water. Just me sitting here like a red-eyed zombie, trying to kick-start the ole brain pan and figure this chit out.
It's been a fun year and it's time to see which unsigned original bands in this region kicked some butt and made some noise out there with their music. There are a lot of bands to consider, and many different styles to choose from. This is for the region's musicians who are playing original music only!
So it's not an easy decision. So if I anger somebody - I'm the mofo with the pen, so my judgment is what counts! This is in no way an official award or whatever, this is merely my personal opinion on the matter and don't really matter in the slightest.
I'll start out with all guns blazing. But first, I want to remind you all to read my stuff online. The bad economy has made us downsize the paper a bit, so for the complete and full version of my infamous "News From The Pit" column, be sure to visit us online at Louisvillemusicnews.net. I'm writing more than ever, so don't miss out on my reviews, ranting and super-cheesy stories!
Most Popular Band: Based on consistency, professionalism, popularity and overall performance, Heaven Hill seems to be # 1 this year. Before the radio changeover, they had a lot of exposure going for them. They have a big following that attends every show. The Villebillies are pretty much neck and neck with Heaven Hill, especially with that new video. Intheclear is consistent and still drawing. Chamberflow has been busy playing out of town a lot. They have a great manager too, which is important. Burn to Shine just released a CD produced by Toby Wright (who has also produced such bands as Alice In Chains, Korn, Sevendust, slayer, Kiss). Flaw (mostly inactive this year, but now back with a vengeance. These guys could break up for five years and still have a draw when they reunite). Some Kind Of Saint had a very good year and got some decent shows, even opening for Chevelle and Taproot. Nova Red still has the goods and stays active. Evansville Indiana's Deliver Us From Evil draws people and they are from two hours away. That says a lot. They are probably my favorite original metal band around. Societys Plague is a band of very young, talented and professional rockers/metalheads from Lexington who should be out on a major tour as I write this.
Best Guitar: Based on tone, melody and leads, Kevin McCreery from Ugly is phenomenal, The lead guitarist of Deliver Us From Evil is an all-out riff monster, Lance and Andy from Flaw/Nailgun Strategy (wow, can both of these guys wail), Chris from Assisting Sorrow is 'the' death metal solo artist; Tim from Antikythera (nice creative stuff), Chase Dabney from Burn To Shine (a one-of-a-kind acoustic beatdown); the guys in Intheclear for their great tone and use of effects, Chris Marple from Kentucky Deathwish for the mixture of melody and wylde riffs, Chris Kerr of Heaven Hill for the true classic sound and the guys in Shatterstone kick butt.
Best Singer: Marty Triplett from BoneJinn (you should hear his acoustic stuff!). Chris Vols of Flaw (when he's on his game); Brendan Kavanaugh of Chamberflow, Stre from Burn To Shine, Corey from Some Kind Of Saint, Steve Sawyers from Year of the Gun (13th Level), Demi Demaree from Villebillies/Plan Of Man, Chuck from Heaven Hill, Amy and Christina from Sonic Epitaph and Sailor from 16 Bones.
Best Bassist: Joey Goldsmith of Inner Blue; Bruce Lafrance of Nova Red; Tony Z of Bonejinn; Rob Payne of Shatterstone; Ron Ping of Plan Of Man; Juan Chavolla of Hot Action Cop; Ryan Juhrs of Flaw; Jason Koerner of Surviving Thalia; Dave Moody of Magnetic Flux; Andy Garrett of Antikythera.
Best Drummer: Josh Ricci from Antikythera' Sean Rued of Flaw/Nailgun Strategy' Ivan Arnold of Heaven Hill' Surviving Thalia' Jeremy from 7 Day Sun' Ryan Murphy of Brian Fox and the Chickenpickers' Dave Wathen of Project Sovereign/Seclusion' Tim Owens of Surviving Thalia' Jason Lakes of Snake Eyed Savior and Mitch Kirkpatrick of Shatterstone (who is only 17 years old).
Best New Band: Artifex Pereo, a great new Louevil band featuring former members of Sub Rosa and Kinsey. They are constantly touring and haven't done much here in Louevil yet.
Best Live Performance: Heaven Hill; they work a crowd well and rock pretty good. Intheclear: very professional and tight as a unit. Ugly rocks (how can you not like them?). Burn To Shine. BoneJinn; sounds just like the CD - end of story. Deliver Us From Evil: The guitarwork is sick, and the singer is a beast. Societys Plague: high-energy melodic pounding that makes you want to crack open someone's skull. Shatterstone, okay, so they aren't pretty boys or a boy band, but they sure can play well. Sever This Illusion gets kinda wild when they play. Hopefully, their upcoming CD will do well. Thomas Medicine is a newer band I like quite a bit. They sound great live, especially Pat Quinney's vocals.
Well, that's it, slugs. If I left someone out, sorry about that. I'm old and I've partied too much over the years. My brain has experienced much more than the average normal human has.
I wish you all happy holidays, and a fun and safe New Year's Eve (get a designated driver!). I'll probably go to The Hill and check out Days Of The New. I always liked their music, and haven't seen them in a long time. Peace out.
The Metal Grapevine
Rob Zombie Review:
Unfortunately our December deadline was before the concert, so I wasn't able to get it in the paper, but I promise I will have it on our online version of LMN by December 1.
So please don't forget to log on to Louisvillemusicnews.net to see how the Rob Zombie show was. I'm sure you will want to read about that craziness. Last time, it was frickin' awesome. Hopefully I'll have some pictures for you freaks. Wish me luck! Also, thanks to Nederlander for doing the giveaways with us.
Slayer/Megadeth/Testament Coming to Louevil:
Yup, you read it right. The deadliest metal show/Tour to hit Louevil in years will be here on February 2 at Broadbent Arena. This is a triple bill from Hell, called the "American Carnage" tour. It's the first time these bands have toured together in two decades! All three bands are apocalyptic to the max and are true classic metal bands, so this will no doubt be the metal show of 2010. Even the opening band Testament is unreal and one of my faves. To all you young metalheads who don't know of Testament, you've got a major treat in store for you, because you are about to be schooled in old-school metal like you've never been before.
I'll see if I can get you peeps some free tickets for a giveaway. Keep your fingers crossed!
Rock for Kosair Results/Thanks:
Again, deadline came before I could get the final results. I'd like to thank the following people/companies for being a part of my event and really helping me drive this thing home: 93.1 the Fox (Charlie and Mudd) for helping out exponentially and being excellent sponsors and friends. Jason Ashcraft the event PR guy, did a great job getting exposure for the show, including getting us on Channel 32 News. Channel 32 News (Monica Hardin) for being very supportive of the cause, Paul Moffett and LMN, The Phoenix Hill Tavern, Clay from Intheclear (nice flyers, bro), Kosair Charities; 2 Pump Chump (thanks for running the Tap room guys!); Big Al from Boozer (the best tee shirt guy in louevil); my bro Jacob Edwards; Tim from Hellawicked Productions. Thanks to our sponsors who donated prizes: Uncle Sam's Jamms Music Store; Mom's Music; First Quality Music; Professional Musician's Center; Mortenson Family Dental; Gameforce Game Factor Video Game store; Acme Ink Tattoos and Jay's Needful Things. And last but not least, I want to thank the bands who played the show and worked very hard to raise those toys. You did a great job guys! So extra special thanks go out to: Spanky Lee, Plan Of Man, Burn To Shine, Chamberflow, Nova Red, Some Kind Of Saint, BoneJinn, 13th Level, Deliver Us From Evil, Magnetic Flux, 16 Bones, 2 Pump Chump, Project Sovereign, Adaptize, Thomas Medicine and Hicks Road. You made Rock For Kosair the success it was!
Villebillies "One Shot":
I just watched their new video for their song "one shot" and I like it a lot.
It's down-homey, with a bit of swing, yet still redneck, and groovin' on top of all that. Talk about a wild and crazy mixture. The song is catchy as hell and rocks out pretty hard at its peak. It's like Suicidal Tendencies meets The Stray Cats. The swing element really sucks you in and doesn't let go. There are chicks on motorcycles, fans moshing, and partying at Louevil's infamous biker bar. This is a cool video and well-done for an unsigned band with limited funds. But with catchy, hook-laden tunes like these, I can easily see a change for fortune to come for these Louevil rockers if the moon and stars align just right.
I talked to Demi about the video and he said "One Shot was a blast to shoot. We did it at Air Devils Inn (a neighborhood bar we all kick it at) a few months back. Really just giving the viewers a peek into the VB's daily lives. Shawn Wilson shoots all of our videos. A few of the guys in the group usually have an idea for a video and we just make it come to life with his help.
"The future for the VilleBillies is really in the air. Never can say with us, we are quite the dysfunctional family. I do know recently our video "One Shot" has been raising a lot of eyebrows! Scratch N Sniff Mix radio is actually spinning the song as well as posted the video on they're home page. snsmix.com. You can see it for yourself on YouTube, MySpace, and VilleBillies.com as well.
"We have been seriously discussing putting out a lot of the older VB tracks from 2002-2006. Just as they are. Basement recordings - to give fans a taste of what we did before the record deal. A two-disc set with about 30 songs or more. We may even do a couple new tracks with the old members for the f**k of it if we can get along. Ha ha. We shall see."
Flaw Back in Business:
I swear, just when you think Flaw is done, they pop right back up in your face. I heard through the grapevine that they were back, with Sean Rued on drums, ready to conquer once again. The guys are currently in California doing some serious touring and getting the momentum built back up for another record deal, hopefully. These guys have quite the itinerary. Sounds like they will be busy touring everywhere for the next few months. Maybe after the touring we can get them to play a show here in town. A welcome home show, if you will.
Burn To Shine, A Rising Force:
Former- acoustic rockers Burn To Shine are quickly moving up the city's top bands list and their recent sold-out CD release show at Phoenix Hill only goes to prove that. See what hard work and perseverance can do for you! All you bands need to watch and see how it's supposed to be done. They have the goods to make it happen. I'm glad they aren't stuck up, too. These guys are still the cool guys I met years ago. I took a few minutes to talk to Stre about the future.
Eddy: Congrats on the phat show the other night. So what's next for Burn To Shine? Any label interest so far?
Stre: "We're getting some hits here and there, but we have been cautious not to submit to a lot of labels until we get a solid touring schedule lined up. Labels these days want to see that you are hitting the road and gaining fans at all your stops before they invest in you. We did have some label reps at our release show last Saturday, which was cool. We'll see what happens."
Eddy: Tell us a little bit about the new CD. How many songs? What's your favorite? Is it any different from the older stuff?
Stre: "I couldn't be more proud of the album. Toby Wright, our producer, really got us to add some major electric guitar crunch, whereas before we were just an acoustic rock band. We filled our sound up and had to add another guitar player to the mix. But it was the best decision we have ever made. I would venture to say that we sound like a much heavier band live now, which is great! I would say "Signs," "Sunspots" and "Hear Me Now" are my three favorite tracks."
Check out Burn To Shine's new CD Signs of What's To Come at burntoshinemusic.com
Kentucky Deathwish:
The band formerly known as Caldera is back full force with a new name and singer. The new sound seems to be working out well, so well, in fact, I think they are one of the premier metal bands in Louevil right now. Chris Marple's zakk'ed out playing mixed with Todd Proctor's rippin' hardcore screams are quite something to hear. I had my doubts about the newer stuff at first, but now - they have gotten their groove on and are right on track to destroy all comers.
Seclusion Review:
The new music from Louisville metal scene veterans (former members of Factor 9, Incursion and False) Seclusion is good. It's a bit weird seeing louevil metalheads go a little bit lighter, but I'm digging it now. There's nothing wrong with playing a little bit lighter music. Gezus (the guitarist) sounded very good playing the new stuff, probably the best I've ever seen him play. (I knew he had it in him to break out some melody.) Stem Holder, formerly of Incursion, was on vocals trying some new stuff other than screaming. Unfortunately, his singing parts did not do it for me and a few other folks, but his screaming/low growls parts were as good as always. His metal voice is brutal and top notch, but the singing parts were a little disappointing. The crowd they drew did seem to get into the show, and that is what matters! It was a very good draw for one of their first shows. I would love to see them add another singer who can slam home the singing parts, while Stem does his kick-ass screams. That would be killer. The music demands an excellent melodic singer to compliment the good songwriting I heard. The drums and bass and everything else was rockin'. Check them out at a club near you.
The Tri-Tones:
When I first heard the name, I thought it wouldn't be that heavy, maybe more of a classic rock sound perhaps. But I was oh, so wrong. This band's music has balls.
This three-piece heavy alternative band sounds better than most five-piece bands. Vocalist/guitarist Steven Trusty has a good voice and plays guitar at the same time also, which is not an easy feat. They recently opened for Five Finger Death Punch, and they have also opened for Blackstone Cherry. I'm not sure about the quality of this recording I'm listening to, but I do know they jam live! Check out this refreshing newer band at MySpace.com/rocktritones
13th Level Changes Name:
My band's name has been changed from 13th Level to Year Of The Gun. We are playing a more radio-accessible style of music this time around and the name really didn't fit any more. We need shows! Check us out at Myspace.com/eddymetalrocks
New Band Alert, Through The Storm:
I thought I would go through my mail and review a random band that I never heard of before (it's fun), so here I sit checking out an all-new band from Jeffersonville, Indiana, called Through The Storm. I'm kinda digging the rhythm/groove issuing out from my speakers. It's old school metal with both thrash-y and doom-y moments and half-way decent vocals, too. The guitars sound decent; I like the tone. It's weird in a good way. There's an eerie feeling you get from some of the guitar work, and the singer actually sings to metal music, with somewhat of a high range. It's refreshing. There is some serious older, doom-metal influences in here as well. They are a little different and right up my alley. They remind me of a early 90's band called Trouble. Usually I turn off the music a song or two in, but surprisingly, I find myself waiting to hear what's next from these Hoosier metalhead. Check them out for yourselves at MySpace.com/throughthestorm
10 Years of Original Rock at PHT:
On Friday, January 8 at Phoenix Hill Tavern, it will be ten years since I started the Original Rock Showcase Series concert series. Beginning in January 2000, it grew big time, and fast. Nowadays, every promoter and his/her mother books shows at the Hill, Original Rock showcase really started the stampede. Original rock and metal was pretty much non-existent at the Hill before my showcase. Heck, look how popular original music is at the Hill today. So pay a little tribute to 10 years of booking Louevil music! The 'real' rock! Come on out and celebrate with me. I've got a great lineup planned for you. See in upcoming shows.
Upcoming Shows
Broadbent Arena
Tuesday, February 2 - Slayer w/ Megadeth and Testament.
Headliners
Saturday, December 5 - Emilie Autumn w/ The Key. $15 Adv/$17 DoS. All ages.
Friday, December 18 - Voices Of Adria w/ We Were Engineers, Chapman, Remember Me Always, Scarlet Smile, Through The storm, After The Blast and Aquaventure
Saturday, December 19 - Intheclear, Asleep, Dear Enemy and 7day,Sun.
Friday, January 22 - Between The Buried and Me w/ Cynic, The Devin Townsend Band and Scale The Summit.
Saturday, February 13 - Nile w/ Immolation, Krisiun, Abigail Williams, Dreaming Dead, Purgatorium, Narcolepsy Was Her downfall and Theories Of The Apocalypse.
Phoenix Hill Tavern
Friday, December 4 - The Original Rock Showcase series w/ Societys Plague, Institution, Thomas Medicine, Revive The Fallen, At Lights End. 8 P.M - Free before 9pm.
Saturday, December 19 - The Veer Union w/ Like A Storm and Trust Divided. $10 Adv/$20 DoS
Thursday, December 31 - "The Last Blast" w/ Days Of The New, Heaven Hill and Signal 48. $25
Friday, January 8 - The Original Rock Showcase series' Tenth Year Anniversary bash w/ Sever This Illusion, Inner Blue, Kentucky Deathwish, Magnetic Flux, Year Of The Gun (formerly 13th Level) and Kavehill. 8P.M.
Uncle Pleasant's
Saturday, December 5 - The Constant (reunion show) 9 P.M.
Saturday, January 16 - 7 day, Sun, Fervor (Atlanta, GA)Some Kind Of Saint and Autumn Canvas (debut)