April 1989 Articles
Cover Story
Staff
Columns
Paul Moffett
Staff
Performance Reviews
Keith Clements
Dallas Embry
Jean Metcalfe
Paul Moffett
Jean Metcalfe
Calendar
Staff
Errata
Staff
LASC
Jean Metcalfe
Jean Metcalfe
Staff
Staff
Karen Le Van
Dallas Embry
Jean Metcalfe
Jean Metcalfe
Dallas Embry
Staff
Diana Black
Industry Review
Paul Moffett
Music Business News
Staff
Staff
Paul Moffett
Staff
Staff
KYANA Blues Society
Rocky Adcock
Cartoon
Dan Colon
Louisville Homefront
Dallas Embry
Staff
Sara Pratt
Staff
Staff
Staff
Staff
Blogs
Got Shows?
Send Them To Us
Bookmark Louisville Music News.net with these handy
social bookmarking tools:
Available RSS Feeds
- Top Picks
- Today's Music
- Editor's Blog
- Articles
Add Louisville Music News' RSS Feed to Your Yahoo!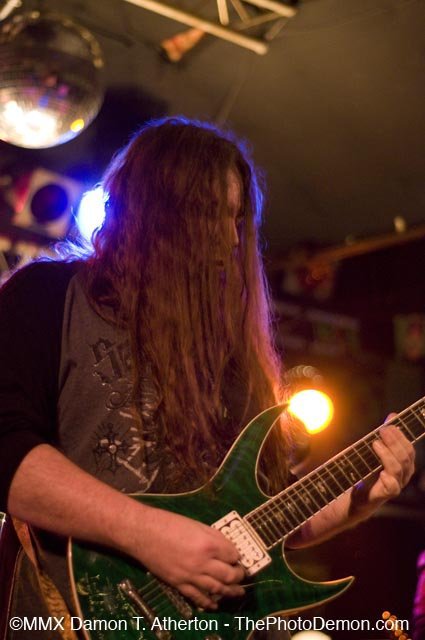 News From the Pit
I need another infamous Eddy Metal vacation. Maybe another cabin in Gatlinburg with a hotub on the deck, and a cute female to play with my weiner-schnitzel. Two words decribe how my last month has went. Fargin unreal. I've been busier than a one-legged man in a butt kickin' contest!
Let's see. I saw oldschool favorites Testament in Cincinatti. I saw Kreator and Exodus last week, which was excellent, too,. I also journeyed down to Evansville, Indiana to see Disturbed's "Music As a Weapon" tour, which also kicked major butt. I got to see Lamb Of God completely destroy at Expo 5 at one of the year's top shows. And I got to see Sweden's Nightwish at Oasis Club. And Derby eve I went to the Hill's Derby Eve bash w/ Theory Of A Deadman, which was a blast!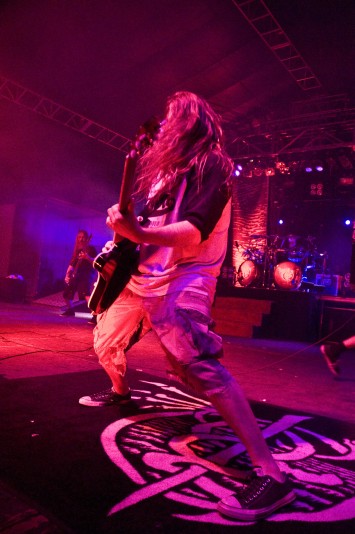 Mark Morton of Lamb of God. Photo by Damon T. Atherton
And last night I went to see Chevelle at the Hill, which was sold out. Whoa. Is that busy or what?
I also ended up going to the Derby despite my busy practicing schedule with my band 13th Level getting ready to debut on June 5 at Phoenix Hill and all, and what a time it was! I got to the infamous 4:20 bush in the infield and walked in the bush and there was my friend Scott taking pictures of some chick's boobs! That was the first of many a boob for us that day (there were lots), along with much whiskey and some of the finest smoke I've seen in awhile. I was having a blast but taking a beating, racewise. By Derbytime I was growing desperate. I was going to go home with nothing but a pocketful of lint and a monster buzz. Alas, the gods of Derby were kind. In the last race I bet on, I had placed a $10 bet on a 50 to 1 longshot called Mine The Bird and the horse won the Derby. I went from broke and bummed to claiming a $516 cash and being elated.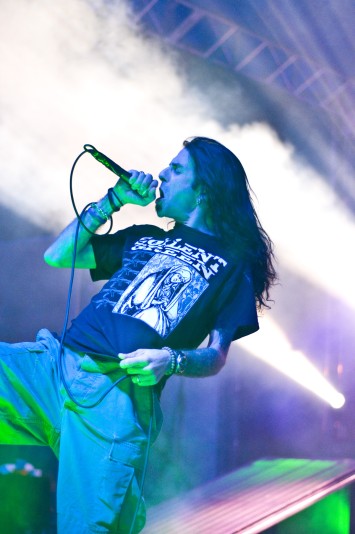 Randy Blythe of Lamb of God. Photo by Damon T. Atherton
I'm sorry if some the the reviews are a bit short and sweet, but with so much news to print and shows to review I can't really go into great detail about the shows and stuff. Summer is here and I hope we get some great shows. Bands, be sure to send me all your showdates and news, because I cannot print what I don't know!!!
Eddymetal1@aol.com
The Metal Grapevine
Mucho Pictures Online: Be sure to check out the wicked pictures I, took of all these concerts on our LMN website.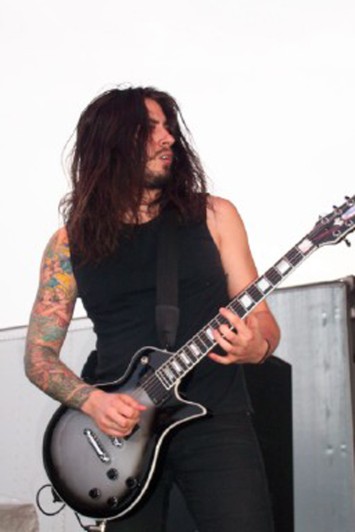 Phil Sgrosso of As I Lay Dying. Photo by Eddy Burke
I got pics of Disturbed, Lamb Of God, Chimaira, Children Of Bodom, Lacuna Coil, Exodus, Testament, Theory Of A Deadman. Look in the rock section of LouisvilleMusicNews.net
Lamb Of God at Expo:
This has got my vote as one of the years best shows in Louevil. I wish I knew more about the band's music I was listening to, though. Terry Harper did great on this show, the biggest show I've ever seen at Expo 5. There were a few thousand in attendance. The stage was awesome and the sound was great. You couldn't ask for better. I got there as Children Of Bodom came on. I love the guitarwork of Alexi Laiho. Dude is uber-talented and a bit on the dark demented side. The keyboards of COB are a vital part of their euro-metal sound.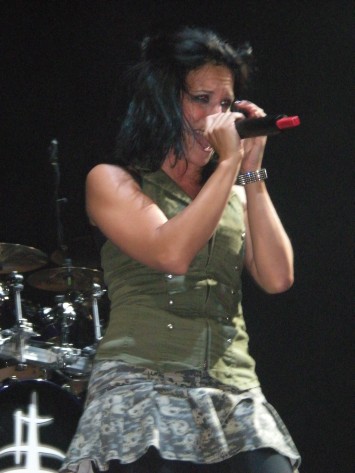 Cristina Scabbia, Lacuna Coil. Photo by Eddy Burke
Death metal and keyboards work wonderfully together, as bands like Dimmu Borgir and Cradle Of Filth have proved. It adds a touch of beauty to such violent compositions. I really dig COB.
San Diego's As I Lay Dying came on next and suprised me. I thought they were a screamo-emo punk metal band, but boy, was I wrong. I must have thought they were another band with Dying in the name. Turns out that I liked AILD quite a bit. Enough to possibly purchase some of their material. The band was excellent and the singer, Tim Lambesis, was a great frontman, both singing and screaming when needed and running around like a madman on meth. The guitars were formidable and the band was tight as can be. AILD rocks!!!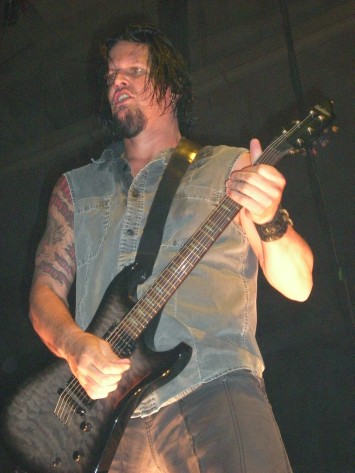 Dan Donegan, Disturbed. Photo by Eddy Burke
I've never really been a fan of Lamb Of God, but after this show I will have to change my tune.
The guitar tones and riffing by LOG were brutal, tight and made you want to throttle somebody you didn't like. The guitarwork of Mark Morton and Willie Adler were very reminescent of Slayer. Perhaps, too, much.
David Draiman, Disturbed. Photo by Eddy Burke
But I love Slayer's creative and intricate muted guitarwork, so it wasn't a bad thing at all. It seems LOG had went to the Kerry King/Jeff Hanniman school of guitar, and graduated with honors.
Vocalist Randy Blythe was his usual tireless self, running around doing some darn good death metal vocals.
They played "Walk With Me in Hell," "Laid to Rest," "Ashes of the Wake" and crowd went nuts during "Now You Got Something To Die For." They ended this killer night of music with their breakthrough hit "Redneck."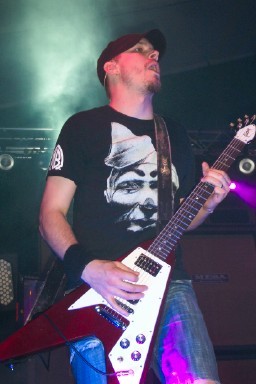 David Brenner, Theory of a Dead Man Photo by Eddy Burke
What does suck is that some whiners across the street complained to police about the loud noise and cursing. It was said that you could hear the bands six miles away, which is total BS. I hate people sometimes. I mean really. These people live on the one street in Louevil where prostitutes and strip bars are in abundance, yet they whine about a little loudmusic and cursing? Whatever. Three thumbs up, Terry, for this wicked show.
Win Chimaira Tix: (Free- Ride)
On Saturday, July 25 at Headliners, Chimaira will be playing. This show will sell out, so get your tickets now if you want to go. For a chance to win a pair of tickets, message me on my myspace page myspace.com/eddymetalrocks on Sunday, July 19 at 9 p.m. Closest one to 9 wins! In subject line, put "Resurrection."
93.1 The Fox Sponsors Louevil Music:
Radio Station 93.1 The Fox is now the official sponsor of my monthly Original Rock Showcase Series at Phoenix Hill Tavern. The Fox has supported local music forever, as have I, so it was just a matter of time before we joined forces to kick some butt.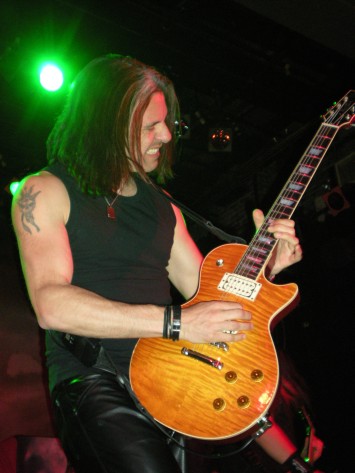 Alex Skolnik, Testament. Photo by Eddy Burke
They will be plugging the shows quite a bit, so that is an extra bonus to the bands that participate. We hope to see you all at our first show together on Friday June 5 at the BoneJinn CD Release Bash. My band 13th Level is debuting, so get there early!
Meanwhile tune in to Louisville Rocks on 93.1 the Fox on Sundays at 7 p.m. and hear the regions best original rock. They do a great job.
Chevelle at Phoenix Hill:
I had never seen this band live and I'm glad I went to see them play this sold-out show at PHT because it was a blast. Best show of the year so far at the Hill. There were all kinds of cute females there. They were all hot and bothered.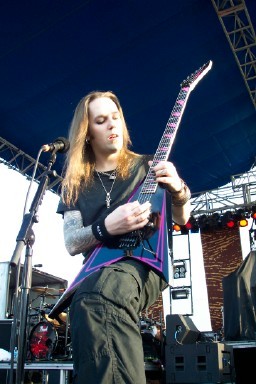 Alexi Laiho. Children of Bodom. Photo by Eddy Burke
I partied with good friends and enjoyed the music of two great bands. Opening the night was Louevil's own Some Kind Of Saint, who did a great job on such short notice. If you like Chevelle, you need to check out this Louevil band. I've been booking them quite a bit, because they are good. Chevelle came on and impressed me bigtime. I didn't know they were a three-piece.
Vocalist/guitarist Pete Loeffler was on the money and did a great job recreating the melodies from their recordings, and playing guitar at the same time! The band had some cool red lights which gave the stage a sinister look. The place was jam-packed and everyone was enjoying the show. They played a new song, "Letter From a Thief," plus "Vitamin R," "The Clincher," "Well Enough Alone," "Send the Pain Below" - which jammed – and, of course, they did their best song, "The Red," which suprised me when they played it early in the set. Their last song was "I Get It."
The band was tight, and they seemed like nice guys, too,. PHT hit a home run on this show. Great job, Kim!
Disturbed Tour Review:
The two-hour drive to Evansville wasn't bad and well worth it, when I found out that Chimaira, Killswitch Engage and Suicide Silence were opening! Then I was even more stoked. When we got to the venue, I saw that there was an outdoor concert going on, which was cool because we got there early. Spineshank and Suicide Silence were playing. Suicide Silence was great, and super thick sounding as usual.
Chimaira was first inside, and they tore the house down. I love this band, and so did the crowd. What a way to start the show.
To my suprise, Lacuna Coil came on next to a very short set that left me kind of bummed out. The band had bus problems and were a little late to the venue. They played "Closer," "Our Truth," "Fragile" and stuff off of the new CD Shallow Life. They played "Not Enough" and "Shallow Life." Personally, I like "I'm Not Afraid" the best off the new CD, and I was hoping they would play it. "Survive" is also a cool tune. Lacuna Coil is one of my favorite bands, but the new stuff is a bit, too, poppy for me.
The old LC was dark, melodic, and complex. The newer stuff seems happier and more upbeat. The American public is finally warming up to the excellent music of this band from Italy, and it warms my heart. Oh, yeah, if another person says they sound like Evanecense, I'll slap them. LC was around way way longer than Amy Lee and company. If anyone is copying anyone, it's the other way around. LC is embarking on an Amercian headlining tour in July but won't be anywhere around here as of yet. That sucks, as I bet they will be playing some older darker stuff. Maybe we'll get lucky and get a LC date here (hint, hint, Terry!).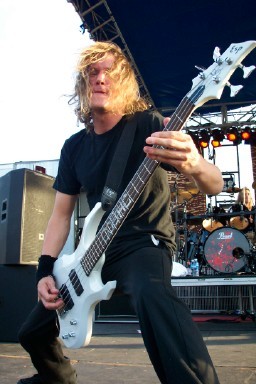 Hennka Seppala, Children of Bodom. Photo by Eddy Burke
Killswitch Engage was tight as hell. Vocalist Howard Jones is the real deal and has more power than a nuclear bomb.
Their stage setup was cool, a row of movie screens in front of the amps eight feet high and forty feet long projected all kinds of psychedelic colors and stuff. Very cool. I went to urinate the many beverages I consumed and some a-hole was in the bathroom next to me spouting rascist stuff about Killswitch. He said " it's hard to believe that voice comes from a Ni**er."
I was in a great mood all day, but that pissed me off bigtime, hearing this backward, too,thless redneck (you should have seen this douche) run his piehole like that about so great a singer. Jack Daniels had me ready to scrap. But I merely said "what the f**k does it matter, his voice is excellent!" I should have peed on his leg. Killswitch played "The Curse," "The End of Heartache" and, last but not least, Ronnie James Dio's "Holy Diver." The guitars were astounding, as was the sound and performance. Two thumbs up.
Disturbed was good. They aren't my favorites by a longshot but I guess they are okay. Guitarist Dan Donegan is a very nice guy, but the singer is a pud,though he has great voice, I'll give him that. And he is not a lazy singer at all. He gives 100% to make his fans happy. Somehow Disturbed's sound got distorted a bit when they went on. All the other bands sounded great, but Disturbed's sound turned for the worse. The drums were somewhat muddy and intelligible. The guitars were low in the mix, except for the leads. Turn that chit up! The only thing you could hear well was the vocals. It got a little better throughout the night though. The energy was there as the band played a long set of their hits, including "Prayer," "Stricken," "10,000 Fists," A cover of Genesis' "Land of Confusion," a cover of the cheesy Tears For Fears hit "Shout," "Voices" and, of course, "Stupify" and "Down with the Sickness."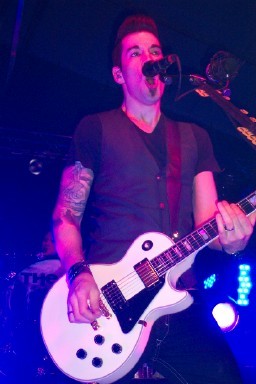 Tyler Connolly, Theory of a Dead Man. Photo by Eddy Burke
This was one fun day. I'm glad I made the roadtrip to this great event. Thanks to George and Lacuna Coil at Century Media for the hookup. You rock!
Kreator/Exodus Review:
I almost didn't go to this one because I was so pooped from Disturbed the day before, but I'm glad I did. Wow. This show was a ripper. Exodus annihilated. The guitarwork of Gary Holt was wicked and this was the best I've ever seen them. The large and offensive Rob Dukes (who wore a shirt that said c*nt on it) was a spitting machine, and perfect for the job of Exodus vocalist. Why do all these metal bands these days spit up in the air on themselves? It makes no sense and seems pretty stupid to me. Why not spit off to the side, instead of on yourself or the crowd? Duh.
I don't know many Exodus song titles, but I know they played "Bonded by Blood" and ended the night with their most well known song "Toxic Waltz." I want one of Gary Holt's Rico Jr Vixen "V" guitars very badly. They are excellent guitars.
Then early Eighties German thrashers Kreator, who never quite made it big, came onstage and put on a helluva show. Seeing a performance like this makes a man wonder why they never made it big. They certainly have the goods. They played a nice set of classics.
Miland "Mille" Petrozza was a beast on guitar and vocals. This guy acted like he was 17 instead of his mid- to late-forties. And the guitar of Sami Yli-Sirnio was smooth as silk. The sound was vicious, as Kreator, too,k me back in time to when I was a young lad of 16 rockin in my dad's basement. The band played an extra long set including "Coma of Souls," "Flag of Hate" and also my favorite song "Betrayer." This show was mean. If you were going to go and didn't? You messed up bad!!!
Testament in Cinci:
There was no way I was going to miss seeing one of my favorite thrash bands of the Eighties when they came through the region, so some friends gathered and we drove to Bogart's for one awesome show.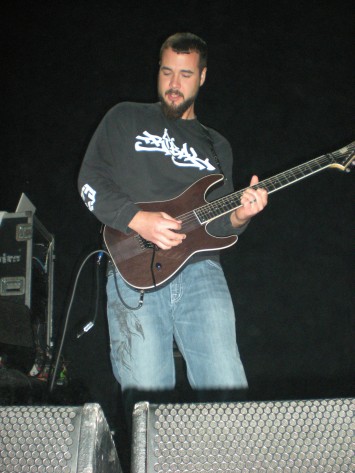 Rob Arnold, Chimaira. Photo by Eddy Burke
Opening was Unearth, a great band with a terrible singer. The musicianship was awesome, but dawgs Raaaaa Raaaaa nonstop cookie monster schtick was beyond annoying. Despite the great band, the singer made me wish they would end early. They desperately need a real singer in the vein of All That Remains or Killswitch to truly make their music come alive. T
Testament came on to a loud and raucous crowd of mostly dudes. So much in fact, that the bandstamp they gave you to get in said 'Sausage!' Ha.
Who gives a crap? I was with a chick, anyway, so it didn't matter. It was the original Testament lineup with the exception of drummer Paul Bostaph (who is better anyway.) Guitarists Alex Skolnick and Eric Peterson absolutely tore the place up. It was a guitar player's ultimate orgasm. Eric Peterson did quite a bit of leadwork, too, and seems to have gotten a bit better than last time I saw them. Of course, Alex did all the best guitarwork. I am so glad Alex is back playing metal again. And vocalist Chuck Billy was as badass as ever. To me, Chuck will always be the quintesential thrash vocalist, and one of a kind, with such deep power and yet unforgettable melody when needed. Chuck is also a great guy. I've partied with him before. I'm so glad he recovered from cancer!
Longtime bassist Greg Christian rounded out the perfect lineup. Excellent! Who could ask for more? The band belted out classics such as "Souls of Black," "Practice What You Preach," "The Legacy," "Sins of Omission," "Demonic," "Electric Crown" and even a few new tracks off the bands latest CD, The Formation Of Damnation. At one point, a huge fat girl passed out and her boyfriend attemped to carry her out, but she had too much mass and dude couldn't pack her, so she fell off and landed on her head. He tried again, and it is mean to say, but I cannot help it, that chit was funny! It was like Calista Flockhart trying to carry Roseanne Barr. Ha.
Testament sounded great, and the two-hour drive was worth it completely. Thanks to Chris for the Tickets and photopass.
Nightwish/Volbeat:
My fargin camera croaked so I wasn't able to get pictures of this awesome show, another great Terry Harper show that featured some killer European bands. Volbeat is from Denmark and plays a combo of rockabilly, metal, and Fifties music all mixed into one. It was fun! I enjoyed their set quite a bit and so did the several hundred in attendance. Fifties music and metal mixed is cool. Fans of The Stray Cats, Revend Horton Heat and Brian Setzer would love Volbeat.
Finland's Nightwish has sold more than 5 million records but is still relatively unknown in the States. It's gothic symphonic power metal at its finest. Vocalist Anette Olzon wore a stupid blousy outfit which did not fit their image. I think she gained some weight in the last year and was trying to hide it. She does have a great voice, though.
The backbone of Nightwish is bassist Marco Hietala, whose voice I like even better than Anette's. Dude has major stage presence and charisma. Keyboardist Tuomas Holopainen is a fargin genuis on the keys, the best I've ever seen.
Most keyboardists these days use a sampler or recording to help their lazy butts, but not Tuomas. Every note he played came from his fingertips live. It is a pleasure to see such a gifted pianist at work doing something different and strange.
I like Nightwish and would go see them again. Sorry but I don't know their song titles. All I know is that this show rocked and was fun.
Mungus CD Review:
This progressive four-piece Louevil rock band won the chance to open for Godsmack at Louisville Palace back in 2007, a great feat for a local band. Since then, however, they have failed to make a lasting mark upon the scene.
There is no doubt that these guys can play. The band has just released a new CD Liminal and it sounds pretty good.
As I sit here listening to the first song, "Longshot," I cannot help to think this sounds exactly like Tool. A band that I can't stand. The sound quality of this recording is good, and the musicianship is awesome. I like Mungus. I just wish they would steer a bit away from the whole whiny Maynard/Tool schtick. I'm digging the vocals of Adam Lamb in the song "Recompense," though. Very catchy and melodic indeed. "Remora" is another good song. Adam has a great voice and conveys emotion and melody wonderfully. This band rocks. Very good songwriting. I found that out when they came out on the scene. Maybe it's the lack of a image, or the refusal to be in one of Louevil's music cliques - which I admire - that has kept them from attracting a huge following. I've never been into cliques either, so I salute them for going it alone.
Stephen Phillips' guitar is jammin and soulful as he mixes it up, using a variety of influences such as blues, jazz and rock. The bassist Benjamin Ensor is a bad mofo on bass guitar. Fans of Tool and Perfect Circle will love this music. It's like long lost tapes that Tool never released. No, they don't have dreads, their foreheads aren't pierced, there are no tattoos on 90% of their bodies and they don't exhibit the desire to scream through every song, but what they do have is excellent talent, good attitudes and a refusal to give in to the typical Louevil music scene crap. If you want to see a darn good band with no super-egos, then look up Mungus. www.mungusband.com
Upcoming Shows
Angels Rock Bar
Friday, June 5 - Intheclear, Nova Red, Tornacade, Evil Engine. $5 8 p.m.
Bulldog Cafe
Friday, June 5 - Battle for summer slaughter 2009
Friday, June 19 - Emarosa w/ Our Last Night, I See Stars, Burden Of A Day and Broadway.
Sunday, June 28 - Carnifex w/ Impending Doom, Miss May I, Conducting The Grave and Molotov Solution.
Headliners
Sunday, June 7 - Esham w/ Natas, Project Born and DJ Butter.
Friday, June 12 - Summer slaughter 2009 w/ Necrophagist, Suffocation, Darkest Hour, Dying Fetus, Winds Of Plague, Born Of Osiris, Origin, Beneath The Massacre, Decrepid Birth and After The Burial.
Friday, June 26 - Haste The Day w/ The Chariot, Project 86, Before Their Eyes, Oh Sleeper, Gwen Stacy, Agraceful, The Day, A Plea For Purging and Corpus Christi.
The Phoenix Hill Tavern
Friday, June 5 - The Original Rock Showcase Series: The BoneJinn cd Release Bash w/ And The Armed, the Debut of the new 13th Level, Lesson B4 Dying, Buried On The Battlefield and Downcast. 8 p.m. Free before 9p.m. $5 after.
Saturday, June 6 - Heaven Hill. 8 p.m. $10.
Friday, , July 3 - The Original Rock Showcase Series: "Harmageddon" featuring the return of Evansville's Deliver Us From Evil, Lexington's Societys Plague, Escaping Memory, Overthrone, Kentucky Death Wish and Amalgamate. 8 p.m. Free before 9. $5 after.
Uncle Pleasants
Tuesday, June 9 - Halestorm w/ The Veer Union, Since October, Silent From The Struggle and Siren Falls.
Thursday, June 18 - Pro-Pain w/ Sworn Enemy, Mantic Ritual, Buried On The Battlefield and Myth Of Man.
Wednesday, June 24 - Combichrist w/ Julien-K, Aesthetic Perfection and Dismantled.
Monday, June 29 - Thriving Ivory.
Tuesday, June 30 - Goatwhore, Abigail Williams, Daath, Abysmal Dawn and S.W.W.A.A.T.S.
Props of the month
It's been a few since I did a props of the month, but promoter Terry Harper deserves it again for booking Lamb Of God, Nightwish, Volbeat, Children Of Bodom, As I Lay Dying, Kreator, Exodus, Warbringer all within a one month timeframe.
Excellent! And we Louevillians sure appreciate it. Keep up the great work, bro. I'd love to see another big Expo 5 show this summer.