December 2018 Articles
Cover Story
Paul Moffett
Columns
Eddy Metal
Eddy Metal
Bookmark Louisville Music News.net with these handy
social bookmarking tools:
Available RSS Feeds
- Top Picks
- Today's Music
- Editor's Blog
- Articles
Add Louisville Music News' RSS Feed to Your Yahoo!

Sounds of the Underground at Waverly Hills Sanitarium
By Eddy Metal
Brutal, relentless, uncompromising and devastating.
I'm not talking about the music at Waverly Hills; I'm talking about the oppressive heat that assaulted the thousands of people in attendance for the most ruthless heavy metal lineup in Kentucky history. The Hot Topic Sounds From The Underground Tour ended on Saturday, August 11 at the Waverly Hills Sanitarium. And what a day to remember that was!
This was no ordinary rock show I tell you. It was a knockdown, drag out, blood-soaked, mud-caked, death metal smorgasbord of musical insanity. Hatebreed, Lamb Of God, Gwar, Shadows Fall, Chimaira, Behemoth, Darkest Hour and many more metal bands literally put Louisville on the Death Metal map. I fargin loved it! (See pics I took in this issue and on our website)
It was just what this town needed and I for one am glad it happened and am appreciative to all who made it possible. However, there were many complaints about how things were run, including the woefully undermanned/under-equipped catering, which led to a two- or three-hour long wait just to get a beverage (people were on the verge of passing out); the huge line to get in (three hours I'm told) plus the blistering heat, which altogether was enough to test anyone's patience.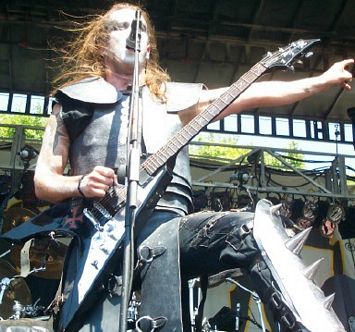 Nergal from Behemoth (Poland)
The worst problem was that no one could get water when they really needed it! Heck, I myself was about to mug someone for ice water! I was dying of thirst. Thankfully, no one collapsed or went into a serious cardiac arrest from dehydration.
There was no escape from the blazing, 100-degree heat. Every foot of shade in the concert area was taken up by peeps dodging the sun. Firehoses doused the fans for a while but a huge mud river formed and it got messy.
The mud river was between the catering truck and the stage, so people had to traverse the sludge to TRY to replenish their beverage supply. My brand-new Nike shoes looked like mud balls. I saw: bloody noses, black eyes, bruises a-plenty, a chick go flying over the barricade with no shirt (sweet), a massive and brutal mosh pit 150 feet across, a multitude of boobies and many more things I shouldn't mention. It was pretty wild.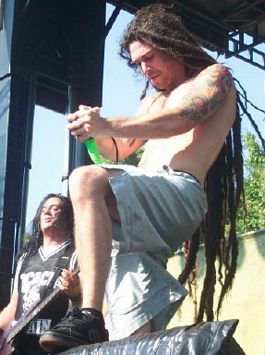 Shadwos Fall guitarist Brian Fair
So yeah, it was hot as farg, the lines were hideous, but what of the music?
This was a metal lover's feast. Not 80's hair bands or sellouts like Metallica or Godsmack, or old crusties like Alice Cooper, but young, hungry bands from the very darkest of the metal kingdom. Black- and death-metal, mixed with some thrash and hardcore. The sound system was crushing! Not just regular crushing, but exceptionally loud. I was in front of the stage taking pics (see in this issue and at Louisvillemusicnews.net) and I thought the bass of that monstrous sound rig would rattle my brains loose. Every band sounded perfect. The sound company who did this definitely gets major props.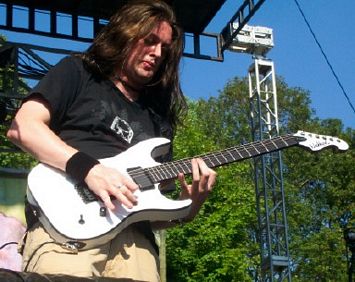 Jonathan Donais of Shadows Fall
I arrived about 2 p.m., in time to see Darkest Hour tear through some cool dark music that had me rocking from the bottom of the big hill to the gate. Darkest Hour had a very European-sounding style that I enjoyed, but then sometimes they sounded southern California screamo-ish. The singer looked like a Bill Gates-style nerd but had a cool, growly type voice that actually hit notes. This was a well-oiled musical entity with great melodies, sweet guitar solos and riffs. Pretty hard stuff to play. too. Darkest Hour rocked.
Then Behemoth, from Poland, hit the stage in what proved to be an evil, evil set of brutal, theatrical stuff. These guys were dressed as Gothic vampires and looked pretty cool with their long leather garments and crazy, black metal attire. Despite their makeup gimmick, I was very impressed with their sound and the darkness of it.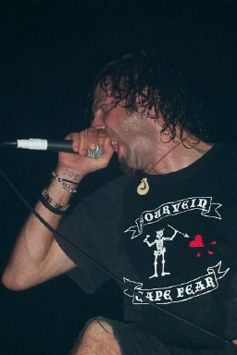 Randy Blythe of Lamb of God
The singer Nergal was an awesome screamer and had some very good high screams that mixed well with the intelligent, death metal guitar. The music had an aura of the dark side about it and hooked you in fast. Behemoth was unholy!
Glendale, Arizona's Job For A Cowboy then got onstage and obliterated. Kick-ass for a band I'd never heard, theirs was a more traditional death metal than the previous two, but punishing nonetheless. I heard shades of Morbid Angel. Singer Jonny Davy had the usual low-ranged vocal style you expect from a black metalist, but he had talent and fine timing. I was very surprised by the ferocity of the band. I thought the band name was stupid and didn't expect much. WRONG. These guys are the antichrist cowboys. Think Cannibal Corpse meets Nevermore and Nile. JFAC wails and are the bomb.
So far the show was the chizz-nit. Then an emo-ish, screamo trend-metal band called As I Lay Dying came on and sucked. Some of it was okay, I reckon, but it wasn't my cup of tea, so it was time to lounge in the shade for a few and smoke out.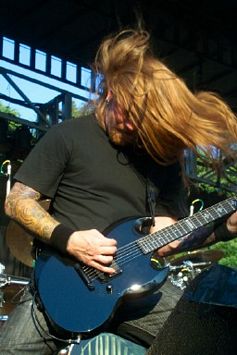 Matt DeVries of Chimaira
Cleveland, Ohio's Chimaira came on and I was rejuvenated and psyched! I'd never seen them before. I have since been wearing out their new CD. Resurrection.
They absolutely tore it up and in my eyes may have stolen the show. Their thrash sound, mixed with cool keyboards, Fear Factory-style really hit home. They reminded me of Fear Factory a lot, with muted, triple-picked guitar technique. The pit was a dirt and flesh tornado during Chimaira's set.
The highlight was "Resurrection," of course.! The singer is a thrash/death vocal powerhouse with mucho charisma/stage presence, who had the crowd going nuts. Fists were high in the air and pumping.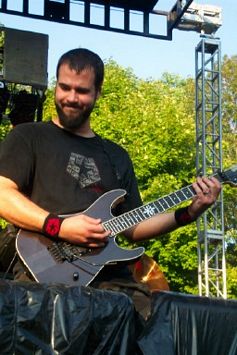 Rob Arnold of Chimaira
Massachusetts-based Shadows Fall came on and were much better than I thought they would be, but I did not like Brian Fair's voice at all. He's got cool dreads, but he had no range at all. He's what I call "a barker."
The music was phat, though. Luckily both the guitarists were great backup singers, so they saved the set vocally by adding actual singing at times. Guitarist Jonathan Donais is a bad dude on the axe. I was right up front, checking out the difficulty of the riffs and he was smokin' those frets on some very good songwriting.
Connecticut's Hatebreed was next (I think) and they tore it up big time, as they have the past three times I've seen them. Jamie Jasta (also host of Headbangers Ball) and the boys have come a long way since they played the Toy Tiger. Nowadays they sound incredible and very powerful and are a staple of what metal is now. They were gearing up for a few months of Ozzfest. Death Metal or not, these cats play some mean-ass music. The young hardcore kids LOVE Hatebreed. And so do I, especially live, where Jasta comes alive and is in top form. Dude can work a crowd. Being Headbangers Ball host certainly don't hurt, either.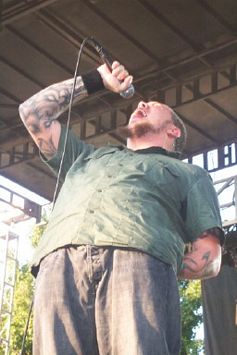 Mark Hunder of Chimaira
Shock rockers Gwar hit the stage and proceeded with their usual antics, shooting slime from cannons, dressing up as hideous creatures, acting gross and playing goofy characters. I was going to get some pics, so I went to the stage, only to be run off because I didn't want to get slimed by the cannon that was spraying everywhere.
They played a decent set but not my favorite song, "Meat sandwich," so I was bummed.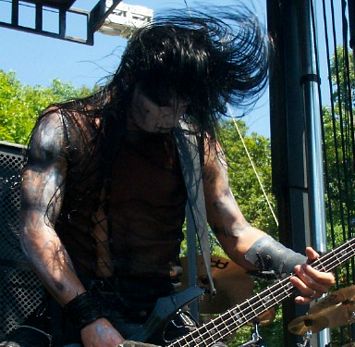 Tomasz Wroblewski Behemoth (Poland)
Virginia's Lamb Of God were closers and burned down the house. Apparently, young people love the Lamb guys, too, as the pit was at its most deadly, a swirling mass I wouldn't get near. 'Cookie Monster' vocalist supreme Randy Blythe was his usual self. All lows, Six Feet Under style. Their guitars used to remind me of Slayer, but not so much these days., as they've developed their own style.
By that time, I was teetering like a weeble wobble. I left over halfway through their set, a happy man. Muddy shoes, sunburned, dirty, intoxicated, aching legs and back, hungry as a mofo. It was the best metal show I've attended since Ozzfest 2004.