Articles
Cover Story
Paul Moffett
Paul Moffett
CD Reviews
Kevin Gibson
Kevin Gibson
Kevin Gibson
Kevin Gibson
Bookmark Louisville Music News.net with these handy
social bookmarking tools:
Available RSS Feeds
- Top Picks
- Today's Music
- Editor's Blog
- Articles
Add Louisville Music News' RSS Feed to Your Yahoo!


News From the Pit
"Don't kill the messenger!"
Before I go into this serious rant of mine that I have been debating on even getting into, I'd like to say this is not a deliberate spiteful attack on a certain person, but a request to do the right thing, for the good of the whole Louisville music scene. So no, I'm not starting a bunch of chit. I am merely relaying the gripes, accusations and complaints that have come to me from several different reliable sources, including respected top people in the Louisville music scene, regarding LRSfest and the person who does the original music on the station. Everyone has noticed this and all agreed it's not right, so don't kill the messenger.
Lately, it seems I have heard nothing but negative things about the host of the radio stations actions in this music scene.
I have grown tired of hearing these comments, so I looked into it myself and come to the conclusion that something must be done. The problem is: the radio DJ is using his radio connections to further his own agenda and to promote his own band and his personal friends bands, instead of being fair and giving bands the proper chance of getting airplay or having an opportunity of playing LRSfest. Bands told me they wouldn't even try to play LRSfest, because they have so little confidence that things will be run fairly thesedays. When Mudd was doing the LRS local stuff, things were run very fairly and with a very classy style. According to people, this DJ at LRS talks about his band on the radio every few minutes, puts his band on every LRS show in known history (my left nut says they are on LRSfest Again this year, regardless of how many people they draw to shows, which I hear isn't so great), the DJ plays his and his buddies' bands all the time on his radio show (the same stuff every week I'm told), without giving newer talent the chance they deserve and last but not least, I was told he even went so far as to say that bands interested in a chance to play LRSfest, HAD to come see his band play on a certain night, JUST to get a chance to compete to play the show! I don't know about you people, but thats just not right and people are upset about it.
When I was on 100.5 the Fox as a local music DJ, I could have played my band all the time, or talked about my band a lot, or even played my friends bands EVERY fargin weekend if I wanted to, But, my conscience would not let me abuse my connections. It meant a lot to me to be fair and unbias towards new talent in the region.
Hell, I had people complaining that I never played my band enough! Seriously though, I would have felt bad and pretty much like an A-hole had I gone in that direction. The fact is, I don't listen to radio, but I have met the guy once or twice and he seems like a pretty cool dude to me, but all these people complaining can't be wrong, so here I sit, requesting to this person, that this please stop now, before all these unhappy people really get fed up and decide to do something about it that results in something unpleasant. There's already enough negative stuff in the scene without further crap.
I like to think of myself as the voice of Louisville rock music (and apparently so do others since I recieved so many complaints about this) and this was a topic that needed to be brought up. So, dude, if anything, as a friend, I'm just letting you know that it's angering the scene bigtime and being looked down upon by a lot of people.
I apologise for being the bearer of the news, I mean no disrespect towards you or LRS, but something like this has to be taken care of. 'Do the right thing, bro.'
THE METAL GRAPEVINE
Chris Cornell Review:Wow, what a show. No opening band, no big theatrics, no huge stage setup. Just good rock with an excellent vocalist. Not being a big fan of Soundgarden (or grunge in general), I had never heard Chris Cornell sing live and was interested if he could pull off all those vocal styles. By the end of the night, I was a fan; he's a vocal demon, singing rings around any competition here. He band was excellent, too.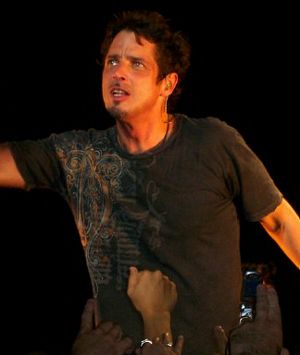 Chris Cornell. Photo By Eddy Burke
Yes, Chris hit all the high notes live, just like on his CDs. His set was long because he did pretty much ALL the hits from ALL his bands Not that I'm complaining.
Women were squirming in their seats while Cornell and the guys covered Soundgarden's "Black Hole Sun, "Rusty Cage," "My Wave"; Audioslave's "Like a Stone," "Be Yourself," "Doesn't Remind Me," plus several from his solo project. The highlights were Soundgarden's "Rusty Cage," which was rocking, and Temple Of The Dog's "Hungry." I can't stand Pearl Jam, but I do like the part in the song when Cornell sings!
Farg Eddie Vedder, Cornell stomps him! It was better with him singing both parts instead of Vedder's intelligible mumbling.
He also did a very slow acoustic version of Michael Jackson's "Billy Jean." I was kinda buzzed and was like, WTF? But hearing it sung so slowly and different, it seemed to work quite well. If you get a chance to see Cornell, be sure to go. He delivers.
Great job, Louisville Palace, and thanks to my friends Robin and Kelly for the ticket. You rule.
Check out the pics I took of Chris online at www.louisvillemusicnews.net.
Waverly Hills, Spooks and Metal: The biggest metal concert in Louisville history is going down soon, at one of the spookiest place in Louisville, Waverly Hills Sanitarium. The now-abandoned sanitarium once housed tuberculosis patients, back before there was any effective treatment. As many as 60,000 died there; an underground Death Tunnel was even created to haul away the corpses, so that patients wouldn't get upset.
"Sounds from the Underground," put on by promoter Terry Harper, is going to be wild! Set for Saturday, August 11, these bands are scheduled: Lamb Of God, Gwar, Hatebreed, Shadows Fall, Chimaira, Behemoth, Every Time I Die and many others.
I'm looking forward to it and the town is talking about it a lot. I expect to see all you readers at the show. It promises to be a metal day to remember!
Clutch Concert Review: Stoner groove was on the menu on June15 at Headliners, topped off with the leprechaun from Lucky Charms cereal. Louisville's Your Highness, a band I had not seen, opened with some bluesy, grungy, punky, dirty, soulful, stoner groove rock with a Southern Rock flavor. Good vocals with actual feeling and soul plus a wall of energetic, good-time jams. I heard Sabbath, some Kyuss, some Down, some COC and little bit of Clutch, too. I'm not so much into stoner groove metal, but I liked these guys quite a bit (better than the two next national acts) and want to hear them again real soon. Listen for yourself at Myspace.com/yourhighness
The Irish band The Tossers offered up Irish music. What Irish music and stoner groove have in common, I have no idea, but I didn't like it. The singer's accent was soooo thick, too.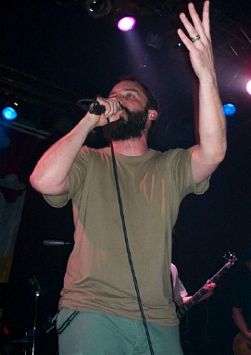 Neil Fallon of Clutch. Photo By Eddy Burke
Then Clutch and madman vocalist Neil Fallon came on and ripped up the place. I'm not a big Clutch fan and don't know their music by title, but I do know they put on a heckuva show every time I see them, combining punk, metal, blues and rock into one big musical train. They're notorious partiers, but they always maintain themselves for the fans while performing.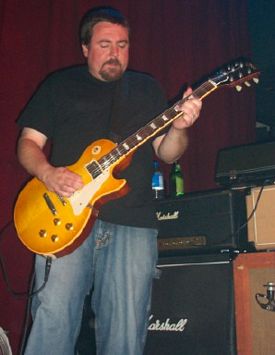 Tim Sult of Clutch. Photo By Eddy Burke
Blues-oriented guitarist Tim Sult plays with feeling, while Fallon does his usual bantering, growling, barking, punishing bluesy-edged vocals with grit. It's stoner groove on speed, at it's best. Unfortunately, I had to leave halfway through their set, so I didn't see it all, but the show was complete sold out and sounded great, so congrats to Villifed Promotions and Terry Harper for bringing them in..
Def Leppard Coming: I like Def Leppard. Don't laugh! "Photograph," "Rock Of Ages" and "Foolin" were classic 80's tunes I dig to this day. I saw them for the first time two years ago and they were outstanding! Vocalist Joe Elliot sounded very good and the band was on top of their game. Plus, there were a boatload of hot women there, so guys, you might want to go; you might get lucky. They'll be at the Kentucky state Fair on August 28. Call the Fairgrounds for info.
Drowning Pool at The Hill: "Let the bodies hit the flo, let the bodies hit the flo!" What the farg is flo? On Wednesday, July 25 at Phoenix Hill Tavern, Texas rockers Drowning Pool will be in town for a big show. This is one killer band that rocks live and I don't mean that radio doo-doo, either. They have some heavier stuff that isn't radio-friendly. I saw them before and thought it would be kind of gay beforehand, but it turned out rocking bigtime! So this show should be off the hook.
Call the Hill for details on the tickets. Act now, because this will sell out!
Subrosa Going National: Young rockers Subrosa is taking their melodic diet metal schtick on the national circuit and it's just what the doctor ordered. They've done excellently at home in a short time, so now it's time to see if the rest of the country agrees. They'll leave July 7 for nearly a month, hitting Georgia, North and South Carolina, Tennessee, Ohio, Indiana, Alabama, Virginia and Florida Good band, great guys. I wish them the best of luck.
Nova Red Recording: The band is polishing their upcoming release, produced by Malcolm Springer. They've been working like madmen in Missouri on it, putting everything they've got into it, with the mixing and mastering still to do. Look for it in the next few months. I'll keep you posted.
EE# 9 Back on Track: After a short break, Evil Engine # 9 is back with new drummer Corey Ogle, formerly of Silent Q and Meatbasket. They're going to record four new songs in Los Angeles soon. Look for the Evil boys in August!
Of Sound Mind, Kaput: This incredibly talented band has decided to part ways. I'm bummed. I've been wearing out their CD for six months The hooks were abundant, melodies plentiful, the guitars rockin' and the vocals unreal. It makes no sense to me.
Good luck, though. Better stock up on their CD, though, it's a keeper.
Antikythera Update: The guys are finishing up Pantheon, their second release, and are ready to unleash it to the masses. Former Kallus and Shotgun Enema guitarist Chris Stone is filling in for Tim Flaherty while he's on the road with Hot Action Cop. While you're waiting, check out their new video at myspace.com/antikythera.
The Women of LouEVIL Metal: On August 3 at Phoenix Hill Tavern, we are going to pay homage to the women rockers/frontwomen who play rock/metal in Louisville. The Lacuna Coil/From Within Tour gave me the idea, so I'd like to see all of you there to check out Never The Man, Serene, Prey For Maria, Of Echoes and Envain. 9 p.m. Every one of these bands has a female singer and they all are good, too.
Scary "Fargin" Uncle: If you are a tired of cover bands as I am (If I hear Rage Against The Washing Machine one more time, bad things will happen) then you need to see a relatively new cover band that absolutely kicks butt.
Scary Uncle has been playing out for a bit and gaining momentum with their approach of playing songs you don't usually hear a cover band playing. Vocalist Chuck is very talented and a great frontman and guitarist Adam wails. You'll like it, even if you hate Top 40 music like me. They have some good originals, too. Their site is scaryunclerocks.com
Incursion Back To Business: A month or so ago, Incursion's drummer Nick hurt his hand in an accident, so the band had to chill while he healed. They were worried there for a bit, because it was badly banged up, but it's better now and they will be back in full force on Friday the 13th at the Bulldog Café. Look for their upcoming CD release soon.
Mungus is Funky: I finally saw the band that won the Fox's band battle to open for Godsmack at Louisville Palace. I like them. They have a different vibe that's kinda funky and bluesy, yet Toolish and definitely rocking. Adam Lamb's vocals are excellent; the bassist had a killer instrument that he handled well. It was refreshing to see a different new band. Professional, too, so to any of you new promoters, give Mungus a listen, I think you will dig what they're doing. BTW, they sound much better live than their recording: myspace.com/mungusband
MachineGunSkullF**k Name Change: Darn it, I had finally grown to like that band's name, then they change the mofo! The new name is Embalmanation. This is a very good new metal band of young guys, but the old name fit them better. If you love death metal/thrash music, check out Embalmanation.
New Band Alert: Embertide: I got an email asking me to check out Embertide, so I'm like, sure dude.
The results of my trained ear: Embertide is not bad at all. Kinda sounds like something I might write when I'm in a melodic mood. Embertide is melodic, catchy, even rockin' at times and has a commercial radio-friendly feel. The more I hear "Eyes Turn Black," the more I like it. It improves as it progresses. Decent guitar playing, a pretty lead that makes me think of Megadeth and soaring, heartfelt vocals with good range from the singer Brian (no last name listed) makes this a band to look out for in the future. They're like Staind meets Flaw and remind me of Broken Vault a little. Which is good.
There's only one song at myspace.com/embertide and recording was doody, but other than that, it was decent stuff. These guys need to make a high quality recording ASAP.
Do you Like NIN? If so, then you will probably like a new keyboard-based band called The People's Machine. I hear it is very much like NIN and no one does that kind of thing here in town, so you might want to check it out at the Highlands Taproom on July 21, 9 p.m.
Bassist, Drummer, Vocalist needed: De Pacte Librium, which is similar to Dream Theater or Symphony X, needs, a bass player, a drummer and a vocalist of Geoff Tate calibur. Interested parties contact Scott at Willis Music in Jefferson Mall.
My New Dog on Myspace: I broke down and got a new dog. I have been very sad the last two months since my dog died, so I bought a new Yorkshire terrier puppy that is pretty much the reincarnation of my old dog Oscar. He's a cute lil chit named "Roo." Many of you will be seeing Roo when you come by the crib, if you'd like to see pics of the new metal puppy, go to my myspace account and check out my pics! Request to be in my friends list, because myspace is where I mostly network. Myspace.com/eddymetalrocks.
Oldschool Reunion time? I have been contacted by two people who want me to perform at a metal reunion show featuring bands from back in the day. It got me thinking about getting a few bands back together for a reunion show, too.
I might get the guys from my old band Inhuman back together for a show or two. So far, three of the members are all go, two more and it's a done deal. To this day, I people ask if I still sing. It's pretty cool, especially since a lot of you didn't even know I used to sing for many years.
I was thinking of contacting old school Louisville metal bands Shapeless Matrix, Luther, Mindstorm, Faceplant, Shattered Reality and DumpGang to see if they might want to get a reunion show going. Heck, we'll make it a day of oldschool fun. So contact me if you are reading this.
UPCOMING SHOWS
The Bulldog Cafe
Saturday, July 7 Straight Line Stitch, Holbrook, 4 Storie Failure and Sever This Illusion. 8 p.m.
Friday, July 13 Incursion, Surviving Thalia, Deliver Us From Evil and Holbrook. 8 p.m.
Saturday, July 14 Bedlight For Blue Eyes, Tokyo Rose, Sound The Alarm and Reading Like A Writer and Hearsay Theory. 7 p.m.
Friday, July 20 Ashes Eve, Second Hand Grenade, Amendment and Porno Fishtank. 8 p.m.
Saturday, July 21 He Is Legend, The Sons Of Disaster, Modern Life Is War and Paulson. 7 p.m.
Saturday, September 1 Autism Awareness Benefit with Prey For Maria, Holbrook, Ashes Eve, Hyndsite, Once Fed Lies, Morning Augment, Maude Flanders, Amendment, At One With Nothing, Thorn, A.D.D, Descention, Sixth Day, Mistake and Anvil Grey. All ages. Call Bulldogs for details.
Fender's Den Of Sin
Sunday, July 15 Den Of Sin and Edge Hill. All shows at 6 p.m.
Sunday, July 22 Envain and Den Of Sin.
Sunday, July 29 Morning Augment and Den Of Sin.
The Dugout
Saturday, July 14 Throwing Stones, Enbalmanation and Once Fed Lies. 8 p.m.
Headliners
Sunday, July 1 Morning Augment, The Flew, Katalyst, Somatica, In A Heartbeat, Lotus Blake and more TBA. 7 p.m.
Friday, July 6 I Sleepwalker, At Daggers Dawn, Descention, We Speak Texan, Undead Hate Crew, Sowing Discord and Underworld Assasins. 7 p.m.
Tuesday, July 10 Saosin, Poison The Well, The Receiving End Of Sirens and Fiore. 7 p.m.
Saturday, July 14 Intheclear, Halfway Hollow CD release, Inept (Chicago) and Absolution Project (NY). 8 p.m. All ages.
Thursday, July 26 National recording artists Adema with Caldera, Halfway Hollow and Broken Vault. 8 p.m.
Saturday, July 28 Scary Kids Scaring Kids, Boys Night Out, The Dear Hunter, The Human Abstract and Pierce The Veil. 7 p.m.
Main Street Lounge
Wednesday, July 11 Nova Red, Second Hand Grenade and Once Fed Lies. 9 p.m.
Wednesday, July 25 Mungus. 10 p.m.
New Albany Ampitheater
Friday, July 13 Featuring: The Burial, Sacred Sorrow, Subrosa, Antikythera, Kinsey, Escaping Memory, Peace of Ausburg, Gravity Bomb, Centered, Mungus, The Wellfares, Your Highness and Button Masher. 3 p.m. Free. All ages.
Phoenix Hill Tavern
Friday, July 6 The Original Rock Showcase Series: I Will Defy, Caldera, The Burial, 13th Age and Boom Orangutan. 9 p.m.
Saturday, July 7 A Bizkit Promotion with Asleep, Ashes Eve, Escaping Memory and 1 T.B.A. 7 p.m.
Wednesday, July 11 Mudd's 93.1 the Fox Wednesdays: Mungus. 9:30 p.m.
Wednesday, July 18 Mudd's 93.1 the Fox Wednesdays: Second Hand Grenade. 9:30 p.m.
Friday, June 20 A Bizkit Promotion with Sulfate (A new band we like a lot), Cricket, Hyndsite, Noise Auction, Shatterstone, Radiocraft and Ugly. 9 p.m. $10
Wednesday, July 25 National recording artist Drowning Pool. 7:30 p.m.
Friday, August 3 The Original Rock Showcase Series "The Women of LouEVIL Metal" featuring female frontwomen: Never The Man, Serene, Of Echoes, Prey For Maria and Envain. 9:30 p.m.
The Highlands Taproom
Saturday, July 21 The Peoples Machine.
Third Street Dive
Tuesday, July 3 Downtown Brown.
Friday, July 6 Honeycreeper, Noxfate and Coinslot.
Saturday, July 7 Ingsoc, Failed Escape and 12 oclock Flashers.
Friday, July 13 Unit 6, Murdock, Scotty Lust and the Two Timers.
Saturday, July 14 Bolth, Dirty Works and Project Rico.
Friday, July 20 Campaign, 1984 and Slithering Beast.
Saturday, July 21 Brooklyn Vampires, Bitch Slap Barbie and Two Bit Terribles.
Friday, July 27 Luxury Pushers and Middle Class Trash.
Saturday, July 28 Nightshades and Down For The Count.
Uncle Pleasants
Friday, July 13 Sever This Illusion, Last Chance to Reason (Maine) and The Internet (Maine) 9 p.m.
Friday, July 20 The Burial, The Wellfares and Blade Of The Ripper. 9 p.m.
Wick's Pizza (Dixie)
Thursday, July 19 National recording artists Hot Action Cop with special guests: E-Flat, Never The Man and Fall For Nothing's farewell show. 8 p.m. $10 AD/$12DOS
Props Of The Month
This month's props goes out to James Rushing of Warrior Wind productions. When he first contacted me many months ago to do some networking, I thought he was another of the fly-by-night promoters who usually last about five minutes. I'm glad to say I was wrong and can fully admit it! Dude is one cool and totally professional individual. He's knows much more about promoting big national shows than I do.
He has went from full-time security guy to a manager and music promoter in the last two years, booking shows at Headliners, Phoenix Hill, Main Street Lounge, Stevie Ray's, Expo 5 and Jim Porter's. James has been a great help to all musical genres in Louisville, rock, blues, metal, hip hop and more. Not just Louisville talent, but internationally known artists. BX3, James' February 'bass god' convention, was a true musician;s dream and a super showcase for legendary bassists, including rock bass legend Billy Sheehan, jazz demon Jeff Berlin and funkmaster general Stu Hamm. Twice he's brought in guitar extrodinaire Eric Sardinas, a guitarist who toured with Steve Vai. On this coming July 26 at Headliners, Jame's brings in Adema, with special guests Caldera and others.
James Rushing says "I'm just here to help the scene and people any way I can. There's a lot of dishonesty, BS, backstabbers and that sort in this and I want to be one of those dudes that is known for a bit of integrity in this business, or what's left of it."
James manages a very good Louisville band called Broken Vault. If you get a chance, be sure to check them out Wednesday July 4 at Stevie Rays with Thorn, Lost in Ed,en and Waiting West.