April 1989 Articles
Cover Story
Staff
Columns
Paul Moffett
Staff
Performance Reviews
Keith Clements
Dallas Embry
Jean Metcalfe
Paul Moffett
Jean Metcalfe
Calendar
Staff
Errata
Staff
LASC
Jean Metcalfe
Jean Metcalfe
Staff
Staff
Karen Le Van
Dallas Embry
Jean Metcalfe
Jean Metcalfe
Dallas Embry
Staff
Diana Black
Industry Review
Paul Moffett
Music Business News
Staff
Staff
Paul Moffett
Staff
Staff
KYANA Blues Society
Rocky Adcock
Cartoon
Dan Colon
Louisville Homefront
Dallas Embry
Staff
Sara Pratt
Staff
Staff
Staff
Staff
Blogs
Got Shows?
Send Them To Us
Bookmark Louisville Music News.net with these handy
social bookmarking tools:
Available RSS Feeds
- Top Picks
- Today's Music
- Editor's Blog
- Articles
Add Louisville Music News' RSS Feed to Your Yahoo!

Issue:
Skitch Henderson to Lead Louisville Orchestra's SuperPops Series Music
Director Lawrence Leighton Smith announced on March 12 that Skitch Henderson has been named Principal Pops Conductor of The Louisville Orchestra beginning with the 1990-91 season.
The Yellowstone SuperPops season will open on October 27 at Louisville Gardens with Henderson on the podium in a theme program featuring the music of Irving Berlin, "The Best of Broadway."
Maureen McGovern will join Henderson when she makes a return visit, by popular demand, with the Orchestra on December 1.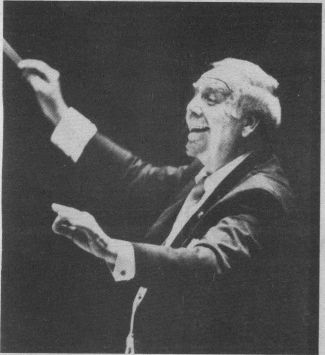 Skitch Henderson
January 12, 1991 will feature Marvin Hamlisch in his fourth appearance with the orchestra. Hamlisch has won multiple Oscars, a Tony award, the New York Drama Critic's Circle Award and the Pulitzer Prize for his numerous contributions to Broadway, film and pop music.
The "fascinatin'. rhythms" of one of America's most gifted composers, George Gershwin, will come alive on the February 2, 1991 theme concert conducted by Skitch Henderson.
Country and crossover superstar Crystal Gayle will join the orchestra on March 2. Television specials, platinum records and a busy touring schedule have taken this Kentucky native to the top of the charts.
Tony Bennett will join The Louisville Orchestra for the final Yellowstone SuperPops concert on April 20. Bennett has been honored with the opportunity to give five Royal Command Performances, has received the Lifetime Achievement Award from the National Academy of Popular Music and spends the better part of each year performing for SRO audiences throughout the world.
Subscriptions to the Yellowstone SuperPops are currently available by calling The Louisville Orchestra office at (502) 587-8681. Six concert subscription prices range from $39-$180. Single tickets will be available beginning in September 1990. Single ticket prices will range from $7-$35, but availability will be limited to those seats not sold to subscribers. Concerts are performed at Louisville Gardens on Saturday evenings at 8:00p.m.
Further information may be had by calling Nan Harman, Director of Public Relations and Education, at (502) 587-8681.