April 1989 Articles
Cover Story
Staff
Columns
Paul Moffett
Staff
Performance Reviews
Keith Clements
Dallas Embry
Jean Metcalfe
Paul Moffett
Jean Metcalfe
Calendar
Staff
Errata
Staff
LASC
Jean Metcalfe
Jean Metcalfe
Staff
Staff
Karen Le Van
Dallas Embry
Jean Metcalfe
Jean Metcalfe
Dallas Embry
Staff
Diana Black
Industry Review
Paul Moffett
Music Business News
Staff
Staff
Paul Moffett
Staff
Staff
KYANA Blues Society
Rocky Adcock
Cartoon
Dan Colon
Louisville Homefront
Dallas Embry
Staff
Sara Pratt
Staff
Staff
Staff
Staff
Blogs
Got Shows?
Send Them To Us
Bookmark Louisville Music News.net with these handy
social bookmarking tools:
Available RSS Feeds
- Top Picks
- Today's Music
- Editor's Blog
- Articles
Add Louisville Music News' RSS Feed to Your Yahoo!

Issue:
My Fair Lady
By Henry C. Mayer
"Why do I like singing 'Eliza' in 'My Fair Lady'?," Marilyn Taylor said the other morning to Louisville Music News. "It lets me express the whole gamut of emotions!"
"And why do I enjoy being 'Henry Higgins?," Michael Sokol questioned with that smile which wins audiences. "I like its subtlety, the reality of its characters and, above all, it is incredibly funny!"
With persons who feel that way about their roles, Thomson Smillie has begun Kentucky Opera's 40th season with another winner.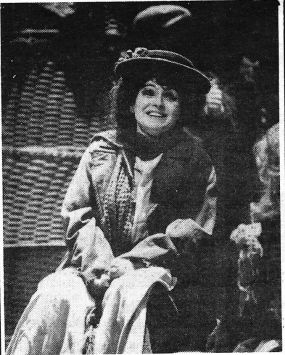 'My Fair Lady': Eliza Doolittle, a.k.a. Marilyn Taylor. Photo by Patrick L. Pfister
"We have heard many comments about inserting 'My Fair Lady' into the operatic repertoire. The truth simply is that American musical comedy is the greatest contribution which this country has made to the lyric stage. And what's more, 'My Fair Lady' is most singable and it has achieved a worldwide popularity which it maintains."
What began as a piece of social criticism about the London of the late-19th and early-20th century has turned into a tale whose appeal is as broad as being human. The original work, "Pygmalion," came from the acid, talented and articulate pen of George Bernard Shaw. Irish-born, but one of the masters of modern English writing, Shaw revealed much of himself. In fact, Michael Sokol, who plays Henry Higgins, says flatly, "Henry Higgins IS Shaw!"
And 'my fair lady' is not some peeress or grand lady of West London. She is Eliza Doolittle who strives to eke out a living selling flowers in the more sedate and fashionable part of the English capitol. She is a Cockney, which means that she lops off the heads or h's of all words beginning with H. She has spunk, zest and a feeling for her own ability and worth. So when two English professors, Higgins and Pickering, make a wager whether Higgins can transform her into a lady, she throws her whole self into it. Marilyn Taylor, who makes Eliza come to life for us, is a Louisville native. Eliza seems made to order for her.
Ms. Taylor is a graduate of Manual and the U of L School of Music, whose former dean, Jerry Ball, both encouraged her and enabled her to get a scholarship. Now completing work for a doctorate in music from Indiana University, she has an impressive list of operatic roles to her credit. She has been on our local stage as The Third Spirit in Mozart's ''Magic Flute" and Nannetta (or Anne Ford) in Verdi's "Falstaff." She seems to thrive on the roles assigned her.,
Michael Sokol, who wowed us with his sparkling rendition of "I Am the Model if a Modern Major General" from Gilbert Sullivan's immortal "Pirates Of Penzance," is one of those singers whose diction and singing ability vie as his principal talent. As Henry Higgins, he told Louisville Music News, "I don't sing one line; I simply talk my role through." That in itself is demanding. But doing demanding roles in opera is Mike's forte; he thrives on it.
Marilyn and Mike are both very pleasant to talk with and our visit was more of a pleasant conversation than a formal interview. Coming from our South End, she gained all-state honors in music while at Manual. Even in talking with her, one could feel the role of Eliza coming alive in her. And while she is finishing her work at IU, Mike has been taking courses at the Cincinnati Conservatory. That institution has played a long-time role in our local music history whether one became a neighborhood music teacher, as my aunt did almost a century ago, or one becomes a professional musician. Not the least of its contributions are the lighting talents of James Gage, whom you have met in these pages last year. A Kentucky Opera performance is the outcome of people working together, brought together by Thomson simply because they can and will work together.
Like the character in "My Fair Lady" who could have danced all night, I could write and write about this great show and all the people who have made it possible. They not only include the sponsor, Blue Cross/Blue Shield, but the entire office staff of Kentucky Opera. I especially want to thank Jerry Farrar who makes my interviews possible.
It is going to be a memorable season, so make your plans now to attend one or more of Kentucky Opera's 40th season. Remember, opera has something to say to you; it can enrich your life!