April 1989 Articles
Cover Story
Staff
Columns
Paul Moffett
Staff
Performance Reviews
Keith Clements
Dallas Embry
Jean Metcalfe
Paul Moffett
Jean Metcalfe
Calendar
Staff
Errata
Staff
LASC
Jean Metcalfe
Jean Metcalfe
Staff
Staff
Karen Le Van
Dallas Embry
Jean Metcalfe
Jean Metcalfe
Dallas Embry
Staff
Diana Black
Industry Review
Paul Moffett
Music Business News
Staff
Staff
Paul Moffett
Staff
Staff
KYANA Blues Society
Rocky Adcock
Cartoon
Dan Colon
Louisville Homefront
Dallas Embry
Staff
Sara Pratt
Staff
Staff
Staff
Staff
Blogs
Got Shows?
Send Them To Us
Bookmark Louisville Music News.net with these handy
social bookmarking tools:
Available RSS Feeds
- Top Picks
- Today's Music
- Editor's Blog
- Articles
Add Louisville Music News' RSS Feed to Your Yahoo!

Issue:

Second Thoughts
Lucia Di Lammermoor
Olin Downes, one of our ablest and most readable music critics, reviewed the Metropolitan Opera for many years. In his ever fascinating "Lure of Music," he tells us about a mid-18th century Scottish immigrant to Italy named Izett who quickly became Signor Izetti. His son did him one better, becoming known as Donizetti and as the father of Gaetano, the creator of our opera. For over 150 years, "Lucia" has delighted opera goers
Lucia is based on Sir Walter Scott's novel of the border wars between English and Scots. Its chief characters are lovers whose families have feuded for many years. Despite this, Lucia and Edgardo exchange vows of love before he leaves Scotland on a diplomatic mission. His letters to her are intercepted by her brother who then uses a forged letter which somehow persuades her Edgardo is untrue; reluctantly, to restore her brother's fortunes at court where his conduct has been regarded as treasonous, she agrees to marry his rich and influential friend, Arturo. The wedding is interrupted by the unexpected return of Edgardo. Believing himself betrayed, he flings Lucia's ring at her feet and curses her. Her mind broken by her unhappiness, Lucia kills Arturo in the marriage chamber, then horrifies the lingering guests by a display of madness. At the cemetery of his family of whom he is the sole survivor, Edgardo learns of Lucia's fidelity and tragic end and stabs himself.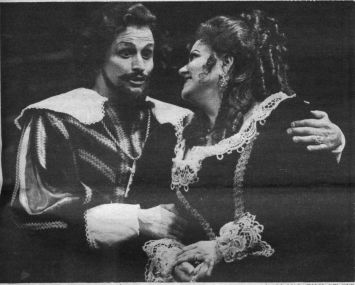 Peter Riberi as Edgardo and Marilyn Mims as Lucia. Photo by Patrick Pfister
"Lucia" is fast-paced action and also Donizetti was fortunate to have the talented Salvatore Cammarano as his librettist. Beginning with somber and tragic notes, the music is revealing of tragedy and frustration. Donizetti sustains this mood throughout with the exception for the festive portrayal of the wedding and reception. Even the love duet between Lucia and Edgardo reflects these circumstances. The family feud is never explained nor is it made clear what has led to the worsening of her brother's misfortunes. This performance is also less than believable when, given her brother's intense hatred, Lucia is so ready to accept the forged letter. Equally puzzling, one has to wonder why Edgardo immediately accuses her of disloyalty rather than asking whether she had received any of his letters. Discussing these questions with a person who has performed in Lucia, that person alleged that this performance has been abbreviated, but we were unable to ask the producer about it.
Louisville Music News did, however, through the courteous assistance of Jerry Farrar, have a pleasant and enlightening visit with Peter Riberi, our Edgardo. We found him to be pleasant, informative and articulate. He revealed more than a little enthusiasm about his career in music, hoping that within two or three years he will be singing at the Metropolitan and La Scala in Milan. He previously has appeared as Edgardo, the most recent performance before an avid Spanish audience where 150 senoras and senoritas showed up at the stage door. "In this country the soprano is the center of attraction, but in Europe it is the tenor," he revealed with that smile which is so pleasant to experience. He also had raves for his co-star, Marilyn Mims: "She is a great artist and a wonderful human being."
Checking my performance notebook, the following observations may be of interest and conversation sparks. Riberi's duet with Mims was charming but I felt his closing aria was more impressive. Miss Mims received the most applause of any principal but sometimes I got the impression that her delivery of the two closing numbers of the "Mad Scene" were marred by temporary shrillness. That being noted, one should also emphasize that this is one of the longest and most arduous arias in operatic literature. The most impressive rendering of this number in my experience was by Lily Pons, the French diva of half a century ago. The music for Lucia is not the only demanding score in this opera; Riberi emphasized that the music for Edgardo makes heavy demands on the tenor, especially in the closing scene. "Even so, I like it." Kenneth Shaw was believable as a feudist "consumed with hatred" and an intriguer, yet Peter Loehle's Raimondo was more impressive in Act III than Act I. The text shows him to have been more involved in reconciling Lucia to marriage with Auturo than this performance seems to have depicted. The set designs by Thomas Umfrid and the lighting by William Byrnes were first-rate triumphs.
This was the fourth time Kentucky Opera has put on Lucia, a worthy conclusion to its 40th season. Next year, we will be able to welcome Peter Riberi back as Lt. Pinkerton in Puccini's "Madam Butterfly" and to laugh with Donizetti in his good-natured and musically delighted "Don Pasquale." Congratulations to Thomson Smilie and all, including corporate sponsor, the Brown-Forman Corporation.