April 1989 Articles
Cover Story
Staff
Columns
Paul Moffett
Staff
Performance Reviews
Keith Clements
Dallas Embry
Jean Metcalfe
Paul Moffett
Jean Metcalfe
Calendar
Staff
Errata
Staff
LASC
Jean Metcalfe
Jean Metcalfe
Staff
Staff
Karen Le Van
Dallas Embry
Jean Metcalfe
Jean Metcalfe
Dallas Embry
Staff
Diana Black
Industry Review
Paul Moffett
Music Business News
Staff
Staff
Paul Moffett
Staff
Staff
KYANA Blues Society
Rocky Adcock
Cartoon
Dan Colon
Louisville Homefront
Dallas Embry
Staff
Sara Pratt
Staff
Staff
Staff
Staff
Blogs
Got Shows?
Send Them To Us
Bookmark Louisville Music News.net with these handy
social bookmarking tools:
Available RSS Feeds
- Top Picks
- Today's Music
- Editor's Blog
- Articles
Add Louisville Music News' RSS Feed to Your Yahoo!

Issue:
After a hard day of Christmas shopping, what can you do to unwind? Two words: Live music.
You may want to headbang to energetic rock 'n' roll, you may want to chill out to the serene strains of vocal harmonies, you may want some Christmas music. Louisville's December music calendar accommodates all.
Nothing soothes the commerce-weary shopper like rockabilly, some may say. For those folks, Big Sandy & His Fly-Rite Boys arrive at the Kentucky Center for the Arts for a Lonesome Pine Special concert on December 2. This young quintet plays authentic rockabilly, but it's all original material.
Nothing soothes the commerce-weary shopper like four-part harmony sung by a 100-man chorus, some may say. In that case, the place to be on December 2 & 3 is Memorial Auditorium, where Louisville's Thoroughbred Chorus, the seven-time international chorus champion, will perform a holiday program. Curtain time is 8 p.m. each night with a 2 p.m. matinee added on Saturday. Friday night, the Thoroughbreds will be joined by the Pride of Kentucky women's barbershop chorus. Saturday night, their guests will be the medalist quartet Marquis. The Way Over Forty Four Quartet will appear on all three shows. Call 367-8900 for tickets. If you've never experienced a chorus of this size going at it full bore, you should make the effort to attend. It is overwhelming. The Louisville Thoroughbreds were recently featured on cable's Discovery Channel as part of a feature on barbershoppers on the program "Amazing America."
Nothing soothes the commerce-weary shopper like punk music, some may say. That's one reason to travel to New Albany's The Grand nightclub for a big show featuring Avail, Enkindel, Blangk and Hedge. The Grand seems to be taking up the slack in the all-ages show market, as evidenced by this December 2 event and earlier noteworthy shows.
Nothing soothes the commerce-weary shopper like acoustic music, the folks at the Shelbyville Road Hawley-Cooke bookstore say. They've backed up that claim with two holiday appearances by mandolinist Mike Schroeder and banjo player/ multi-instrumentalist Steve Cooley on December 3 and December 10. Betcha two paperbacks you can't go into the store and leave without buying one of Hawley-Cooke's goodies.
Love Jones, darlings (and sole practitioners) of kitschy, harmony-blessed lounge rock, will appear at the Brewery's Thunderdome on December 3 with Starbilly and Greathouse (the new project from songwriter Danny Flanigan). If you didn't get enough of the Joneses, catch them later in the month at the Toy Tiger (December 15).
Although Love Spit Love is fronted by the instantly recognizable vocalist of the Psychedelic Furs, Richard Butler, the band doesn't just sound like an update of the classic Furs sound. Tinges of Eastern European folk music swirl in on some songs and straightforward alternative rock is the rule on other tunes. If Love Spit Love does steal from the Furs legacy, it's from the very early, good stuff. See them on December 4 at the Thunderdome.
The Bullet Boys' big hit was a Tom Waits song ("Hang On St. Christopher) but that isn't indicative of their style The Bullet Boys play big, brashy hard rock like a tongue-in-cheek Van Halen. They're at the Toy Tiger on December 5.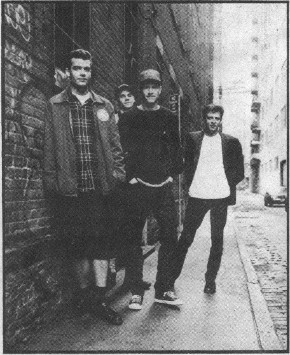 Helmet
Nothing soothes the commerce-weary shopper like somebody blowin' a mean blues harp, some folks growl. They need to head to the Butchertown Pub on December 7 for the 2nd Annual Heavy Harp Christmas Showdown, a harp blues summit that doubles as an album release party for two records from Louisville's Rollin and Tumblin' Records. Acts scheduled to per form include Blonde Johnson, MR2 Blues, Lamont Gillespie & the Homewreckers and Big Al & the Heavyweights. The two records are Santa Is a Bluesman Vol 3 and Heavy Harp, a tribute to Sonny Boy Williamson.
A tour dubbed "The Colors of Christmas" is coming to the Palace Theatre on December 8, featuring the vocal talents of singing giants Peabo Bryson, Sheena Easton, Roberta Flack and James Ingram. Sounds like the groundwork for some head cutting, if those talents get in a competitive mood.
Visiting our planet briefly, Ace Frehley drops in at the Toy Tiger. Usually considered to be the most talented component of KISS's original lineup, Frehley is a guitarist of some skill. See him on December 8 and please don't paint your face.
Indianapolis has been taken by the Why Store the way Godzilla took Tokyo. Bloomington is in the process of falling as well and Louisville looks like it's next. Succumb to the Why Store's groovy, Midwest crunch on December 9 at the Butchertown Pub. It's gonna happen eventually, so just get it over with. If you're a hardcore hipster, you will probably shun the Why Store and check out Black 47 at the Phoenix Hill Tavern on the same night (December 9). All these silly little rules.
Carrie Newcomer has parlayed her considerable songwriting talent into a record deal. See her on December 9 at the Rudyard Kipling and you'll realize how much the Bloomington resident deserved it. Singer/songwriters need cover charges too, so do your part to support one
Sometimes, you gotta get cerebral to make, easy pop music. Cases in point Nashville's organic Floating Men and Cincinnati's guitar-oriented psychodots, two groups that make pop music for the thinking man (and woman). They constitute a double-bill in Butchertown Pub's Dancehall, while America Smith and Supafuzz entertain in the Courtyard, all on December 10.
Rumor has it that the Dorkestra Bloomington's arresting folk/alternative rock band, is drifting apart. The Louisville appearance of Bath Tub Virgins reinforces the whisperings; the Virgins are vocalist Tammy Patrick, Dorkestra bassist Jeff Farias and Dorkestra guitarist Jon Nilson. For their December 10 show at the Rudyard Kipling, the trio will be joined by Dorkestra drummer Dan Vonnegut, who has a famous relative named Kurt. Their resumes hold the promise of a good debut.
With an image that comes off urbane, vivacious and slick, Manhattan Transfer is a dream to some jazz fans and a nightmare to others. There are enough dreamers out there to make the vocal group's appearance at the Palace Theatre on December 10 a success. It's a Christmas show, y'all.
Homefront's December entry is intriguing: folk singer Janne Henshaw and acoustic combo Zen Penguin. Henshaw has earned some fans through her regular appearances at the annual Kentucky Music Weekend festivals and Zen Penguin is well-respected in Louisville folk circles. Their Homefront performance is at December 10 at Bellarmine College's Wyatt Hall.
The Ass Ponies' press kit reads like a riddle. The Cincinnati group, which records for the Safe House label, draws from virtually every form of pop music to create their accessible sound. Defying categorization makes you an alternative band, I guess. Discover what the Ass Ponies mean to you on December 13 at the Butchertown Pub. Flyspray opens. Looking to the past a bit more directly is Pat Travers, a veteran of the '70s guitar wars. He's part of WTFX's Foxstock concert series a Coyote's, this one coming on December 13.
Technique is not something that violinist Clinton Gregory lacks. Based in country but venturing into new age, pop rock and jazz, Gregory aims to dazzle. He plays WAMZ's Christmas Party at Coyote's on December 15. When you figure that national powerhouse WAMZ could get anyone they wanted for their Christmas party, you realize the size of the compliment to Gregory.
Chip Davis, the man behind Mannheim Steamroller, is credited with blending the sweep and scope of classical music with the thunder and power of rock 'n' roll. Nevertheless, his Grammy was awarded in the New Age category. Blend in Christmas standards and you have an idea of what Mannheim Steamroller has in store on December 16, 17 and 18. Witness Davis's considerable technique and complex wash of synthesizer sounds at the Palace Theatre.
Legendary blues guitarist B.B. King only needs one string – only one note — to play a killer blues solo. Catch his mastery at the Palace Theatre on December 30. The Bobby Blue Band (not Bobby "Blue" Bland) opens the show.
Can't fight this feeling'? Then go to the Palace at 8 p.m. on New Year's Eve for a dose of REO Speedwagon. Lead singer Kevin Cronin is still at the microphone and REO still draws a crowd. Should old acquaintance be forgot . . .