April 1989 Articles
Cover Story
Staff
Columns
Paul Moffett
Staff
Performance Reviews
Keith Clements
Dallas Embry
Jean Metcalfe
Paul Moffett
Jean Metcalfe
Calendar
Staff
Errata
Staff
LASC
Jean Metcalfe
Jean Metcalfe
Staff
Staff
Karen Le Van
Dallas Embry
Jean Metcalfe
Jean Metcalfe
Dallas Embry
Staff
Diana Black
Industry Review
Paul Moffett
Music Business News
Staff
Staff
Paul Moffett
Staff
Staff
KYANA Blues Society
Rocky Adcock
Cartoon
Dan Colon
Louisville Homefront
Dallas Embry
Staff
Sara Pratt
Staff
Staff
Staff
Staff
Blogs
Got Shows?
Send Them To Us
Bookmark Louisville Music News.net with these handy
social bookmarking tools:
Available RSS Feeds
- Top Picks
- Today's Music
- Editor's Blog
- Articles
Add Louisville Music News' RSS Feed to Your Yahoo!

Issue:
Scintillating Sounds by Sondheim
By Henry C. Mayer
"I don't think we should draw hard, fast dividing lines between the various kinds of musical theater." The speaker is Judy Kaye, one of the four artists whose singing made Kentucky Opera's premier presentation, Side by Side by Sondheim, a success.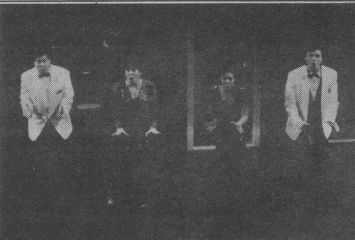 Side By side By Sondheim: left to right, David Green, Judy Kaye, Shelley Dickinson and Brent Barrett
Louisville Music News discussed this program with Ms. Kaye and the other feminine vocalist, Shelly Dickinson. Both were high in their praise of Sondheim's talents and both pointed out that he is demanding in what he requires of persons who would present the result of his talents. "His work demands more of me than any other creative person," Ms. Dickinson emphasized. "I need to review each of his pieces carefully several times, before I even attempt to present then," Ms. Kaye revealed.
One can hardly do justice to the 36 pieces which these ladies, along with Brent Barrett and David Green, sang for us. Acclaim also should go to their two pianists, Greg Pliska and Jules Cohen. It would be unfair to rate their interpretations in order of competence. Sondheim is a close observer of our human condition; sometimes he is witty, at other times poignant. One member of the audience noted, "He is remarkably gifted in expressing the inner feelings of both men and women; for instance, the two women told us about "getting married today" with its humor and pathos as if they had written the lyrics." Sometimes nostalgic, then expressing heartbreak, Sondheim's works demand a talented voice and acting skills. There was not one poorly done piece during the whole concert. After hearing it, one can begin to appreciate why this program received 384 performances on Broadway.
An evening like this can convince hearers that 20th century music is in good hands. It will still have its critics but Kentucky Opera proved to most of us that contemporary music can have a wide appeal. That is good for all of us; it is good news for Kentucky Opera; it can enlarge the audience which is an ongoing challenge.
It is the vocation of music to help us better understand and accept our humanity – and in meeting this many-sided challenge, Sondheim is making a distinct and unforgettable contribution.