April 1989 Articles
Cover Story
Staff
Columns
Paul Moffett
Staff
Performance Reviews
Keith Clements
Dallas Embry
Jean Metcalfe
Paul Moffett
Jean Metcalfe
Calendar
Staff
Errata
Staff
LASC
Jean Metcalfe
Jean Metcalfe
Staff
Staff
Karen Le Van
Dallas Embry
Jean Metcalfe
Jean Metcalfe
Dallas Embry
Staff
Diana Black
Industry Review
Paul Moffett
Music Business News
Staff
Staff
Paul Moffett
Staff
Staff
KYANA Blues Society
Rocky Adcock
Cartoon
Dan Colon
Louisville Homefront
Dallas Embry
Staff
Sara Pratt
Staff
Staff
Staff
Staff
Blogs
Got Shows?
Send Them To Us
Bookmark Louisville Music News.net with these handy
social bookmarking tools:
Available RSS Feeds
- Top Picks
- Today's Music
- Editor's Blog
- Articles
Add Louisville Music News' RSS Feed to Your Yahoo!

Issue: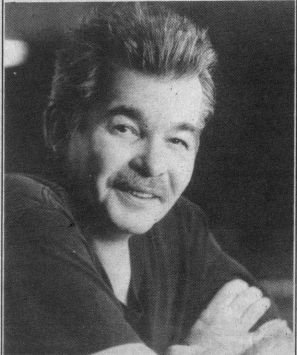 John Prine will be appearing at the Palace Theatre on June 4.
Upcoming June
By Bob Bahr
It's pretty hard to get the blues in June, but guitarist Jeff Healey is going to do his best to git it in our soul on June 2. He and his band are playing the Lonesome Pine Special series at Macauley Theatre that night. Across town at the Brewery, techno fans will be moving to the sounds of KMFDM, an aggressive German dance group. Industrialists Dink, who refer to themselves as "gutbusting, organic psycho-hop rock," will open the June 2 show in the Thunderdome.
On a quite different tip, The Walter Eugenes will play the Jubilee Coffeehouse (Bardstown Rd. near Baja Bay). This duo is known for making big rock with Christian lyricism. The show is on June 2. See the review of The Walter Eugenes' recent album on p. 26.
Seen a Redbirds game yet? June 2 would be a good night to do it, if you're a country music fan. Clay Walker will perform after the game ends at Cardinal Stadium. It'll set you back $13 or $15, depending on your seats.
John Prine fans just smile knowingly when you ask them how the songwriter's new album Lost Dogs & Mixed Blessings is. They are more than willing to share Prine, but reticent to push him. Selfish buggers. On June 4, everybody will have a chance to see the man in person when he appears at the Palace Theatre. Even if you've never heard of him, you've probably heard his songs, which have been covered by a galaxy of stars, including Bonnie Raitt, the Everly Brothers and Bette Midler.
The next day, Bellarmine College hosts a jazz guitar concert that caps off the school's annual jazz guitar clinic. Joshua Breakstone, Cal Collins, Jack Wilkins and Jeff Sherman will stop teaching long enough to play some tunes on June 5 in Bellarmine's Wyatt Hall. The instructors were good friends of Jimmy Raney's, so look for a tribute to that great, recently deceased guitarist.
Barry White, who sings love songs like buttah, will play the Louisville Gardens on June 7. He's out supporting his last record, the perfectly titled The Icon Is Love. Up-and-coming chanteuse Chante Moore opens the show.
Cris Williamson has opened for major acts, written songs for film, and played two sold-out shows at Carnegie Hall. Critics in major cities rave about her folk-rock music and strong voice. She's touring with musician Tret Fure to raise money for In the Best Interests of the Children, a charity for children with AIDS. The duo plays the Louisville Garden's Black Box Theatre on June 9.
It could be worth your time to go out to J.T.'s Variety Club on Preston (formerly the Redbird) on June 12 to see the double bill of Technical Jed and Crappy Nightmareville. I don't know what they play, I just like their names. Ditto for the Festive Skeletons at the Backstage Blues Cafe on June 14. Hey, picking by names works at Churchill Downs.
A legend of the electric guitar comes to Louisville on June 18: Carlos Santana. Mixing Latin, jazz and psychedelia into his blues-rock playing, Santana brews some strong voodoo. Santana is visiting on the behest of the Lonesome Pine people. The show is at the Kentucky Center for the Arts' Whitney Hall.
The word from Nashville is that Tanya Savory is a gifted singer/songwriter. She's set to open for Cheryl Wheeler in a string of June dates, and she's stopping in Louisville's Rudyard Kipling on June 22 for a one-nighter. Venture down to Oak St. and see for yourself.
Arguably the area's biggest Christian music event arrives June 24 at Cardinal Stadium. It's called Joy Jam '95, and it features performances from D.C. Talk, Carman, Susan Ashton, Bob Carlisle, Gary Chapman, Newson, Sierra, Bride and others. Tickets start at a reasonable $21.
The Festival of the Bluegrass at Lexington's Kentucky Horse Park -- scheduled for June 8, 9, and 10 -- has a stellar lineup; see Berk's column on p. 8 for more information.
Bodeco's drummer, who hates to see his name in print, called to let me know that the acclaimed group is not defunct, as I reported in last month's column. In fact, the band just released a CD titled "Callin' All Dogs" and a 7" of "High Window/M.F. Tramp." Sorry for the mixup. Bodeco is touring with Freakwater and won't be back in Louisville until their performance at the Waterside Festival on July 2.