Articles
Cover Story
Paul Moffett
Paul Moffett
CD Reviews
Kevin Gibson
Kevin Gibson
Kevin Gibson
Kevin Gibson
Bookmark Louisville Music News.net with these handy
social bookmarking tools:
Available RSS Feeds
- Top Picks
- Today's Music
- Editor's Blog
- Articles
Add Louisville Music News' RSS Feed to Your Yahoo!


Second Thoughts
l995's Bolla Steeplechase — Another Gala Event!
The metropolitan Louisville area and vicinity celebrated the American centennial of Steeplechase racing in grand style. Once again, local horseman and business executive Dinwiddie Lampton hosted an enthusiastic crowd of music and horse lovers at his attractive farm. And once again, Kentucky Opera benefited from his and many others' generosity of time, talent and treasure. There's just no way all these good people can be listed, but special thanks are due Nana Lampton, race chair person; Dan and Sug Schusterman, general chairs; Lilly Parkinson, assistant chair; and the splendid media and PR. work of Loren Hebel and Nancy Handmaker.
This year's spectacle was a mi1liner's delight. Everywhere one could see beautiful women indulging their fancies and preferences with chapeaus of all sizes, designs and colors. Still, they showed their respect for the unpredictable weather by wearing boots and other footwear which left them prepared for any eventuality.
Still it was a day to see and be seen. And while some men's ties reflected the glory of our marvelous Kentucky spring, the ladies stole the show.
it was also a meteorologist's nightnare. For most tof the morning, whe one awoke toa cloudy albeit cool day it gave no clear indications of what was to come. By noon, "Brother Sun" began to assert his unique supremacy and a warm but not sultry, atmosphere made everyone glad to be alive. And then it happened. Shortly after three, the sun made his unheralded exit as mysteriously as he had earlier appeared. The sky opened and a blinding rain made its presence felt. While we were still enjoying the sun, I asked a veteran Hardscuffle backer and spectator about it. He replied, "I knew Dinwiddie could do it; we (my wife and I) have confidence in him."
In the midst of this solar excellence, Dinwiddie himself appeared, driving a team of absolutely marvelous horses, all with distinguished pedigrees and having aboard a galaxy of distinguished visitors including a newly wed couple and ladies dressed for this gala event.
Dinwiddie was in high spirits. He told Louisville Music News: "Every moment of this day is an occasion for me. I want this event to happily punctuate all our visitors' lives." This event has achieved international recognition. Noting its gala atmosphere and benefits to music, London's Opera Now told its readers "Louisvi1le is the Cultural Capital of the American South." Are you listening, Atlanta?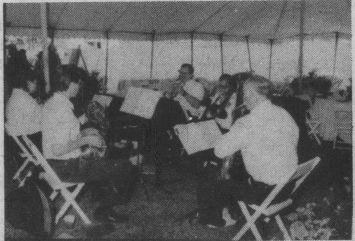 The Kentucky Arts Brass Quintet entertained the Hardscuffle '95
We talked with a few of the visitors. There was not a sour face to be seen.
Retired VP of the Louisville Area Chamber of Commerce Charles Herd probably spoke for many when he noted,"It gives you a great chance to enjoy a beautiful spring day with one's family and friends in the country and some real Kentucky hospitality
Event backers and opera goers Benn and Dorothy Davis had special praise for Kentucky Opera's season-closing performances of "Cavalleria Rusticana and I Pagliacci": "Absolutely magnificent," Dr. Bill Yancey voiced great appreciation for the skillful and thoughtful use of English subtitles on the stage.
This year initiated a Spirit of Hardscuffle Award and it went to a local leader who has done so much in so many ways, Wilson W. Wyatt Sr.
Dinwiddie's daughter, the highly personable Nana, is one of this event's indefatigable workers. Whether it is greeting distinguished visitors, welcoming old friends and making new ones, or simply picking up unsightly trash, she is everywhere. We talked about her musical tastes. "I especially enjoy choral music and works Mozart and Beethoven. My favorite operas? Mozart's Magic Flute, Don Giovanni and Verdi's La Traviata! I have enjoyed operas many places but the absolute highlight was to hear Mozart works at the theater in Prague where some of them premiered. That was an unforgettable experience!"
A note or two about Hardscuffle. It began in County Cork, Ireland, in 1752, but the first winner's name has disappeared. The first race in this country took place in New York. Today, they take place in 12 states between March and November, attracting a million and more fans and enabling the donation of millions to the arts. Louisville's races this year include trainers who range in age from 32 to 55 while riders begin with age 20 to 43.
Steeplechasing has its own vocabulary; its own rules. The fences the horses jump have a steel "frame, stuffed with plastic brush and it stands 54 inches high. Steeplechase goers say "it is not just a race; it's an experience."
This sport is supervised by the National Steeplechase Association with 15 directors and a full-time staff of five. They are publishing a centennial yearbook and presenting an exhibit at the National Museum of Racing in Saratoga. A more proactive approach to safety is a leading concern.
One of Bo1la's riders this year was Blythe Miller, the leading American Steeplechase jockey and the sport's first female champion.
Louisville Music News salutes all who worked on this year's event.