April 1989 Articles
Cover Story
Staff
Columns
Paul Moffett
Staff
Performance Reviews
Keith Clements
Dallas Embry
Jean Metcalfe
Paul Moffett
Jean Metcalfe
Calendar
Staff
Errata
Staff
LASC
Jean Metcalfe
Jean Metcalfe
Staff
Staff
Karen Le Van
Dallas Embry
Jean Metcalfe
Jean Metcalfe
Dallas Embry
Staff
Diana Black
Industry Review
Paul Moffett
Music Business News
Staff
Staff
Paul Moffett
Staff
Staff
KYANA Blues Society
Rocky Adcock
Cartoon
Dan Colon
Louisville Homefront
Dallas Embry
Staff
Sara Pratt
Staff
Staff
Staff
Staff
Blogs
Got Shows?
Send Them To Us
Bookmark Louisville Music News.net with these handy
social bookmarking tools:
Available RSS Feeds
- Top Picks
- Today's Music
- Editor's Blog
- Articles
Add Louisville Music News' RSS Feed to Your Yahoo!

Issue: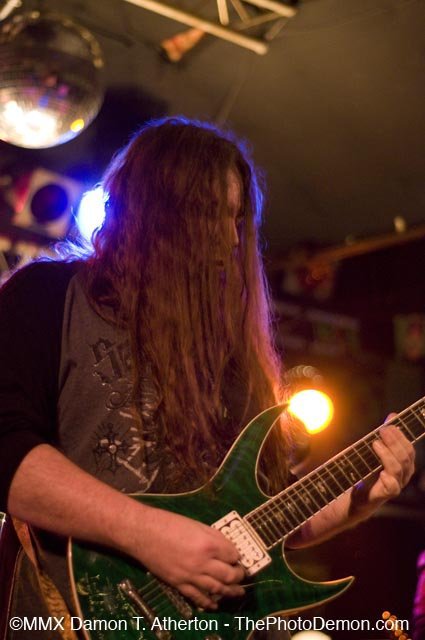 News From the Pit
Howdy. It's been one long stressful month for me, but things are definitely looking up! I had a blast at the 2nd Annual Louder Than Life Festival (see in-depth review below) that ended up selling out both days at over 50,000 people, got to record the best sounding music I've ever recorded (listen to it in the Year Of The Gun writeup below), found a replacement guitarist for the guitarist who left our band, got him ready to play a gig in only 3 weeks (a monumental task) and I finally got to see one of my favorite metal bands, Sanctuary, play my hometown for the first time ever with a bunch of great local bands that kicked ass (review of that show too! homie don't play!).
Of course Terry Harper brought Sanctuary there, so mucho props to that guy for bringing everyone's favorite bands to town! We'd be pretty much screwed if Terry didn't like metal, because other promoters simply won't book metal. But us metalheads are loyal and we will come to a good show! I can't even frikkin' count how many times Terry has brought a lot of bands I love to town. Fear Factory a month or so ago and now a rare show like Sanctuary? Hell yeah! You peeps should show gratitude to Terry for putting on these shows that he does. I'm looking forward to Kamelot and Dragonforce and NYC legends Prong coming in November, too.
The cold months are coming and the scene always dies down a bit as the holidays near. I have a NYE gig planned jamming with Flaw at Trixies, so that makes me happy! Speaking of Flaw, congrats to those guys for keeping shit real and for rocking out bigtime at Louder Than Life! They had a killer turnout for their set and they sounded great. Those cats have been on the road quite a bit this year, so good for them! It's great that they finally see that nothing is worth losing your music over! They have kept their noses to the grindstone and made sure that nothing interferes with the new Flaw attitude and lineup! Total props to those guys for overcoming negative bullshit! That's the way you do it! I know all about overcoming negative bullshit lately. HA! And I have kicked that shit aside, too! So props to both of us for ditching the negative and moving on to positive only!
I've been checking out quite a bit more of our local bands lately and I've been very impressed with bands rocking the scene these days! If only we had more venues, though.
Decent gigs are a bit harder to come by now that PHT is gone and, yes, I do miss it. I miss the people and friends there and the variety of music that we used to get there. It sucks that it is gone, but shit always changes and you cannot stop that. People have been bugging me to see if I'll start another original showcase elsewhere. My response is: It is always possible! I love helping bands. I love putting on a good party. I've put on 500 of these parties over the years at least. But I'm still needing a break for booking for a few. Booking nonstop since 1995 is a long frikkin' time! So let me chill for a few and see how it goes. You never know what could happen!
There are rumors that someone is trying to start another Toy Tiger, in Indiana no less. Just stop!! There will never be another Toy Tiger, dude, so you might just wanna stop trying to ride the coattails of that legendary place. It cannot be replicated. The era is different and it's not the same scene any more. Yes, it would be nice for our scene, but it just don't sound plausible to move on with that same name when everything is so different now. Besides, I don't think many peeps would journey to Indiana to drink, especially when the cops over there are so quick to lock up a mofo. I got locked up for having one beer when I was a young man and a friend of mine got locked up for having one tiny roach in his ashtray. They got some messed up weed laws there in Indiana, so watch your asses! You can go to prison for a friggin' doobie like my friend, while other states are legal and it's everywhere! Some strict laws over there, peeps!
Oh well, enough ranting for me! I'm been writing my ass off for this Louder Than Life Edition and it's time to sit back, drink a frosty beverage or two, enjoy life and get ready for my big Halloween show!
It's been almost a month-and-a-half since I've played a show and I'm getting antsy! And today is the day that my band releases our new music, so I'm also pretty excited for you peeps, my readers, to hear this!
The Metal Grapevine
LMN Live!
Bands, send your live videos in to me and maybe I'll post it!
Yup, that's right. I'm now putting live videos of live local music on my column. It has to be a real gig, somewhere half-decent, with a good PA sound! If it sounds like doody, I ain't pluggin' it. And don't get mad if it sounds like doody and don't plug it! Just being honest! Quite a few peeps read LMN, so you might wanna pick a good one, for who knows who could be watching!
Send videos to Eddymetal1@aol.com
Louder Than Life 2015 Review:
Wow, what a weekend! I had a blast at the 2nd Annual Louder Than Life Festival. This yearly concert is the best thing to happen to Louisville, ever! For years I have been ranting about how we never get any big outdoor concerts like this, like other cities do and now, finally, we have something very cool! Thanks to Danny Wimmer Presents. People have embraced LTL bigtime! People come to Louisville from all over for this show. Three stages, numerous national acts, great sound, great food, great people, you can't ask for more. I was able to get some good pics, but I like variety, so I have invited photographer friends Paul Taylor and Heath Plum of Music Central TV and Chuck Skibo to donate some pics of the event, so you folks can get a wider perspective on the event. A montage of pics, if you will! I like friends and teamwork, what can I say.
I'll tell you what, though, I have never walked so much at a concert in my life. I wanted to get a bunch of great pics, so I was constantly migrating from stage to stage to be there for the first few songs. And the distance from the main stages was a half-mile! I estimate I walked about 7 miles at least each day. The distances and the recent problem with me having been diagnosed with Plantar Fasciitis, made for a very painful experience by the time Saturday night came. When I got up the next morning, I could barely walk. But I soldiered on because I keep my word and because the LTL people treated me well and I wanted to do a good job. Thank god I had a whole bottle of Alieve.
There was so much stuff going on at all times, it was impossible to cover everything. And the thick crowds put a hamper on moving around as it got later.
SATURDAY
Saturday it only rained about 10 minutes, even though idiot newscasters said it would be raining on and off all day. I had a mack-daddy poncho and was ready for a downpour that thankfully never materialized. We got there as The Butcher Babies were playing and I've got to admit, I liked them better than I thought I would. I heard they weren't that good, but I was lied to. Those two singer chicks have some brutal screams! And they are hot as hell. The crowd sure seemed to love them.
Saint Asonia sounded really really good. I didn't know much about this band but was sure impressed with their sound and the awesome vocals of Adam Gontier (formerly of Three Days Grace). They sounded very tight and I can see why they are billed as the next big Supergroup, having members from Three Days Grace, Staind and Dark New Day. Guitarist Mike Mushok was ripping on some emotional leads. They even played a few covers from former bands, like "I Hate Everything About You" by Three Days Grace and "Mudshovel" by Staind.
It sounded great! Killer vocals.
Tremonti was rockin' as well. I had heard a lot about this guitarist Mark Tremonti and how he shreds, so I thought I'd mosey on over to see what the fuss was all about. Tremonti sings as well as plays guitar for the band, so he is a busy body for sure!
This music is way heavier than what I'm used to hearing him play in Alter Bridge and Creed. I admit I was surprised it was so heavy, especially since he played guitar for radio icons Creed. I love the speed metal influences! This is much more up my alley than Creed, which I hated. Mark did well on the vocals, too, adding a very melodic twist with the heavier riffage! I likes! It's weird I haven't heard Tremonti before until now. Those guys were very energetic in their playing.
Atreyu jammed and it was cool, because I haven't seen them play since Ozfest! Those cats still look the same! I like Atreyu. I was shocked to hear them do a Bon Jovi cover, "You Give Love A Bad Name," though.
Sevendust came on and kicked major ass. I always liked those guys. I met them before they became big and they are truly good guys who are humble and cool. I even chatted with them after they got big and they were still cool, especially the drummer Morgan Rose. Lajon Witherspoon was in a zone this day!
The set was short but powerful as the band ran through songs like "Denial" "Driven" and Thank you." It's the same guys and the same good "no ego" attitude, performing the best they can for their fans! I'm so glad it didn't rain! The crowd loved Sevendust and ate every song up! Sevendust was a good choice to have on the bill!
Seether came on and played their emotional girly rock to adoring fans. Chicks love these South African rockers so much! They do have fantastic songs and the singer, Shaun Morgan, has an outstanding voice and talent for playing/singing at the same time. They too are very nice guys. I met them once at Coyote's. It is a no nonsense, no-gimmick rock n' roll show, South African style, and it is good stuff indeed. I've seen them several times and they always sound good. They played their newest stuff "Words as Weapons" and classics like "Fake It" "Fine Again" "Remedy" and "Country Song."
Godsmack rocked out as usual, playing most of their hits, plus a Dropkick Murphy's cover "I'm Shipping Up To Boston." I knew it was a DM cover from the get-go. They played "Awake," "Keep Away," "Whatever," ""Voodoo," "I Stand Alone," and some new stuff, "1000 HP" and "Something Different," which Sully said was being filmed for a video! People love Sully and Godsmack. I wish they would have played "Serenity," my favorite song of theirs. One thing about Godsmack is that they always sound better live than on their CD's.
I can't explain why, but it is true! Godsmack is something that has to be seen live. The energy and performance of Sully plus guitarist Tony Rombola is something to see in person. Their radio hits are all quick and fast and no nonsense, but when you see them live, you get a feel for who they really are. There is a trippiness and hippy feel about the music at points. Tony Rombola gets some badass sounds out of his guitar when he wants to. Very cool stuff that takes you away to a mystical place, almost. Of course Godsmack did the double-drum attack that they always do, which is cool. Sully is a beast on drums as well as good singer. The band also did snippets of some famous songs like AC/DC's "Back In Black," Aerosmith's "Sweet Emotion," Alice Cooper's "Schools Out" and Metallica's "Creeping Death."
Rob Zombie was last and by that time, my foot problem was killing me! (Plantar Fasciitis can suck a big one!) But I wasn't gonna let that stop me from seeing Zombie in action! As always, Rob put on a good show and guitarist J5 ripped it up. The crowd went nuts, of course. I've seen Zombie numerous times, even with white Zombie back in the day and it's clear he loves his fans like no other!
They played a few unexpected covers – Grand Funk Railroad's "We're An American Band" and James Brown's "Get On Up," – as well as Zombie hits "Superbeast" "Living Dead Girl" '"Meet the Creeper," White Zombie's "More Human Than Human" and "Thunder Kiss 65" with J5 guitar solo and a snippet of The Ramones "Blitzkrieg Bop" and they ended the night with an encore of "Dragula."
My foot was killing me, so we left, but we didn't get to get out of the parking lot till almost two hours later; there was only one vehicle entrance into the soccer field parking lot. We were parked way in the back and selfish assholes were not letting anyone out from the back and there was not even one person directing traffic exiting in that parking lot. People were angry as hell because of that mistake. So I told myself I would never park in the soccer field parking lot EVER again, even if I had to walk two miles to get to venue.
This was the one mistake LTL peeps made. Those soccer fields needed a few traffic cops to keep order for peeps leaving the place, so that everyone could leave in a fair and timely fashion. Not having the unfortunate souls that got herded into the back soccer field parking lot having to wait hours to get out, while douche-bags in the front bullied out.
SUNDAY
Pain. Hideous heel pain. Can't hardly walk. Get to bathroom to bottle of Alieve. Eat 3 to start.
My buddy Jack and I went that day and met up with some friends. It was supposed to be nice outside and it was! What a perfect fall day to experience LTL. And it wasn't as muddy as I thought it would be. We got there in time to see a little bit of Nothing More. This is another band that I know nothing about, other than that they are pretty damn good, different and quite talented at that. My bassist Lee Lanham loves them. He was tripping because they sounded so good. Good modern vocals by Jonny Hawkins. A bit on the light/girly side of rock, but that's okay.
I like how these guys are different. For a while there all the new bands sounded the same. But not this band. I can't explain how, but it is different. The musicianship is off the hook with this band, though. I think we heard "Jenny" and "This Is The Time," which was impressive and had some pretty hard-to-sing higher notes! Great melodies in this tune!
The final song was a very diverse song called "Salem." One second it was brutal heavy, then the next, super-clean. Weird stuff here. This singer is insane and rockin'. The younger crowd really ate up this band's performance and the crowd was growing by the minute, making it harder to get around.
I managed to get over to the second stage to see a little bit of The Kentucky Headhunters. I've never been a fan and wasn't really anxious to see them, but apparently I was stupid, because they sounded great! Awesome soul. Great guitar tones. Nice singing. I enjoyed what little I heard. I might have to look more into those guy's music! And learn a thing or two in the process! After all, they are Kentuckians!
Next up was Eighties rockers Skid Row, who I happen to like! It was cool for me, because I get to hear their new singer Tony Harnell (formerly of TNT) in action. I thought Harnell did a great job, as singing former vocalist Sebastian Bach's vocals is not an easy task and very few could pull it off. Harnell may have played it safe on a few parts, but mostly he nailed it, or came pretty damn close.
The band was tight and I enjoyed seeing guitarists Snake Sabo and Scotti Hill let loose. Bassist Rachel Bolan is still rockin' the bass, too! I think their set was cut a bit short for some reason, but the band did play "Piece Of Me," "18 and Life," "I Remember You," "Monkey Business" and wrapped up the set with "Youth Gone Wild." Harnell was a bit tired by then, but who wouldn't be singing seriously extended notes like that? Overall it was good.
Louisville rockers Flaw were next after Skid Row, so it looks like I was stuck on this side of the complex for a while. Flaw's set got pushed back an hour for some reason, so I patiently waited, but to me and all the bands fans, it was worth it when they got up there to a huge crowd and killed it!
The sound from the smaller stage was real good, too. The vocals sounded outstanding. Ryan Juhrs sounded killer on the backups and Jay Daunt was airborne for half of the show! How does he do that?
Chris Vols sounded fine on vocals as well. The crowd was totally into it too, seeming to get into it even more because they were local guys who made good. This is the second time they have played LTL and that just rules. I would have loved to have played that show. It must be nice!
The band played "Whole," "Disgusted," "Bleed Red," "Only The Strong" and "Payback." As of today, the band is back in town from the second leg of their tour, for a Halloween show at Diamond Pub! Welcome home, guys.
Three Doors Down was next and they did real well, too. I like vocalist Brad Arnold's voice, unlike others, he pulls off the stuff live very well. He sounds just like the CD.. His voice is very smooth and melodic, perfect for radio rock. They played "Here Without You" and it sounded killer, as well as "When I'm Gone" (which also sounded great), "Loser" (I hate that song) and, of course, their biggest hit, "Kryptonite." The ladies love 3 Doors Down, that's for sure. They were dancing all around. This band was made for radio play and I kind of think that's a bit lame. But if you want the money, then this is the road to take. They are no doubt a good band that performs well live. No disrespect there.
I made my way to the main stage finally after watching a few bands on the other side.
Pennsylvania's Breaking Benjamin rocked the house. I enjoyed their set very much. The sound out front was nothing short of awesome, much better than last year. I'm not too familiar with this band's music, just the radio hits. But I may have to remedy that, because they put on a good show! Strong stage presence, good guitar playing utilizing guitar effects to enhance their overall sound, tight drummer and a soulful vocalist in Benjamin Burnley, who can work a crowd well. They write good songs too. Maybe that's why they had a sweet time-spot when shit was really starting to get crazy out front. People started flying around, crowd surfing more often during their set. They played "So Cold" which was an eerie, cool tune, and their newest song, "Angels Fall" which I think someone's voice was a bit off (maybe the backup singer?), "Breath" (had a super fat bass tone), "Blow Me Away," the anthemic "I Will Not Bow," which had fists pumping into the air, and they ended with one of their biggest hits "The Diary Of Jane." They also did a medley of a few different songs, one being the imperial theme from Star Wars! Very appropriate, considering the world will soon be all Star Wars once again. I'm a big sci fi nerd, so I'm into it! The other medley parts were Pantera's "Walk" and Nirvana's "Smells Like Teen Spirit." Sounded great. "So Cold," "I Will Not Bow" and "The Diary Of Jane sounded the best. I had never seen them before and I was impressed. So was the crowd.
Slash and Myles Kennedy were up next and I managed to move up for a closer look up front since we weren't allowed to take pictures of Slash for some reason. The band started with a hard-hitting original called "You're A Lie" and the place went nuts. All reason went out the door and bodies poured over me one by one as waves of crowd surfers flew by overhead. You had to watch behind you, because if you didn't, chances are a boot or shoe would come down right on your head and you would be in trouble. I saw several people clobbered with legs and arms. A few were even knocked senseless. A friend of mines GF got clobbered. These crowd surfers were not small, either, like you might think. No, buddy, these were big dudes! Big, ugly work-boot wearing MF'ers! It got to where it was so dangerous and I could not watch the show for fear of getting a work-boot on top of my skull. I got to see some good music while I was there, though! But having sweaty dudes flying over, expecting me to lift their goofy asses was too much, so I fell back to a more reasonable spot.
Song-wise, you just knew they were gonna play some G N' R. They played "Night Train" (it was badass), "Sweet Child O' Mine" and "Paradise City," but that's it. The rest was Slash and Myle's music, songs like "You're A Lie," "Bent To Fly," and "World On Fire." The new stuff is pretty good, but it's no old G N' R. Oh wait, they did play Velvet Revolver's song "Slither." It was great to see Slash in action once again. I had only seen him live once before, way back in the day, opening for Alice Cooper here in town. He played masterfully this night, much better. Honestly, I think he was extremely coked up when he was with Alice Cooper, because they played the songs 900 miles an hour! Such great tone. Such soul. I love it when he plays the theme from the Godfather movie.
I admit I'm not a big Myles Kennedy fan. To me, the guy sounds like he uses too much vibrato. Vibrato overkill. He does hit the notes well and has a strong voice, but the extra vibrato sometimes ruins it, for real. Too much, bro, just chill and go with the flow! The two Guns' N 'Roses songs at the end were the icing on the cake for me! It was still a good show though, even with all of Myles' sheep vocal style.
Getting to where Lynyrd Skynyrd was playing was impossible coming from the Slash set, because of the massive capacity crowd packed in like sardines, so I had to be content in sitting at a halfway point and making-do. They sounded great, though! I loved it until some douchebag who is mad that I don't wanna be his friend anymore (because he is a drama-laden person with anger issues) started a fight with me. Anyone who knows me knows I'm a peace-loving guy, but do not push me too far. This guy finally did and I was fully prepared to defend myself in a most brutal way, but thankfully the guy went away when he saw that I called his bluff and wasn't messing around anymore. I hate fighting, but if you mess with me and force me to, I will f**king hospitalize you. I don't start fights, I end them. Fast and ugly. But the truth of the matter is, the last thing I wanted was to hurt someone I once liked and thought of as a good friend. It sucks that friends come and go like they do.
So I was pissed and I couldn't see shit of Skynrd from where I was at. But I enjoyed their set nonetheless. Lynyrd Skynrd played "What's Your Name," "Saturday Night Special," "That Smell," "Simple Man," "Gimmie Three Steps," "Call Me The Breeze," "Sweet Home Alabama" and ended the night with "Freebird." And yes, we redneck Kentuckians loved LS, and why not? They're Southern legends!
I barely made it to Shinedown in time to get pics, but I did! The crowd at LTL then was unreal. The biggest crowd in Louisville ever, besides the Derby. It was crazy! Shinedown came on and played a good set of chick rock n' roll. I'm not a huge Shinedown fan, but I can appreciate what they do. At one point while I was taking pics, right in the middle of a song, the singer of Shinedown, Brent Smith, ran up to me and stuck out his hand to grab my hand. I was thinking "What the hell does he want?" "Does he want me to jump onstage with him to do a song?" So not knowing what to do, I threw out my hand to him and he shook my hand first, before shaking a bunch of the other photographers' hands. He seemed like a good shit, a humble cat. Brent has a great voice, too. And he is a great frontman for getting the crowd into it and just chatting to them about this and that and to let the people know they care about their fans. Guitarist Zach Myers was all over the place and hard to photograph, just like Brent Smith! Those guys wouldn't stay still!
But I'm not a fan of their cover of Lynrd Skynrd's "Simple Man." To me, Smith overdoes it a tad. I like the original version much better. The band waded through a long set consisting of "Bully," "Fly From The Inside," "Unity," "45," "Cut The Cord," "Second Chance" and "Sound Of Madness." The band sounded fine, but it's just not my thing. They even brought the acoustic for a few tunes as well.
It was getting late, my foot was wasted and I was in agony. ZZ Top was the last band, thank god. They played a fun set of classics that even the young teenyboppers loved. Who don't like ZZ Top? It was kind of weird, really, seeing these young kids getting wild to ole ZZ!! I loved it. Maybe the new generation isn't so bad, after all. They put away trends and negative bullshit attitudes and had a blast hearing all kinds of music. ZZ Top sounded good, but they just don't seem to put in a lot of effort into playing as much as they used to. Billy Gibbons didn't really get into his solos like he used to. It was almost like he was half-assing them. But you gotta figure, this guy is way up there in age and for him to be able to do this for a good long set, he has to limit himself just to be able to get through the set. So I'm gonna cut ole Billy some slack. He's a Texas blues bad-ass and I love his music. They sounded good, I'm not saying they sucked at all! They had the outfits, the beards, the flashy guitars and they rock n' rolled Louisville for sure. They rocked out "Got Me Under Pressure," "Jesus Just Left Chicago," "Gimmie all Your Lovin," "Cheap Sunglasses," "I'm Bad, I'm Nationwide," a Jimi Hendrix cover ("Foxy Lady"), "Sharp Dressed Man" "Legs," "Lagrange" and "Tush." My favorites of their set were "I'm Bad, I'm Nationwide" and "Foxy Lady."
Time to go home. Luckily I parked down the road a bit, so I was able to get out at a reasonable time. Do not park in the soccer field next year! I was in pain, I stank, I was full of good grub (excellent food once again! the Island Noodles were the bomb!), semi-buzzed and I had gotten a shitload of review stuff and pics.
Louder Than Life was another success. Congrats to Danny Wimmer and his crew.
Once again, thank you! You people made a lot of people very happy. To be able to escape one's regular lives for a day or two means the world to a lot of us. And while I wasn't a huge fan of the lighter bands this year, I still had a ball and enjoyed the music very much and wouldn't have missed it for the world.
I'm looking forward to Louder Than Life 3! Enjoy the pics my friends and I got for you peeps!
Interview With Mercyful Fate Guitarist Hank Shermann:
I got very lucky and was able to interview one of my inspirations on guitar, Mr Hank Shermann of Mercyful Fate. Hell yeah! I love this guy's playing. It's so different and heavy, yet melodic as all hell. We chatted about music, guitar gear and his new project with fellow MF guittarist Michael Denner. Here is what Hank had to say.
Eddy: Hank, can you tell us about your new project with Michael Denner? How did it come about? And who are the musicians on the project and what bands have they been in?
Hank Shermann: We got onto the idea while recording our videos for Mercyful Fate's 30 years Anniversary for Melissa and Don't Break The Oath albums. It was a natural step to take it further and soon we were onto the idea to form a band and join forces once again. After announcing Denner / Shermann in September 2014 things went really fast – And before we even started to think into the line-up, we got a message from Sean Peck saying he read about our new project and was offering his vocals. We knew Sean from Cage and he has all the layers we were looking for as a singer and within a few days sent a song to him and we were on a roll with the song writing from the get go! Before Denner / Shermann was formed, I was in progress of recording songs for my solo band "Shermann Tank" together with Marc Grabowski, it was natural to bring Marc into the band as he is a very talented and experienced musician. He's most known to be the front leader of the Colorado band Corruption from 1990 - 2004. He also was the bass player in Demonica, a thrash metal band that I formed in 2009. Snowy Shaw was our first choice as the drummer as we regard him one of the best out there in terms of originality, being versatile and with his own signature. We have played with him in Mercyful Fate, both recordings and live shows, he was up for the task! Snowy is really an active musician and is known for playing with Mercyful Fate, King Diamond, Dream Evil, Sabaton, Therion and many more... We really have some cool musicians in the band.
Eddy: What do you guys have planned? A full album maybe? Or playing some festivals or maybe a tour?
Hank Shermann: All of the above. I'm in the middle of writing the songs for the full-length album and Sean and myself have almost 7 songs completed, need maybe 3 or 4 more songs and we will begin recordings mid-December and complete mix/mastering beginning February, with a release slated for May 2016! Right now we are working on possible show dates, including festivals and hopefully we can be on the road from sometimes in late Spring 2016 and on.
Eddy: How does the new stuff differ from what we are used to with the Denner/Shermann combo of days gone by?
Hank Shermann: As the main composer on both bands, it's quite the same way I write songs as I did in early 80s, usually jamming on the guitar and composing spontaneously, then shaping it in a direction that I feel is right and that I react to. Now 30 years later it sounds pretty much the same, because we both have our signature sound no matter what amp and guitars we play! Michael Denner has his signature melodic, more theme-based solos, as I am more aggressive in all I'm doing, both rhythm and lead. On "Satan's Tomb," we blended the styles that we are well known for, anything from more basic metal to more complex, tempo changes and more layers. For the upcoming album we get a bit more evil and complex in the song writing.
Eddy: You have jammed with Volbeat a bit – What is your affiliation with those guys? Good friends or family? Those guys no doubt look up to you, Hank! They have shown much respect to you.
Hank Shermann: It all started with Michael doing a guest solo on the "Beyond Hell/Above Heaven" album. I have met Michael Poulsen earlier at a Metallica concert here in Copenhagen, he is a big fan of Mercyful Fate, which ended up in me being offered to tour with the band for all of their 2012 concerts, they needed a new live guitarist at that point. I played 74 shows with Volbeat in 2012 and had great fun playing their songs. We toured US, South America and one head liner show in Europe. They are all really cool guys, down-to-earth types. A few months ago I also did a guest performance in Denmark playing for 370 fans.
Eddy: I'm a guitarist, too, Hank and I'm dying to know what your personal guitar rig is. Inquiring axemen want to know!
Hank Shermann: Okay, here we go – 1980s: Marshall 100 Watts 1959 and 2203 Models. Morris Super de Luxe Stratocaster with a humbucker DiMarzio Super-distortion added. Ibanez Tubescreamer and Boss Overdrive 1, Boss KM - 2. Boss TU12 1990s: Marshall 50 Watt 1987x with 4x12 vintage 100W cabs. Morris Super de Luxe Stratocaster with a Seymour Duncan SSL7 single coil. Gibson Flying V 1967 Reissue, Fender Stratocaster 1972 re-issue (Jap version) with fitted Texas Special Single coils. MXR Phase 100, MXR Microflanger, Tubescreamer TS9, Jim Dunlop CryBaby.
Today: Blackstar Amp Stage 60 with a 2x12 cab. Fender American Special with a fitted Seymour Duncan SSL7 single coil. Hank Shermann custom HSV with a fitted Seymour Duncan Invader.
Eddy: Thanks for taking the time to answer these questions, bro. I wish you and your new project all the best!
Hank Shermann: You're welcome - anytime, thanks bro, appreciate your support!
Here is a sample of the new project Denner/Shermann. A cool track called "Satan's Tomb."
Some old Mercyful Fate for ya as well. These leads are sooo badass.
Steel Panther Coming To Mercury Ballroom On December 2:
Awwww hell, I love these guys. This is a show not to miss! Not only are they funny as hell, but they are a very talented band. Did you know they used to be the best Van Halen tribute in the world? Singer Michael Starr does David Lee Roth better than David ever did! This will sell out, so if you wanna go, you better get your tickets asap! Trust me on this! People from all over will be coming to this show. These guys are selling out shows all over the world now, so don't miss out on the raunchiness, humor and musical explosion that is Steel Panther.
Sanctuary Review:
This was another one of my favorite concerts of the year, right up there with Fear Factory at Trixie's! Sanctuary, Seattle thrashers from the late Eighties, came to town for the first time ever and put on a helluva show. They were amazing. Such experience and humbleness. I felt as if I were watching something special, a second chance to see one of my favorite metal bands in action once again, since reforming a few years back. This was the first time they've been anywhere around here, so I wasn't going to miss it. I originally was going to open for them, but unfortunately my band broke up before the show. ( It's all good though, I have another band and I was just happy to be able to see an old favorite back in action.)
The local bands were on fire this night! They really kicked some ass, every one of them. Rockaway Drive sounded better than ever as vocalist Dani O' Dea wailed on the mic with his ultra-high notes. Dani sounded better than ever and his voice was perfect for this sacred opening slot. I love those guys. Good peeps there!
South Of Never is a newer band from Lexington, featuring well-known vocalist Mike Duncan, of the bands Pownd, Thunder Tribe and Shatter Messiah. While not nearly as heavy as Mike's usual music, the new band has a groove, good riffs, catchy melodies and more of a lighter classic rock/metal sound. It is good to hear Mike in music that's not so brutal. Whatever it was, I liked it. How can anyone not like Mike Duncan's vocals? The dude still puts people in awe to this day, after so many years rocking Kentucky. Mike is a good guy, too.
Untold Rellik is a hard working band from Frankfort that I like a lot, too. Vocalist Josh Glover doesn't have the ultra-high voice that the other bands had, but he jammed anyways, in his serial killer garb. Bands should be more theatric like Josh is. It's a true flashback to the good old days of fun metal. Then Kingslayer came on and killed. I really like this band from Louisville. I think some of the guys are from Lexington as well. The vocalist Chris Leone is a bad-ass. I really like his voice! It's operatic and smooth as silk and his vibrato technique is great. Chris should be touring Europe, playing festivals left and right! The other guys in the band jam big-time, too! Guitarists Mark Doss and Lucas Cummins work well together. Drummer Michael Kidd was killing those drums! Mark did so well, I chose him as Musician of The Month, based on this performance! Mark was shredding! I enjoyed their set very much. Great band!
Last of the locals was Fatal Step and a band I've been wanting to see for a while now. I wasn't disappointed at all. Wow! Those guys were awesome and they even appealled to an old-school fool like me, by playing Savatage's "Hall Of The Mountain King," which was sooo cool. It made me happy. I was right up front with my fists in the air.
Chris Leffler is a beast on guitar and yet still very melodic and emotional in his playing. It's not all just shredding 24/7. Vocalist Mike Barnes was very impressive with his ultra-high Rob Halford-esque vocals. And here I thought Barnes could only do the low, growly metal vocals. Boy, did I learn a thing or two! I once thought about possibly jamming with Chris in a project, but I'm glad I didn't, because Barnes completely destroys me on high vocals! They picked the right guy, because I couldn't hit those high notes if I placed my nutsack in a vise and cranked it to the max! Mike Barnes is the perfect man for the job. His voice got the highest of the night, I would say. Very impressive all around. I was hoping to hear their cover of Judas Priest's "Painkiller," but time was limited, so I didn't get to hear it. It's all good, though, I loved their set and became a fan for sure.
Next, it was time for one of my favorite bands, Sanctuary! I noticed bassist Jim Sheppard wasn't there and that bummed me out. I like that guy and in my opinion he is one of the most underrated bassists in metal! We've partied before. I was sad to learn that Jim wasn't doing so well health-wise. Several years back he told me he had stomach problems and had to have some of his intestines removed and apparently they had gotten worse more recently. I hope he gets better soon.
But the band had a good replacement bassist who did a great job. Guitarist Brad hull wasn't with the band either, which also bummed me out a bit, as I had watched videos of him playing and he was a guitar monster. But once again, the sanctuary guys can pick 'em pretty damn well, because Brad's replacement, Nick Cordle, did pretty well, too. The show was awesome!
They played ","Eden Lie Obscured," "Taste Revenge," "Sanctuary," the Jefferson Airplane's "White Rabbit," a few new tunes, including "Arise and Purify," "Exitium" and "Frozen," "Future Tense," "Seasons Of Destruction" and "Die For My Sins." I wasn't very surprised when they didn't play "Battle Angels." Yes, I wanted to hear it, but as a former vocalist myself, I understand why they didn't play it.
I will now defend my vocal hero Warrel Dane to douchebags who have been slamming him online on some of the live videos I watch of the band. First off people, have you heard "Battle Angels?" The chorus is an absolute MF'er to sing! The notes are very high and hard to hit. To those assholes who ran their mouths online, let's fucking hear YOU sing it, asshole, before you down a vocal legend like Warrel!! The guy is aged and his vocal cords are not that of a seventeen-year-old kid anymore! Get the fuck over it! The man has sung like a champion for many many years and now that he can't quite hit the higher note like he used to, you wanna give him shit? Pricks! Warrel sounded great this night in Louisville. I was chatting with one of Sancutary's roadies, a super nice guy and he even said Warrel sounded great that night! Singing the way Warrel sings is not easy on the voice. And time/aging makes things even more difficult. Hell, even Rob Halford cannot sing quite like he used to, but that doesn't mean I wanna insult him or like him less. I still love Rob, just like I still love and respect Warrel.
To me, both are metal legends and you should give them both the utmost repsect!
I finally got to meet guitarist Lenny Rutledge (the cat who writes all these badass riffs) at the bar and he was the super-cool, humble guy that I always thought he would be. We chatted for a few and I told him thanks for finally coming to town and that I love his music that he writes. Lenny ripped it up on guitar and looked happy as hell doing so. To me, it wasn't just another metal show, it was special. I got to see one of my favorite metal bands up-close and personal, and I got to see some great, cool, local bands rip it up big-time! I couldn't ask for more! My favorite songs of the night were "Eden Lies Obscured" and "White Rabbit."
Thanks to Terry Harper for making this show happen.
Machinehead Coming To The Mercury Ballroom On November 17:
You Machinehead fans should be happy about this one! More metal at The Merc. Sweet. Check out their new music. It's wicked!
Kerry King Of Slayer And King Diamond Talk Shit:
My Metal Blade peeps sent me a link to a cool interview you people should see, featuring King Diamond and Kerry King from Slayer, talking about their early careers, bands they love, signing autographs on babies and even doing shows together before they knew who each other were. This is cool. Also, Kind Diamond will be playing Atlanta on November 16 and Chicago on November 27. King will be playing the entire Abigail album on this tour, so it will be an all-out gem of a show to attend. I am seriously going to try to make it to one of these shows! It's a long drive, but to me, it would be worth it. Wish me luck. Long live the King!
!!
Pop Evil Coming To Mercury Ballroom On November 7:
Radio hit rockers Pop Evil will invade Louisville on Saturday, November 7 at The Merc, so get your tickets soon, because this might sell out. Be sure to show up early for Louisville rockers Signal The Revolution!
Nyc Legends Prong Coming!
NYC metal beasts Prong will be here again on Tuesday, November 10 at Expo 5. The last time Prong was here, they got screwed bigtime by the Louder Than Life event that just happened to be going on the same night. Needless to say it wasn't a big turnout since everyone and their mother was at LTL, sadly. Hopefully, this one will be much better for them. I love me some Prong!! They rock.
Kamelot And Dragonforce Coming In November:
Two rare metal powerhouses are coming to Expo 5 on Sunday, November 15. This is a must-see show! I've never seen Dragonforce or Kamelot before. Talk about some shredding guitars and soaring vocals! Wow. Besides, you never see these bands come around here much, especially Dragonforce! Yup, this is an old-school metal show of the ages and I hope to see you true metalheads there in force, for Dragonforce! Here are a few videos for ya!
Despite The Fallen, Wow!!
I got to finally see Bowling Green, Kentucky's Despite The Fallen. I had seen the name all over the place but hadn't seen them in action live yet until last night, when I finally played a show with them. Those guys are awesome! Awesome dudes and a really good band. The band consists of Trevor Smith on vocals, Tim Duke and Sam Trulock on guitars, Matt Davis on bass and Todd Hogan on drums. Vocalist Trevor Smith is a bad-ass on vocals. I was blown away by the soul and feeling in Trevors voice. He is now one of my favorite newer vocalists. Dude has a great melodic singing voice. And guitarists Tim Duke has great songwriting skills and layers guitars very well. Both guitarists did good! All of the bandmembers were talented and that made for a great listen. Live in action they really came across well. I'm listening to their new demo and it sounds great! They went to the perfect place in Earlygrayce Studios with Jordan Haynes, as he did our demo too. "Said And Done" is a new track that starts out with beautiful clean guitars. It's a bit of a laidback song even when it kicks in, but the feeling is definitely there in this track. This is a good song for radio play. I like the layered guitars in the chorus! I'm a sucker for beautifully layered guitars and this is a good example of that. Killer vocals. The song gets heavier towards the ending but not too much. This is a good song though regardless. "Sinking" is heavy melodic rock that hits you pretty hard. I like it. Killer vocals with awesomely produced effects. Wow. This song rocks! This tune is better to me. This should be on nationwide radio. Trevor really shines on this song and the guitar is off the hook. The chorus and the power of the vocals in the chorus is substantial. I see why they have been on so many good shows now.
Very well written songs and lyrics. The slow breakdown in the song works well too, especially when it kicks back into chorus. Top notch music from some cool southern KY rockers in Despite The Fallen.
I'm very impressed and love the fact that there is actual singing that kicks ass. There are way too many bands out there only interested in the cookie monster vocal approach to making music. But to me, nothing beats a damn good singer and DTF has that in spades! Keep up the good work guys! You have a new fan in me. And I can't wait till we play another show together. And BTW, Jordan Haynes did a killer job on your demo!! It's super-sweet.
Here is some live DTF.
Louisville Musician Of The Month - Guitarist Mark Doss:
Be sure to check out Kingslayer/Sons Of Medusa guitarist Mark Doss' feature this month! Dude is a beast on guitar and he is still very young!
Theories Of The Apocalypse Review:
I'm checking out the new video of "Mortal Ale" from Lexington metalheads Theories Of The Apocalypse. I haven't heard these guys yet, so this should be fun. Members are David Langley on bass/vocals, Anthony Grigsby on guitars, Gaige Blankenship on guitars and Will Jordan on drums. Seems to be some good metal! A bit old-school, but anyone who knows me knows that that is how I roll. These guys have some tight chops. Nice metal Chuck Shuldiner-esque vocals over some thrashy, tight riffage that sometimes borders on speed metal. Nice, busy as fuck drumming by Will Jordan. I like how they put the partying in practice space on video, reminds me of the Sister Sin "24/7" video! I like it. I'm a picky sumbitch, too! This is some good Kentucky metal. I'd like to hear some more. Fuck it, I'm gonna listen to a track called "Blind Assault." Already I like this track even more. This stuff is pretty brutal. The vocalizations and pronunciations are kinda wild, but it works. I dig the rhythms and groove of those rhythms. The guitars remind me of Sacred Reich a little bit. Bottom line is that these fellers can play and I'd like to see them in action! Fans of Death, Sacred Reich, Nuclear Assualt, should love TOTA. Here, check out their video yourself.
The Return Of Intak:
The guitarist Kris Walls, who formed the rap rock metal band Intak back in the day, is back with a new version of the band! Intak is now Kris Walls on guitar, Daymon Minton on bass, Billy Burton on vocals and Tommy Wright on drums. You can see their first show back at the 40 Below Summer show at Trixies on Friday January 15. Be there to support!
Caducus' New Members:
I got to see the new Caducus last night and boy was I impressed. They have recently made big changes and the new lineup is pretty damn good. They sound better than ever. On bass is Eric Gidcumb (former guitarist for Bury The Wicked) and he did a great job for only being in the band for a month. He nailed it and it sounded very tight. The new drummer is Chuck Hedrick. Both are talented replacements and should do well.
Year Of The Gun Has New Demo And A New Guitarist:
The band I play guitar for, Year Of The Gun, has added another guitarist after the sudden departure of our former guitarist. The new guitarist is Stephen Floyd Reznikov, formerly of Contortion, Tornacade, Poretrait of a Suicide and 10 Ton Hype Machine. Stephen is well known in the scene and has worked his butt off the last three weeks to get ready for our Halloween show. It's great to work with someone who is willing and able to put in the effort it requires to do things the right way. Welcome to the band, Steve!
DEMO Update – Our new three-song demo will be out in early November! We recorded at Early Grayce Studios in late September and it sounds fantastic! We couldn't be happier.
Songs included are "Can't Find My Wings," "Head In The Sand" and "Freaks And Black Sheep."
We'll be playing New Year's Eve with Flaw at Trixie's, so we hope to see you there!
Here is a sample of our new music, I hope you like it. The rest of the new songs are on soundcloud!
Cancer Battling Hero Randy Napier Passes away on 10/26/2015:
This was a day I knew was coming at any time. I didn't want it to come, but I knew it was upon us. Randy Napier quietly passed away on the morning of October 26, in the company of his son Joshua and his wife Stacey. Truthfully I didn't know Randy that well, but from what I knew of him it was easy to see he was way more than just a good guy, that are so rare these days it seems. Randy was a courageous cancer fighter and a firm supporter of the F**k Cancer Organization and Shirley's Way and supportive of our music scene and Randy apparently had an amazing voice from what I'm told. He was a very good father and husband. Randy's Bandaid For Cancer raised a ton of money for the cause and will now no doubt be an annual showcase in his honor!
Heck, when I first met him, Randy didn't even hardly know me, but when he heard us talking about our plight and he volunteered to lend us his passenger van so our band could play a Cannabis Festival show in eastern Kentucky. We had no transportation until Randy saved the day. Seriously, how many people would trust some long-haired tattooed stranger like me with your vehicle? Ha. I tell you, I took care of that van like it was my own and returned it with a full tank of gas. I was sooo appreciative of Randy's kind act. That was Randy! Always about helping people. The guy always had a smile on his face, no matter what he was going through. I don't think I've ever seen someone make the most of their life more than Randy did! His funeral will no doubt be huge and well attended. R.I.P., Randy! We love you, bro.
New Band Alert, Murica:
There is a new band called Murica, that is an instrumental project featuring masked musicians. The only person that I know of in the band is drummer Terry Harper, but he did say that some of the masked band-members are cousins of his! I'm listening to a music sample right now and it sounds like some pretty good stuff. Not very heavy but melodic rock/light metal. Maybe kinda Deftones-ish a bit? Some nice guitar layering/playing. Nice melody. Nothing too intricate or progressive, but there is some nice grooves going on in this recording. I'd like to hear more, but the song is just a short snippet of a sample, so it's hard to judge on just that. The drums sound good. Not too sure about that guitar tone though. Sounds a bit muddy on the rhythms, but the lead sounds with effects are rockin'. When I get more info/music on this new project I'll be sure to let you peeps know whats up. So far so good though! Murica, fuck yeah!
Coming soon to save the MF'ing day yeah! I love that movie.
LMN LIVE Videos!
!!LMN Live - Flaw Performing "My Letter" Live On The Road:
These guys have been busy as hell recently. Good for them! And props to them for the rockin' show at Louder than Life!
LMN Live – Whitener:
Former Days Of The New guitarist Tod Whitener is back with his project Whitener. You can see them at Diamond Pub opening for Scott Weiland (formerly of Stone Temple Pilots) on Wednesday, November 18.
LMN Live - Artifex Pereo:
Here is some live jams from these busy Louisville rockers. They have a tour coming up soon! Best of luck to those guys.
LMN Live - Shatter Messiah:
Here is a lil' Shatter Messiah for ya! For you young 'uns who know not of Kentucky native Mike Duncan's vocal prowess. Also featured is former Nevermore guitarist Curran Murphy! Cream of the crop Kentucky metal!
LMN Live - Dead Dick Hammer:
Glasgow, Kentucky's Dead Dick Hammer is returning after a short break and will be playing out again in 2016.
LMN Live – South Of Never:
Hailing from Georgetown Ky, these central Ky rockers jam!
LMN Live - Rockaway Drive:
Here's a clip of Rockaway Drive opening for Sanctuary at Diamond Pub.
LMN Live - Four Skulls, Rock From Catlettsburg, Ky:
Here is some new rock from Four Skulls, from Catlettsburg Ky. Decent vocals and some George Lynch-esque guitar playing!
Upcoming Shows:
The Brick Alley in Frankfort
Wednesday, November 25 — Kingslayer
Diamond Pub
Wednesday, November 18 — Scott Weiland and The Wildabouts w/ The Icarus Line and Whitener.
Tuesday, January 26 — Epica, Moonspell and Starkill. 7 p.m. $22
Expo 5
Wednesday, November 4 — Cannibal Corpse w/ Cattle Decapitation, Soreption and Order Of Leviathan. $22. 7 p.m.
Tuesday, November 10 — Prong w/ Granshaw, The Devil and The Darkness, Ky Ugly and Klinch.
Wednesday, November 11 — Bless The Fall, Stick To Your Guns, Emarosa, Oceans Ate Alaska and Cane Hill. 6 p.m. $20
Sunday, November 15 — Kamelot and Dragonforce. 7 p.m. December 18 Intronaut. 7 P.M $10
Tuesday, January 12 — Nile. 7 p.m. $20 Friday, January 15 40 Below Summer w/ Intak.
Friday, February 19 — Enforcer, Warbringer, Exmortus, Cauldron, Savage Master. 7 p.m. $12 Headliners Music Hall
Tuesday, November 3 — Yellowcard w/ New Found Glory and Tiger Jaws. 7 P.M $25
Saturday, November 21 — Villebillies w/ Elephant Room, Vice Tricks and The Tunesmiths.
Monday, December 7 — Attilla w/ Morning Augment, Heart Of Kings and A Rumor Of War.
Jillians
Tuesday, November 17 — Kingslayer.
Saturday, December 12 — Untold Rellik, Lethean, Havok, Sons Of Medusa, Fallen From Nowhere.
Saturday, December 19 — Granshaw, American bombshell, Too Seconds Too Late and more TBA.
Mag Bar
Saturday, November 21 — Sons Of Medusa
Massey's Entertainment Venue
(711 S. 4th street, Danville Ky) All shows here are All Ages.
Saturday, November 7 — Left To The Wolves CD Release Bash w/ Creature Of Exile, Granshaw and Death Bell.
Friday, November 27 — Mobile Deathcamp and Carnivora w/ locals Lethean and TBA.
The Mercury Ballroom
Saturday, November 7 — Pop Evil w/ Signal The Revolution.
Tuesday, November 17 — Machinehead.
Wednesday, December 2 — Steel Panther.
The Tim Faulkner Gallery
Saturday, November 14 — Atomic Thrillride, Blue Station and The Prodepressants.
Trixie's
Tuesday, December 8 — Deicide. 7 p.m. $20
New Years Eve — Flaw w/ Year Of The Gun,
Friday, January 15 — 40 Below Summer w/ Intak, Surviving Thalia & Incursion.
Wicks, Goose Creek Rd
Saturday, January 23 — Battle Of The Bands w/ Intak and others.