April 1989 Articles
Cover Story
Staff
Columns
Paul Moffett
Staff
Performance Reviews
Keith Clements
Dallas Embry
Jean Metcalfe
Paul Moffett
Jean Metcalfe
Calendar
Staff
Errata
Staff
LASC
Jean Metcalfe
Jean Metcalfe
Staff
Staff
Karen Le Van
Dallas Embry
Jean Metcalfe
Jean Metcalfe
Dallas Embry
Staff
Diana Black
Industry Review
Paul Moffett
Music Business News
Staff
Staff
Paul Moffett
Staff
Staff
KYANA Blues Society
Rocky Adcock
Cartoon
Dan Colon
Louisville Homefront
Dallas Embry
Staff
Sara Pratt
Staff
Staff
Staff
Staff
Blogs
Got Shows?
Send Them To Us
Bookmark Louisville Music News.net with these handy
social bookmarking tools:
Available RSS Feeds
- Top Picks
- Today's Music
- Editor's Blog
- Articles
Add Louisville Music News' RSS Feed to Your Yahoo!

Issue:


Down On The Corner
• A Page on the World Wide Web? It had to happen — Louisville Music News is now connected to the Web. The address, for you wireheads and music fans alike, is http://river-city.com/lmnews. The site is River City Online, run by Rob Totten. We just got it started, so everything is prolly not up and running perfectly, but we are going to provide the club and concert dates for the River City Online, plus pictures and stories. Sign on and say Hi!
• Atlantic Records Ditto. Atlantic's address is http://www.atlantic-records.com/home/. Getcher music clips here.
• You Read It Here First Dept. We got a list of dates for the Cherokee on the last day before deadline. The next to the last day before deadline, we heard from an unnamed source that the Cherokee was closing. Go figure. Call 'em before you go.
• Songwriter's Monthly Tidbit Div. From the October issue at Songwriter's Monthly, we read that Voodoo Love Taxi made a trip to perform at the Cutting Edge Music Conference in New Orleans a while back, courtesy of that magazine.
• More Open Stages? Louisville Pizza Company in Hikes Point is staging an Open Stage on Saturday nights, from 8-11 p.m. This one has a $50 prize attached, but you'll have to go there to find out details.
• If It's Not Digital, it's Video Dept. If you haven't shot your music video, you'd better get moving, because the RRote Awards have been scheduled for the third consecutive year. The deadline for entries is November 30! What!? See the related story on this page. .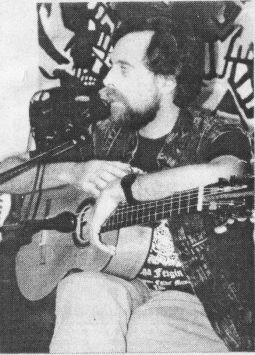 Misha Feigin didn\'t let a cold present him from having his cassette releases show at the Twice Told COffehouse on Oct. 7. Photo by Paul Moffett
• MERF TIME! Yes, MERF is staging their community show again this year. Sunday, November 5, you get more bands than you can hear in a serious night of club crawling and you don't have to go far. The Phoenix and Jim Porter's Good Time Emporium will each have several acts on each stage, so go forth and enjoy.
• Krekel Gets More Cuts Dept. No, Tim hasn't been smashing glasses, he and Matraca Berg have a cut, "Cry on the Shoulder of the Road," on Martina McBirde's new release. Fairdale's favorite Patty Loveless recorded the Krekel/Berg composition "You Can Feel Bad If It Makes You Feel Better." As if that weren't enough, Tim has been handling lead guitar chores for Marshall Chapman and the Love Slaves and opening Jimmy Buffett.
• Got an Unsigned Band? Musician Magazine has announced its 1996 Best Unsigned Band Competition. The deadline for entries is December 31, I995. Call 1-800-BUB-7096 for information, rules and an entry form. Some of the judges for this competition are Steve Winwood, Adrian Belew, Juliana Hatfield and Matthew Sweet.
• Wanna European Deal? Dig It International has created a rock label, Spell Records, and is soliciting promo packages from bands interested in distribution and/or record deals. We have no information about this label, but if you're interested you can mail your promo package to: Dig It International, Attn: Fabrizio Giruzzi, Via Fantoli 15, 20138 Milano, ltaly. (Don't put U.S. stamps on the package, it's a foreign country.)
• Agency News. Almost Noah and Big Head are close to wrapping up new CDs, according to Triangle Talent. Triangle has also signed the Nomads, formerly the Bash, to an exclusive deal.
• Letters to Cleo to Mary Mary? Local rockers Mary Mary got an unexpected surprise when members of Letters to Cleo joined them onstage at the Butchertown Pub during a recent gig.
• Do You Toot a Flute? The Louisville Youth Orchestra is forming a flute choir for the 1995-96 season. Flautists under 21 can join and get coaching from Kathy Karr, Principal Flute of the Louisville Orchestra. Besides that, you get to perform around town. Call Melody Welsh at 582-0135 for more info.
Also, the Youth Orchestra is still auditioning bassoon, low brass, percussion, harp and all strings.
• The Alley Theatre and Cafe, formerly the Highland Grounds, is open and doing business at 919 Baxter Ave. The current show, an adaptation of Franz Kafka's The Trial is running until October 30. Call 459-6478 for more information.
• Kentucky Contemporary Theater Moves Again. KCT has entered into a new alliance with Spalding University and will be using Spalding's on-campus theater. A free reception is scheduled for November 2 at the Spalding University Center Auditorium. Call 585-7140 for more info.
• Conferences and Such. The Kentucky Arts Council is presenting the 1995 State-Wide Arts Conference; called "Arts Connections – Celebrating Thirty Years," on December 8 and 9 at the Radisson Hotel in Lexington. if you register by November 22, the fee is $65, $80 thereafter.
The workshops, sessions and performances are too numerous to mention, but if you have an interest, contact the Kentucky Arts Council, 31 Fountain Place, Frankfort, KY 40601, or call Lori Meadows at 502- 564-3757.
The 23rd Annual International Associa- tion of Jazz Educators' Convention is set for January 11-14, 1996, at the Atlanta Marriott Marquis. This year the focus is: Dizzy Gillespie: Jazz Statesman. The list of performing artists, linicians and featured school, groups takes up a couple of pages in the brochure, so suffice it to say that the lineup is impressive. Name number two on the list is Jamey Aebersold. Wanna know more? Call 913-776-8744.