April 1989 Articles
Cover Story
Staff
Columns
Paul Moffett
Staff
Performance Reviews
Keith Clements
Dallas Embry
Jean Metcalfe
Paul Moffett
Jean Metcalfe
Calendar
Staff
Errata
Staff
LASC
Jean Metcalfe
Jean Metcalfe
Staff
Staff
Karen Le Van
Dallas Embry
Jean Metcalfe
Jean Metcalfe
Dallas Embry
Staff
Diana Black
Industry Review
Paul Moffett
Music Business News
Staff
Staff
Paul Moffett
Staff
Staff
KYANA Blues Society
Rocky Adcock
Cartoon
Dan Colon
Louisville Homefront
Dallas Embry
Staff
Sara Pratt
Staff
Staff
Staff
Staff
Blogs
Got Shows?
Send Them To Us
Bookmark Louisville Music News.net with these handy
social bookmarking tools:
Available RSS Feeds
- Top Picks
- Today's Music
- Editor's Blog
- Articles
Add Louisville Music News' RSS Feed to Your Yahoo!

Issue:
Upcoming Live Music
By Bob Bahr
Actor's Theatre brings some more blues to the Main Street area with "Blues in the Night," a musical featuring 27 songs from blues/jazz composers such as Bessie Smith, Duke Ellington, Alberta Hunter and lda Cox. The show, which has already received favorable reviews, ends its run on March 2.
Call 584-1205 for available tickets.
Playwright Tom Stoppard sees the surreal in philosophy, and translates the package into humorous, rapid-fire dialogue in "Rosencranz and Guildenstern Are Dead." The play shows up at the Alley Theater on March 2; the music news is that Pure Jesus, a dark and moody ensemble featuring not two but three O'Bannons (Wink, Terri and Mike), plays after the play. Admission to the play is $7 and admission to Pure Jesus is $5, but if you ask nicely, the folks at the Alley Theater will let you enjoy both shows for a ten-spot.
A different blend of music and drama occurs on March 2 over at the Palace Theatre — "Jesus Christ Superstar," featuring the man who made the role famous, Ted Neeley. Everyone should see this show at least once, if only to hear "l Don't Know How to Love Him."
Jerry Tolson, a stalwart of the U of L jazz program faculty, has put a jazz big band together, and they will play every Sunday in March at the Alley Theatre. For many local musicians, the Alley's back room is the best room in the city — atmosphere-wise. Bring your parents to this one. (Or bring your kids, and expose them to a classic sound and an integral facet of our nation's heritage.)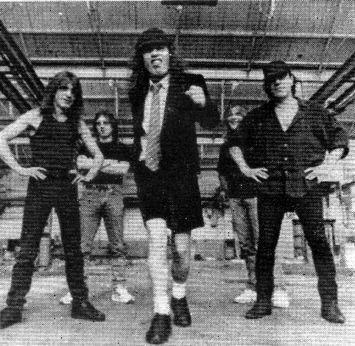 AC/DC
Jim Hubacher, a tech at the Kentucky Center for the Arts, injured himself while working on the set of "Phantom of the Opera." His medical bills are large, so some of his talented friends are ganging up for a dazzling acoustic music benefit. The lineup: Bela Fleck &'the Flecktones, Sam Bush, Emmylou Harris, John Cowan, Jerry Douglas and Chris Brubeck. The only bad thing about this show is the fact that it took a tragedy to orchestrate it. Head for the KCA on March 4 to lend a helping hand to Hubacher.
Candlebox, a band that "packs a formidable, ferocious wallop," will bang their way into the Palace Theatre on March 6. The Seattle quartet, which signed with Madonna's Maverick Records, will get some help with the show from Seaweed, a valid draw in their own right.
Blue Rodeo's live shows always outshine their records. Their last Louisville appearance started a fresh buzz about the band, so their concert March 7 at Phoenix Hill Tavern is likely to sell out. The music? A polished, perfectly executed brand of roots rock with country and folk influences from Canada.
Either you get Leon Redbone, or you don't. Enough people do to pack clubs for every local appearance of this decidedly eccentric musician. No one roots through the closet of early popular music like Redbone. Put on your zoot suit and slide into the Backstage Blues Cafe (Coyote's) on March 11.
lf you are more the black concert T-shirt type of person, ramble over to Freedom Hall for a little AC/DC. Same as they ever were, same as they ever were, same as they ever were. No band knows how to recycle three hard rock chords to better effect than these Aussies. Besides, Keith Richards says they are one of his favorite bands. The show is on March 11, but buy your earplugs now.
David_Ball, who comes from a "Texas dancehall tradition," is the country artist responsible for the hit "Thinkin' Problem." l'm not even going to touch that one. Ball's at Coyote's on March 14.
Worried about the future of jazz? Reassure yourself on March 14. That's the night that Nica's Dream, a group of underage musicians who met at Ballard High School, play their straight-up jazz at The Rudyard Kipling. They don't charge a cover, but they accept donations. Music starts at 7:30 p.m.
The IBMA named Continental Divide the best new band of 1995. See if they deserve it at their March 15 concert at the West Point Country Opry, about ten minutes south of the Snyder Freeway in West Point, Ky.
If you still can't shake the blues because Jim Morrison left us much too soon in 1971, consider seeing the Back Doors at Phoenix Hill Tavern on March 16. Yeah, it's like substituting carob in that chocolate cake recipe, but what else can you do? Nothing, until the Venetians decide to return Morrison to our planet. What, you think he really died?
The only conspiracy behind the Backstage Blues Cafe's killer St. Patrick's Day party is the motive of selling beer, and that is arguably just a matter of supply and demand on March 17. Look over the green brew in your mug and see Tim Krekel sit in on guitar with Marshall Chapman, plus members of the Coral Reefer Band (Jimmy Buffett's group) jam out at this section of Coyote's Corner.
Webb Wilder, who hits this town like clockwork in order to keep his fans happy, makes an appearance at Phoenix Hill Tavern on March 17. No? Okay, how about Tesla, a hardrock band that ignores musical trends and just keeps riffing away. They appear at the Palace on March 17.
lf you've heard the name of Susan McDermott before, then you are a fan of singer/songwriter music. She hits The Rudyard Kipling on March 19.
Perhaps what makes BigAl & the Heavyweights so good is that New Orleans flavor that Al Lauro brings to the blues, a Professor Longhair-style rhythm that'll make you shake it. You'll also hear a little Albert King in their sound, plus maybe a bit of Muddy Waters (Heavyweight harp blower Rogie Ray was in Mr. Waters' band). Big Al and the boys rock the Backstage Blues Cafe on March 22.
Ask five Irishmen who the best Celtic band is, and you'll likely get five answers. But Altan will be one of them. The Irish group plays the Kentucky Center for the Arts as part of the Lonesome Pine Special series on March 22.
The cajun/zydeco band Beausoleil put out an album titled Vintage Beausoleil last year, and the CD sneaks into my player on a regular basis. Earthy, emotive and alternately melancholy and festive, Beausoleil is a very special band. I suggest you not miss their appearance at the Backstage Blues Cafe on March 25.
Pick of the Pickin's
Blues
Big Al & the Heavyweights, March 22
Bluegrass
Dry Branch Fire Squad, March 29
Cajun
Beausoleil, March 25
Eclectic
Leon Redbone, March 11
Rock
AC/DC, March 11
Overall
Fleektones / Sam Bush / John Cowan / Emmylou Harris, March 4