April 1989 Articles
Cover Story
Staff
Columns
Paul Moffett
Staff
Performance Reviews
Keith Clements
Dallas Embry
Jean Metcalfe
Paul Moffett
Jean Metcalfe
Calendar
Staff
Errata
Staff
LASC
Jean Metcalfe
Jean Metcalfe
Staff
Staff
Karen Le Van
Dallas Embry
Jean Metcalfe
Jean Metcalfe
Dallas Embry
Staff
Diana Black
Industry Review
Paul Moffett
Music Business News
Staff
Staff
Paul Moffett
Staff
Staff
KYANA Blues Society
Rocky Adcock
Cartoon
Dan Colon
Louisville Homefront
Dallas Embry
Staff
Sara Pratt
Staff
Staff
Staff
Staff
Blogs
Got Shows?
Send Them To Us
Bookmark Louisville Music News.net with these handy
social bookmarking tools:
Available RSS Feeds
- Top Picks
- Today's Music
- Editor's Blog
- Articles
Add Louisville Music News' RSS Feed to Your Yahoo!

Issue:
Phovorite Stories
Maybe Just One More Encore?
Sam Bush, NewGrass Revival
"The Phoenix Hill was the first place I realized that I could play really great and still be called an 'a**hole' by the manager when I came off the stage.
"I mean, at 2:30 in the morning, there are thirty or forty people who have another hour or two to work [before they can go home], and here's Duckbutter [Blues Band] playing long.
"It's an important thing to understand."
I'll show you mine
Londa Crenshaw, solo performer:
"One night, a guy [unzipped his pants] and showed me his [sex organ]. I looked at it and said, "That looks just like a penis, only smaller."
"He slithered right out of the room."
Dave won't be here again tonight
Jimmy Lenz, Gypsy Dave's Sideshow:
"We used to do Falls City Beer commercials from the stage. We were the only band Benny would let bring in our own beer. We'd offer to buy everybody a Falls City, then, of course, since the bar didn't sell, it we'd have to say "Never mind."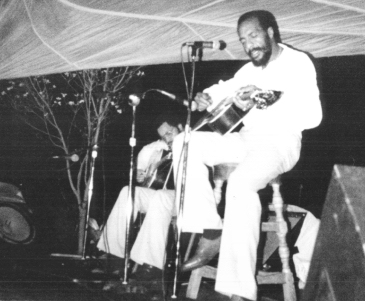 Rochie Havens at the Hill, May 1979. Photo courtesy of Phoenix Hill Tavern
"Gypsy Dave played there when it was just the Taproom. Benny showed me the Saloon before he built it and it was just this old garage and I thought, 'Gosh, this isn't going to work.'
"We were playing the night they first turned on the big fans [in the Saloon]. They gave everybody these little pinwheels to wave and there was a big countdown. It was pretty cool."
The underwear show
Cam Flener , The Velcro Pygmies:
"The very first time we ever played there was in the Roof Garden. At the beginning of the second set, we decided to put it over the top, so we played the entire last set in nothing but our underwear.
"Victor, the manager at the time, didn't like it one bit. He was really upset, but they didn't stop us because the place was packed.
"The crowd loved it.
"When we were done, Victor really lit into us. But we wanted them to know we were at the Phoenix for good."
No place like home
Sheila Lawrence, The Names:
"One night we were playing there and the place was packed, everybody was getting really drunk. I was standing in a big line for the bathroom when this girl came stumbling out and she was really loaded, staggering drunk.
"She had her skirt tucked into her pantyhose.
"We all just looked at her and nobody said a word. She went on by.
"We figured her boyfriend would tell her.
"Ben always treated us like family. The Phoenix was the first place that hired us, so I always thought of it as home.
"We got really popular, so in 1984, Courtland decoupaged a Silvertone guitar with our names and pictures and articles about the band.
"I still have it in my living room.
"When the Names broke up, they had a big farewell party for us. They opened those huge back doors and brought in this cake that was as big as one of those long tables and they had the whole band drawn in icing on this cake.
Didn't they tell you not to touch the tent in the rain?
Peter Searcy, Starbilly
"Every time we play there, something weird happens, somebody's always yelling out something for us to do.
"We were there one time when the [canvas] roof bulged like a water balloon. If somebody had been under that thing when it broke, they would have been bathed."
"We've played two of the rowdiest nights to play there, Derby and New Year's, so a whole lot of people see us who we would never play in front of.
"It's become one of my favorite places to play. They've really taken up the slack [for original and alternative bands] since there is no longer an 'alternative' bar in Louisville.
Some nights, it really works
Frank Green, Dodge City:
"We played the first or second of the original Wednesdays and the room was packed. We were an originals band and it was hard to find places to play. It was the best musical experience, the most utterly satisfying experience I ever had, bar none. After that night, I realized playing music was what I had to do for the rest of my life. Now every time I walk in that place, that's what I think about."
He must not play guitar with his teeth.
Beverly Howell, MERF & Media Events:
"One of the great parties at the Phoenix was the MERF show in 1993 with Lonnie Mack, plus Keri Lee and the Blue Devils.
"Marvin Maxwell and Lonnie were having a few at the Phoenix. That was the last time I saw Lonnie with his teeth [that night]."
"He liked to take out his dentures when he played, but after he performed, he couldn't find them again.
"We called the hotel where he stayed and they searched everywhere, including the laundry but no luck.
"He finally found them the next day.