April 1989 Articles
Cover Story
Staff
Columns
Paul Moffett
Staff
Performance Reviews
Keith Clements
Dallas Embry
Jean Metcalfe
Paul Moffett
Jean Metcalfe
Calendar
Staff
Errata
Staff
LASC
Jean Metcalfe
Jean Metcalfe
Staff
Staff
Karen Le Van
Dallas Embry
Jean Metcalfe
Jean Metcalfe
Dallas Embry
Staff
Diana Black
Industry Review
Paul Moffett
Music Business News
Staff
Staff
Paul Moffett
Staff
Staff
KYANA Blues Society
Rocky Adcock
Cartoon
Dan Colon
Louisville Homefront
Dallas Embry
Staff
Sara Pratt
Staff
Staff
Staff
Staff
Blogs
Got Shows?
Send Them To Us
Bookmark Louisville Music News.net with these handy
social bookmarking tools:
Available RSS Feeds
- Top Picks
- Today's Music
- Editor's Blog
- Articles
Add Louisville Music News' RSS Feed to Your Yahoo!

Issue:


I've Got A Mind To Ramble
Coyote's had to clear the floor of line dancers Monday Oct. 7 to make room for a packed house, there to see Koko Taylor & Her Blues Machine. Tanita Gaines and the Accused opened.
KoKo came out in a shimmering silver-sequined dress and sporting a new matted straight 'do. Her 61 years are beginning to show in her face, but when she takes the mike, she sings like a woman possessed, growling and strutting.
With a new Alligator CD, Force of Nature to promote, she wasted no time getting to the "new" tunes: "Hound Dog," which she dedicated to Big Mama Thornton and "Mother Nature." Her set included some old favorites, including "I'm a Woman," "Come Home to Mom's," which was like getting re-acquainted with old friends.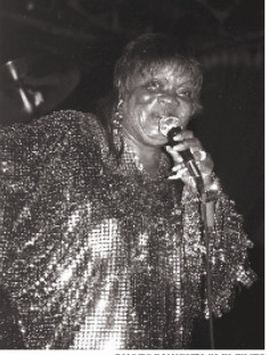 Koko Taylor at Coyote'. Photo by Keith Clements
Taylor closed out the evening with Willie Dixon's "Wang Dang Doodle," which has become her trademark. Koko's Blues Machine was, as always, a tight, intense band, with Vino Louden fronting the group on lead guitar.
The "Queen of the Blues" has come a long way since she first arrived in Chicago from Memphis in 1953 to work as a domestic servant. She now has a total of fifteen W. C. Handy Awards, has recently gotten married again and just opened a her own blues club on the north side of Chicago.
The Accused could well be called the Louisville Blues All-Stars, with Rick DeBow blowing sax and flute, John Burgard and Reed Davis trading guitar licks, Gene Wickliffe drumming and Greg Lynch playing bass. It's a solid band backing up Tanita's powerful vocals on favorites like "My Pony" and Rusty Ends' classic, "Midnight Screams." We are fortunate to have Tanita performing locally, for she has the talent and poise to move on to bigger things.
At The Gate
Mother Nature was extremely kind to the Garvin Gate Blues Festival this year, blessing the Oct. 11-13 event with three perfect, cool and sunny fall days in a row. The result was a record attendance, according to Garvin Gate Neighborhood Association President Howard Rosenberg.
On Friday night, the Kyana Blues Society presented the 1996 Sylvester Weaver Award to Mary Ann Fisher. (An article about Mary Ann Fisher will appear in the November edition of the KBS newsletter, Blues News.)
Headliner Deborah Coleman and the Thrillseekers made their second Louisville appearance on Friday. The Virginia-based singer and guitarist is all business with a no-nonsense, straight-ahead style of blues. Her set provided a sharp contrast to the rapping, raunchy, soul blues that Sweet Alice Hoskins offered.
The Revelators opened on Saturday. This duo is the Blues Brothers reincarnated, only with Jimmy Gardner's twisted sense of humor as the guiding light and a rough, gritty sound out of their amps, suitable for a street gig at Chicago's old Maxwell Market. Besides that, they're funny.
At last year's Garvin Gate, those who knew him were worried about Jim Rosen's health, but nothing sort of a miracle has occurred during the past year. Rosen was all over this year's festival, performing each day and sounding better than ever on harp.
He's hosting a new radio blues show, "Blues Before Noon," on Fox 100.5 FM each Sunday from 9 to 10 a.m. He and his band, the Mudcat Blues Band, have a new CD, I Wanna Play In Your Big Back Yard on X-tactic Records. It's an outstanding recording that shows the band's and Rosen's diverse blues influences, including Tim Krekel and John Burgard. (See Michael Campbell's review of Big Back Yard on page )
After their strong set on Saturday, Mudcats' lead guitarist Rob Pickett said "It seems like we were playing for only ten minutes."
Next was Chubby Carrier and the Bayou Swamp Band, who transported the crowd to Lafayette, Louisiana for some zydeco party music. From the moment Chubby hit the stage, toting his Gabbanelli accordion, it was a non-stop romp: the stage platform and the speakers were visibly shaking. A hot gumbo of blues, Cajun, gospel, soul and New Orleans funk, Carrier's zydeco was a new experience for many in the audience, but everyone got caught up in the excitement.
Sunday featured Jimmy Dawkins, the veteran Chicago guitarist. Instead of his usual band, he "captured" Eddie Shaw and his Wolf Gang. They seldom have the opportunity to play together, due to their busy traveling schedules, so it was a rare treat to hear Dawkins' guitar and Shaw's sax backed by Shorty Rogers, bass, and Jimmy Rogers' son, Jimmy Jr., on drums. Standing in the corner was Eddie's son, Vaan Shaw, playing some extraordinary guitar solos. Picking on a vintage Gibson, young Shaw quoted some of the West Side sounds of Magic Sam's "Easy Baby" and "Guitar Man."
I did notice that Eddie Shaw quickly backed off his harp and concentrated on singing after Jim Rosen blew a few tones.
There isn't enough room to mention all the other excellent bands that played this year. They helped to make this year's festival one of the best.
A couple of corrections from October's column:
The winner of the Music City Blues Contest was the Shack Shakers, not the Soul Shakers.
Snooky Pryor sang "Pitch a Boogie Woogie," not "Patch a Boogie Woogie."