April 1989 Articles
Cover Story
Staff
Columns
Paul Moffett
Staff
Performance Reviews
Keith Clements
Dallas Embry
Jean Metcalfe
Paul Moffett
Jean Metcalfe
Calendar
Staff
Errata
Staff
LASC
Jean Metcalfe
Jean Metcalfe
Staff
Staff
Karen Le Van
Dallas Embry
Jean Metcalfe
Jean Metcalfe
Dallas Embry
Staff
Diana Black
Industry Review
Paul Moffett
Music Business News
Staff
Staff
Paul Moffett
Staff
Staff
KYANA Blues Society
Rocky Adcock
Cartoon
Dan Colon
Louisville Homefront
Dallas Embry
Staff
Sara Pratt
Staff
Staff
Staff
Staff
Blogs
Got Shows?
Send Them To Us
Bookmark Louisville Music News.net with these handy
social bookmarking tools:
Available RSS Feeds
- Top Picks
- Today's Music
- Editor's Blog
- Articles
Add Louisville Music News' RSS Feed to Your Yahoo!

Issue: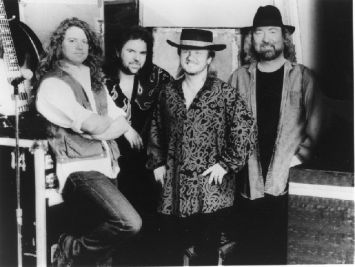 .38 Special
Upcoming Live Music
Derby Events
By Paul Moffett
Go to the infield on Thursday, May 1 and Friday, May 2 for a couple of concerts featuring Better Than Ezra, The Hunger and Almost Noah, plus one additional national band for Friday to be named later. Tickets are $2 on Thursday and $15 on Friday. Activities begin early Thursday and earlier on Friday.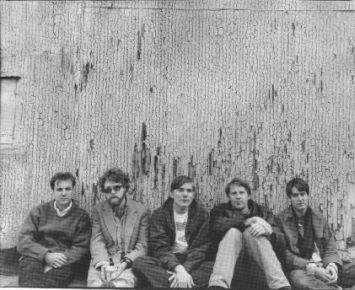 Pavement
The Derby Eve Jam at Freedom Hall is the granddaddy of Derby Eve shows. This year, the bands will be Bush and Veruca Salt. You can go see for yourself if Bush is as great as discussed at length in Rolling Stone. Tickets are reserved and will set up back $25.50.
Tix and info: 361-3100
At the Macauley Theater, you can see Pavement (the band, not the road) on Derby Eve for a mere $10 advance, $12 day of show. This is an all-ages event, so you can go with your kids, if they'll agree to your unhip presence. Like 60 will open at 7 p.m., followed by Shudder to Think.
Tix and info: 361-3100.
Acoustic & Folk
Calling all baby boomers and echo boomers! Unpack the tie-dyed shirts, scrounge up the beads and headbands, roll one and head for the Palace on May 13 for Crosby, Stills and Nash. What else is there to say except Neil Young is not with them. The only serious question is have they applied for a "Concealed Carry" permit in Kentucky yet.
Tix and Info: Ticketmaster
Festivals
The Red Mule (formerly Red Mile) Bluegrass Festival has moved to the Walnut Meadow Campground in Berea. The festival runs May 15-17 and scheduled performers include the Osbourne Brothers; J. D. Crowe and The New South; Dr. Ralph Stanley; Continental Divide; Eastbound; Gary Brewer; Sam Wilson; and several more.
Tix and info: 606-985-9000
Appalshop's Seedtime on the Cumberland Festival of Mountain Arts in Whitesburg is set for May 29-June 1. In addition to the various exhibits, videos, crafts and workshops, performers set to play include Sparky Rucker; Guy & Candie Carawan; Etta Baker, John Jackson; the Northern Kentucky Brotherhood; Catfish John and more.
Tix and info: 606-633-0108
Blues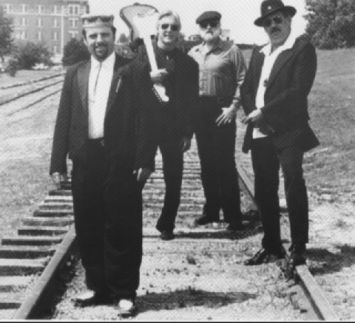 Big Al and the Heavyweiths
Bless Big Al's heart, he takes care of business, always keeping us here at LMN apprised of his Louisville doin's. Since he and his band the Heavyweights are on Scott Mullins' Rollin' and Tumblin' Records, Big Al says he feels like they're a local band – at least as far as coverage in LMN is concerned. He's particularly happy that his Rollin' and Tumblin' release, That Ain't Nice, picked up a nomination for Blues Album of the Year by the Nashville Entertainment Association. They'll be playing a two-night show at Stevie Ray's on May 23-24.
Tix and info:
Celtic
The Glasgow Highland Games, set for May 30-June 1 at Barren River Lake State Resort Park, celebrate "family and Scottish Heritage." That means there'll be a Ceilidh, Caber and hammer tossing, stone throws, a Battle Axe competition and a bunch of music, including ballader Colin Grant-Adams and the Celtic rock group 7 Nations. Too much.
Tix and info: 502-651-3141.
Contemporary Christian
Guardian, Crystal Flight and Miss Angie will be in concert at Iroquois Amphitheater on May 1 & 2, at 7:30 p.m.
Tix and info: 363-3792
Country
If you're avoiding Derby, you could do worse than to slide down to Renfro Valley for one of two Vern Gosdin shows on Derby night. "The Voice" hasn't performed around here for some time, so his fans should be excited about this appearance.
If Vern's voice isn't what you want, how about Don Williams? He'll be at Renfro Valley on May 24 for two shows.
Tix and info: 800-765-7464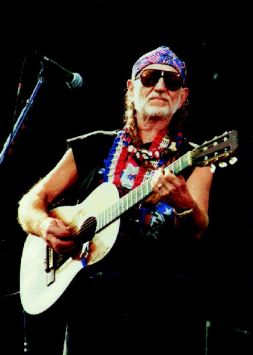 Willie Nelson
If you're talkin' country music, you can say "Willie" and that pretty much sums it up. He'll be at Coyote's on May 20 for a concert. Get in line and have your plastic at the ready. Tickets are $32 in advance.
Tix and info: 589-3866
Willie's prices are too high, you say? Didn't you see that he just finished paying off the IRS? Oh, well, okay, wait a week. Ty Herndon will scoot into Coyote's on May 27. Tickets are a more affordable $10 in advance.
Tix and info: 589-3866
Handbell
Bells will ring the Sunday after Derby and they won't be church bells or the internal variety caused by too much fun the day before. These bells will be handbells, at a Joint Handbell and Instrumental Concert presented by Crescent Hill Baptist, Harvey Browne Presbyterian and Highland Baptist Churches. Featured performers include the Crescent Hill Prime Time Ringers, the Harvey Browne Agape Chimes and Allison Smith, solo handbell ringer. The Crescent Hill and Highland Baptist Church orchestras will also play. If you've never been to a handbell concert, make a point of getting to this one. It's at 6:30 p.m. in the Sanctuary of the Crescent Hill Baptist Church.
Tix and info: 896-4425
Jazz
Bloomington's Beeblebrox will be back at the Twice Told on May 4. The Atherton High Jazz Band will play on May 5, so go see what the kids are doing.
Pop
Teshnicks, arise, the John is coming to the Palace Theatre on May 21. Will he jam longer than at Red Rocks?
Tix and info: 36-13100
Solo/Acoustic Performers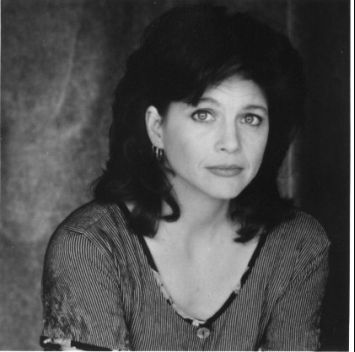 Carrie Newcomer
Bloomington's Carrie Newcomer, a Rudyard Kipling regular, returns on for a Derby Eve show. Newcomer has been getting the proverbial buzz for her My Father's Only Son on Rounder Records. She will have copies for sale at the show.
Tix & Info: 636-1311
Another Rounder musician, Ellis Paul, returns to the Rudyard Kipling on May 6, en route to a show at the Bluebird Cafe in Nashville two days later. His last show in November was successful enough to warrant a return, albeit on Tuesday night once more. He continues to promote his Rounder album Carnival of Voices.
Kiya Heartwood fans will be thrilled to to know that she is back in a new group called Wishing Chair. Well, Kiya and Miriam Davidson constitute a group, yes? They will be at the Twice Told Coffeehouse on May 7 for an 8 p.m. show.
Other notable folkish shows at the Twice Told Coffeehouse in May include Richard Buckner on May 6; Tim Krekel solo on the 10th; Nashville's Joni Bishop, May 15; Carol Noonan on the 27th and Peter Mulvey, who was just at the TTC on May 31.
R&B/Soul
Jerry Green & Friends is bringing in Percy Sledge on May 15. JG&F is located in the hotel at Brownsboro Road & I-264.
Rock Etc.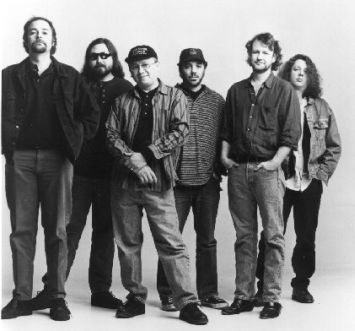 Widespread Panikc
Widespread Panic will incite some at the Palace Theater on May 7. The group will not have an opening act for this show and will start at 8 p.m.
Tix and info: 361-3100
We've had The Sea and the Bells from Rachel's, now we have the sea & cake, a band that will be playing at the Toy Tiger on May 6. I know nothing. about this band that wasn't be printed in really tiny type on a post card.
Tix and info: 456-1137
How about a series of FREE concerts downtown, beginning on May 23 and running for nine more consecutive Fridays? The events are called Rockin' at Riverpoints and they will be held on the Wharf Area of Louisville's Waterfront Development Project, with three local acts kicking things off at 5 p.m. The national act will go on at 9:30 p.m.
The lineup is as follows:
May 23, .38 Special; May 30, Southern Culture on the Skids; June 6, Beatlemania; June 13, Charlie Musselwhite and Duke Robillard; June 20, Kansas; June 27, Zachary Richard; July 4, Lee Ann Womack; July 11, David Wilcox and Saffire (The Uppity Blues Women); July 18, Joe Ely and July 25, the Fixx.
Pretty good schedule, eh? Media Events is booking these concerts. They can be contacted at 479-3300.
At the Bluegrass Brewing Company, far from the highly competitive music environment of the Bardstown Road/Phoenix Hill/Downtown area, the music in May looks good. After the Derby Parade on May 1, you can catch the eclectic neo-hippie band Ekoostik Hookah. Derby Eve, it's the Galoots. Derby Night, Colonel Bruce Hampton and the Fiji mariners will not rescue any aquaria but he will rock and roll.
Later in month, El Buho (the Horn Guy from Phish) returns for some Latin-flavored jazz on May 17.
Tix and info: 899-7070
The Twice Told Coffeehouse has a couple of sort-of rock shows in May, including Jennifer Kimble, with Laura Shine's Miss Jane opening, on May 13. Greg Foresman will do his unplugged thing there on the 23rd, as will Kelly Richey on May 25.
Tix and info:
Out at Lexington Road and I-64, Jim Porter's is bringing in the World's Greatest Party Band, NRBQ, on May 22. Here's Joey, here's Terry, where's Fergie? Maybe he'll show up and play "Flat-Foot Floozie" or "Hot Walker Blues" with the guys.
The queen of Cajun-flavored Texas boogie-woogie piano, Marcia Ball, will swing those long legs for the boys to admire and play the beejeebers out of the eighty-eights at Porter's on May 29. The next night, B. J. Thomas will sing his big hits in the Ballroom.
Tix and info:
Strange Music
The International Strange Music Ensemble will offer a pair of concerts at the Iroquois Amphitheater on May 23 & 24. The ISME includes John Tierney, Dick "Richard" Albin, Anne MacFie, Nancy Barker-Johnson and Steve Lyon. The group plays music on any of a number of "instruments" – car horns, empty bottles, vacuum cleaners and even the occasional "real" instrument. Kentucky music fans will recognize several of these performers from the Kentucky Music Weekends that happen at the end of July.
Tix and Contact: 502-584-7777