April 1989 Articles
Cover Story
Staff
Columns
Paul Moffett
Staff
Performance Reviews
Keith Clements
Dallas Embry
Jean Metcalfe
Paul Moffett
Jean Metcalfe
Calendar
Staff
Errata
Staff
LASC
Jean Metcalfe
Jean Metcalfe
Staff
Staff
Karen Le Van
Dallas Embry
Jean Metcalfe
Jean Metcalfe
Dallas Embry
Staff
Diana Black
Industry Review
Paul Moffett
Music Business News
Staff
Staff
Paul Moffett
Staff
Staff
KYANA Blues Society
Rocky Adcock
Cartoon
Dan Colon
Louisville Homefront
Dallas Embry
Staff
Sara Pratt
Staff
Staff
Staff
Staff
Blogs
Got Shows?
Send Them To Us
Bookmark Louisville Music News.net with these handy
social bookmarking tools:
Available RSS Feeds
- Top Picks
- Today's Music
- Editor's Blog
- Articles
Add Louisville Music News' RSS Feed to Your Yahoo!

Issue:

Second Thoughts
Kentucky Opera Gets a New General Director
Deborah Sandler has been named as the Kentucky Opera's new General Director. Sandler is currently the head of Opera Festival of New Jersey.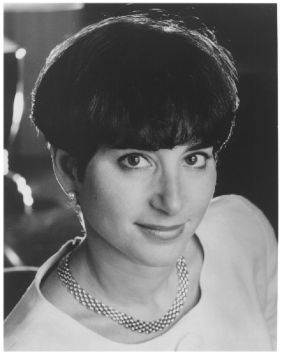 Deborah Sandler
A native of Philadelphia, Sandler has been Director of the New Jersey organization since 1992 and will take over the full-time position with Kentucky Opera in August.
Sandler brings literally a lifetime of close and knowledgeable involvement with music.
"I was mesmerized by the wonders of the piano when I was three," she noted. She learned to play the harpsichord, the cello and the piano and sang with the All Philadelphia Chorus and the All City Chorus at Temple University, where she earned a B.A. in Music. Her choral activities included singing under two legendary giants, Eugene Ormandy and Ricardo Muti, both of whom wielded batons for the Philadelphia Orchestra.
Ms. Sandler has a M.A. in musicology from New York University, where she also completed her doctoral course work and American Symphony Orchestra Management Training.
She mixes these musical credentials with mature enthusiasm:
I am tremendously excited to be joining the Louisville community. Building on the strong foundation already in place, I have great expectations of working with current and future audiences to make Kentucky Opera a vibrant and dynamic expression of great music and great theater."
During her term in New Jersey, the company's budget was tripled and she increased the annual number of performances from eight to as many as fifteen, while also increasing the total number of productions . Her production choices integrated time-welcomed works with carefully chosen modern operas. The latter included a world premiere of "The Tempest," "The Rake's Progress," "The Light House" and "Susannah."
This prompted Kentucky Opera Board President Juckett to tell Louisville Music News "We feel Ms. Sandler's combination of creative and administrative skills will take Kentucky Opera to new levels of artistic as we enter the Twenty-first Century.
LMN asked her how she prepared audiences to receive and enjoy these operas and she responded:
We tailored information and education programs for both adults and young people by bringing in top notch talents to discuss these works with them. For instance, we offered a stimulating panel on libretti with some outstanding librettists."
There is no substitute for interesting educational programs. But I want to learn as much as I can about Louisville music tastes and interest before discussing any hopes I have about future activities."
As Sandler is committed to oversee Opera Festival of New Jersey's 1998 summer season, Acting Director General William P. Winkler will continue in his current role until August.
Opera is for Everyone
By Henry C. Mayer
Would you like to see opera in the making? On Friday, February 6, at 5:30 p.m. at the Brown Theatre formerly the Macauley, you can get a back-stage look at Kentucky Opera's staging ofThe Magic Flute.
The evening will begin with tasty wines and delicious cheeses, then you will meet Stage Director and Conductor Robert Dean. The Kentucky Opera's talented and articulate artists will then take you behind the scenes and give you an informed understanding of this production's opportunities and problems.
There is a singular excitement about this work. I recall the first time I heard it (on the radio) was when Mozart specialist Bruno Walter revived it at the Met during World War II. It has lost none of its excitement since.
The sets and props will be in place, which will be an eye opener, sinceThe Magic Flute is one of the most challenging operas to hit the stage.
The cost, complete with refreshments, is only $6. Come and enjoy it and the opera itself.
Performances ofThe Magic Flute will be February 7, 10, 13 and 15. The last performance will be on Sunday afternoon.
Reservations can be made by calling 584 4500.
Anyone Want to Tango?
By Henry C. Mayer
Not just a headline, this is an invitation to have getfree tango lessons on February 12 at the Kentucky Center for the Arts.
The main concert will feature Argentinean Juan Jose Mosalini and his eleven-member chamber orchestra, direct from Paris, but before the 8 p.m. kickoff, there will befree tango lessons for all who want them.
Mosalini and his orchestra will offer an amazing and continually changing variety of tango rhythms and melodies. If you have not seen the tango or heard the music, this is your chance. They have to be seen and heard to be believed!