April 1989 Articles
Cover Story
Staff
Columns
Paul Moffett
Staff
Performance Reviews
Keith Clements
Dallas Embry
Jean Metcalfe
Paul Moffett
Jean Metcalfe
Calendar
Staff
Errata
Staff
LASC
Jean Metcalfe
Jean Metcalfe
Staff
Staff
Karen Le Van
Dallas Embry
Jean Metcalfe
Jean Metcalfe
Dallas Embry
Staff
Diana Black
Industry Review
Paul Moffett
Music Business News
Staff
Staff
Paul Moffett
Staff
Staff
KYANA Blues Society
Rocky Adcock
Cartoon
Dan Colon
Louisville Homefront
Dallas Embry
Staff
Sara Pratt
Staff
Staff
Staff
Staff
Blogs
Got Shows?
Send Them To Us
Bookmark Louisville Music News.net with these handy
social bookmarking tools:
Available RSS Feeds
- Top Picks
- Today's Music
- Editor's Blog
- Articles
Add Louisville Music News' RSS Feed to Your Yahoo!

Issue:

Second Thoughts
Thank You, Helen Starr
There have been so many compliments paid to Louisville s first lady of Ballet, Helen Starr, that it is hard to find something new to say. Perhaps this headline says it best. There is nothing better than sincere gratitude for an artist whose name is written indelibly in the hearts of many local lovers of ballet. However, Starr's contributions to life here have never been confined to her talent and to her dedication to what must be one of the most difficult yet rewarding arts.
Starr has also enriched the worship of God in many denominations by the liturgical dance. She has been active in a number of worthwhile causes and is a dedicated wife and mother. If hanging up her pointe shoes causes sadness, and it is obviously difficult for her, the consolation includes the fact that she will continue as the Company's Assistant Artistic Director and give young dancers the benefit of her gifts of mind and heart.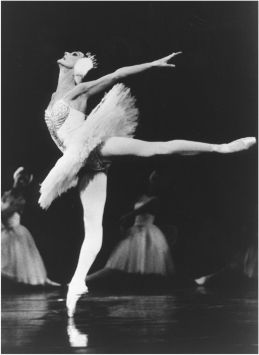 Helen Starr. Photo Courtesy of Louisville Ballet
It is hard to realize that she has given us 20 years of grace, beauty and love. In a recent interview with Louisville Music News, she described the relationship between this community and the performing arts as being "like a good marriage." So that many-sided reality, love, is an apt description of Helen has been giving us.
Few persons may realize what ballet dancing entails. Helen once pointed out that "preparation for a presentation includes several weeks with a large number of 10-hour days; that includes daily classwork and practice, practice, practice. I am always learning more about the roles I perform and their relationships to the entire piece."
She also emphasized the crucial relaionship between resources and performances.
There are many pieces we would like to present to our much-appreciated and beloved friends and supporters in Louisville but often they are financially prohibitive. That is why Alun Jones, her husband and Louisville Ballet Artistic Director also designs costumes and scenery."
Anyone who witnessed the Company's recent and successful production of "Midsummer Night's Dream" will realize what it takes to have breathtakingly beautiful scenery appropriate to the rest of the production.
Helen Starr's farewell performance with the Louisville Ballet will on March 26-28, when she dances the "Goodnight" pas de deux with longtime partner Dale Brannon in "Our Evenings and Our Good Nights." The choreographer is Alun Jones.
Thursday Session" Concerts are Well-Received
Two words delineate the enthusiastic responses that the Kentucky Center's "Thursday Sessions" Concert Series are getting: "Bravo!" and "Encore!"
If variety is truly the spice of life, then spicy describes the skillful programming that has gone into this series. Many a local music lover is hoping that this year will only be the first of many.
The fourth of the current series promises to rival its well-received predecessors: The Ice Cream Quartet; B.J. Swift and Juan Jose Mosalini and his Tango Orchestra.
The upcoming March 12 concert is Cello, the only full-time cello quartet in this country. Its members are four classically trained women celloists. Their musical selections have been described as "unpredictable and unique." They are among the pioneers in modern chamber music. They have been critically acclaimed in both Europe and America.
Intrigued? Curious? Interested? Call 584-7777.
"Tosca" To Close The Kentucky Opera '97-'98 Season
By Henry C. Mayer
If romance and tragedy expressed in unforgettable music is appealing, be sure to mark down March 6 and 8. The opera is the popular favorite "Tosca," by Giacomo (James) Pucini. Though sung in Italian, it will have English subtitles.
Leading the cast in the title role will be Elizabeth Holleque in her Kentucky Opera debut. Alessandro Siciliani, her husband in real life, returns as the maestro of the 70-piece Louisville Orchestra.
Another popular favorite, Peter Riberi, returns to portray Cavaradossi. Timothy Noble again doubles as Scarpia and stage Director. The ever-welcome veteran of many Kentucky Opera productions, Roger Harvanek, will be the Sacristan.
Lending support will be the 50-member Kentucky Opera Chorus and twenty persons from the Louisville Youth Chorus. The Bank of Louisville is providing significant support to make this production possible. '
What makes "'Tosca' a continuing favorite? It has the ingredients noted in the opening paragraph. It is possible to get more out of it each time it is seen. In that regard, reading the libretto can help a great deal.
The clash of personalities is also a conflict of historically accurate ideas. Tosca herself might be construed as Italy. She could also have a contemporary appeal – the woman who successfully repels unwelcome advances. The appeal of Scarpia for male singers rivals the challenges of similar villains such as Iago in Verdi's "Otello" and Hagan in Wagner's "Twilight of the Gods." Finally, this is the kind of music at which Puccini excelled.
So don't miss it; make your plans now by calling 584-7777.
A Salute to Roger Havranek
>By Henry C. Mayer
>Roger Havranek is a muIti-talented facuIty member of lndiana University's widely-acclaimed School of Music, but that is not all. For thirty years, he has thrilled Kentucky Opera goers with his combination of singing and acting talents. Three times he has added to audiences' enjoyment of Don Giovanni and Don Pasquale, roles making heavy demands on the performers.
It is a singular feat to master roles by Mozart, Rossini, Donizetti, Verdi, Janacek, Gilbert and Sullivan, Rimsky-Korsakov, Smetana and Lehar. Havranck is up to it and audiences love him for it. These are all composer's operas. but the operas are quite different: what could be more different than "Katya Kabanova" and "The Merry Widow"? The roles are at times, comic, tragic or a combination of these.