April 1989 Articles
Cover Story
Staff
Columns
Paul Moffett
Staff
Performance Reviews
Keith Clements
Dallas Embry
Jean Metcalfe
Paul Moffett
Jean Metcalfe
Calendar
Staff
Errata
Staff
LASC
Jean Metcalfe
Jean Metcalfe
Staff
Staff
Karen Le Van
Dallas Embry
Jean Metcalfe
Jean Metcalfe
Dallas Embry
Staff
Diana Black
Industry Review
Paul Moffett
Music Business News
Staff
Staff
Paul Moffett
Staff
Staff
KYANA Blues Society
Rocky Adcock
Cartoon
Dan Colon
Louisville Homefront
Dallas Embry
Staff
Sara Pratt
Staff
Staff
Staff
Staff
Blogs
Got Shows?
Send Them To Us
Bookmark Louisville Music News.net with these handy
social bookmarking tools:
Available RSS Feeds
- Top Picks
- Today's Music
- Editor's Blog
- Articles
Add Louisville Music News' RSS Feed to Your Yahoo!

Issue:


News From The Pit
Hey Metalheads! It looks like we're having a pretty good summer of metal in Louisville. Read on for more news. . . .
Hope everyone has caught some of the killer metal shows that have been going on around these parts.
• Megadeth played to a sold-out crowd at The Brewery on July 24. Please see my review in this issue.
• Soulfly, featuring Max Cavalera, formerly of Sepultura, played at The Brewery on July 27th. The show also featured System of a Down, Incubus, and Snot.
• The Six Feet Under show on July 22 at the Tiger was cancelled. Hopefully, this will be rescheduled.
• Some local news for ya-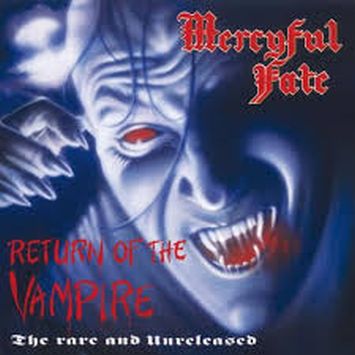 Mercyful Fate will be at the Toy Tiger on Aug. 8
• Mike Stout, former lead singer of Point of Anger was too busy with other things to have time for the band, so-P. O. A. is currently looking for a heavy, outgoing, suitable replacement. Along with the former singer, several songs were dropped from P.O.A's repertoire.
The band is hard at work on new material, with song titles such as "Get the Point" and "Slit Wrists."
If you're interested in trying out for Point of Anger's vocal position, please contact Clifford Whitehead at 964-4155.
• James, the singer for Mindstorm, made a surprise appearance singing for Encrypted Flesh at P. J.'s on July 18. It was kind of funny to see his girlfriend holding up cue cards of the lyrics, since he only had about a week or so to practice with the band, but he did a good job! Check 'em out on Saturday, August 8 at The Mexican Death Fest at P. J.'s Pub. This show will also feature Incursion and Transcend.
• More metal shows are coming up at P. J.'s, which has original metal shows every weekend. Here's the run down:
• July 31 - features Unrule, Incursion and Crone. The August 1 show features Luther, Unrule and Faceplant.
• On August 22, all local bands should come out to meet some out-of-town contacts. The show will feature Psuedoepoxy from Dayton and Oxboard Drain from Cincy and My Own Victim from Louisville.
• August 28, :Lexington Invades P. J.'s, featuring Crone, Cut. Love. Kill. and E-Flat.
For more information on shows at P. J.'s, call 368-9911, or if you would like to play a show there, contact Clifford Whitehead from Point of Anger, who is booking several shows, at-964-4155.
• Another local news tidbit for ya- Inhuman is back together with it's original lineup. Be on the look out for some show dates soon!
• More shows coming our way in August:
• August 7 at The Brewery, My Own Victim, Engrind, Cut. Love. Kill., Onslaught and Armbar. Five bands for five bucks and the show is 18 and over. Be there!
• If your taste runs a little more on the death metal side of things, check out two nights of extreme death metal at Bulls Eye Tavern.
On Friday, August 7, it'll be Estuary of Calamity, Abominant and Transcend. Then on Saturday, August 8, check out Corpse Vomit from Chicago, Abominant and Assisting Sorrow.
Well people, that's all from me for now. Again, if you have any information that you would like to see in the Pit News: show dates, band member changes, new CDs or tapes, whatever, please mail to: Attn.: Pit News, Louisville Music News, P. O. Box 148, Pewee Valley, Ky. 40056. I will be glad to write about any news and info. that you send. Thank you very much!
I'm outie. See ya in the pit!!